The 69th annual Toowoomba Carnival of Flowers event, a nationally renowned event in Australia, was held on September 22.
The highlight of the event was the parade, which consisted of 80 groups and 35 floats and was enjoyed by over 100,000 visitors. This year's theme was "Secret Garden."
The Falun Gong procession was particularly impressive. Two practitioners marched in front with a large banner that said "Falun Dafa Is Great." The float was a dragon boat with a traditional Chinese garden door on top. Falun Gong practitioners in gold outfits demonstrated the exercises on the float as the waist drum team followed behind.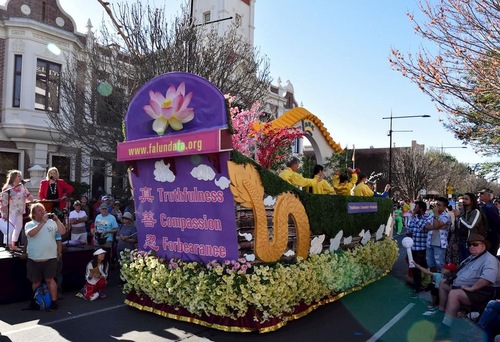 The Tian Guo Marching Band, which is made up of 53 members from Melbourne and Sydney, made the trip for this parade.
The parade organizers praised the float and the practitioners' commitment. A municipal coordinator said to the practitioners, "Next year will be the 70th Carnival of Flowers. That parade will be even grander. We would welcome you to come again next year!"
Falun Gong Practitioners Participate in Floral Parade in Toowoomba