The Tian Guo Marching Band, comprised of Falun Dafa practitioners from the New York tri-state area, was invited to join one of the world's largest celebrations of Italian-American Culture: the annual Columbus Day Parade along Fifth Avenue in Manhattan.
The city streets were lined with more than one million spectators eager to watch the 35,000 parade participants from 130 different groups celebrate Columbus Day on Monday, October 8, 2018. The event was also viewed by millions of people worldwide.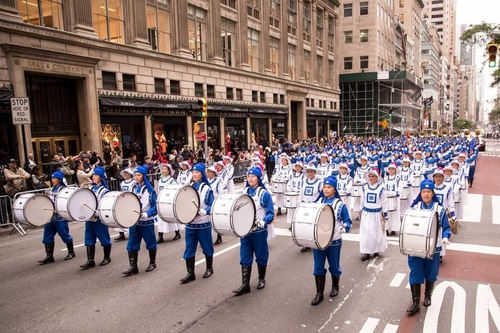 This was the first time that the Tian Guo Marching Band has participated in the annual parade. Ms. Wen-Wen Chou, conductor of the band, said that everyone in the band was very excited to celebrate along with the spectators. "The crowds gathered here are celebrating U.S. history and the contributions that immigrants have made to our country.
The Tian Guo Marching Band also brings our signature marching songs, 'Falun Dafa is Good', 'Triumphant Return', 'The Sacred Song', and America's most well-known song, the U.S. national anthem, 'The Star Spangled Banner'."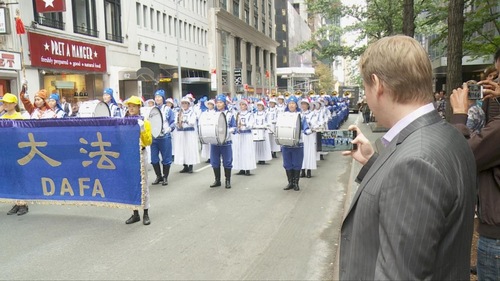 Spectators took photos and videos of the Tian Guo Band's performance amidst the cheering and applause. Ms. Shi from Brooklyn watched the entire parade with her children. Her daughter's favorite part was the Falun Dafa Tian Guo Band, because "Their music is full of energy, and brilliant!"
Mounted police and police motorcycle units led the parade, followed by the New York Police Department (NYPD) Police Band and many Italian-American civil groups and beautiful floats.