(Minghui.org) On January 4–8, 2023, Shen Yun shared the beauty of China, before communism, with theatergoers in Woking and Birmingham, United Kingdom; Nishinomiya, Japan; Berlin, Germany; and Florida, Georgia, California, Texas, and Virginia, United States. Sold-out and packed houses were frequent.
"Shen Yun's Success is an American Miracle"
Retired California Superior Court Judge Quentin Kopp saw Shen Yun in San Francisco on January 8. This is his sixth time seeing Shen Yun in San Francisco.
"I think Shen Yun is better than any performance I've seen before!" Mr. Kopp said.
"What appealed most to me was the challenging dancing… As far as I know, in America or maybe the world, no other outstanding orchestra is able to produce music like Shen Yun's.
"I want to thank Shen Yun artists for their time and efforts for this performance. I also want to thank the emcees. They allowed audience members who don't know Chinese to be able to understand each program.
"Shen Yun achieved great success in San Francisco, where there is a large Chinese population. All the dancers, singers, and musicians demonstrate inclusion. The performances gathered audiences from Asia, Europe, and other places in the world. Therefore, Shen Yun's success is an American miracle!" Mr. Kopp said.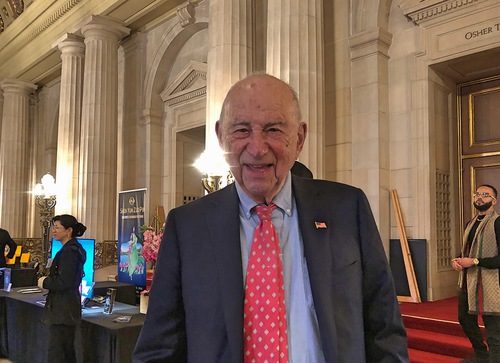 "It's an Amazing Show"
Dr. Claudio D. Divino and his wife Mary saw Shen Yun in Norfolk, Virginia, on January 7.
"I was especially impressed with the concept that the show brings to us… That we have more meaning in life than just being here," said Dr. Divino, who teaches cross-cultural communications, world religions, and ministry at Mid-Atlantic Christian University.
Shen Yun's opening piece depicts divine beings following the Creator to descend to the Earth and establish Chinese civilisation. As an Associate Professor of Ministry and a scholar of religions himself, the concept of a Creator was not at all foreign to Dr. Divino, who showed a deep appreciation for it.
"We are not here because of evolution… We are not here because of atheism. We believe in a Creator, we believe in someone who's above us. This person is the one who created us, and He created us for our missions. And sometimes when people are here on this Earth, they just [lose] contact—they live their lives completely isolated from each other. Most importantly, they don't look back. They [don't know] who created them. So they don't look back to the person who actually created them, who cares about them," he said.
Dr. Divino felt that the performance was more than just entertainment. "We live because there is a Creator that cares about us. That's the message. There is a Creator, and this Creator wants us to go back to who [we] were—that's the message I got from [the performance]. It's an amazing show," he said.
Dr. Divino also expressed his respect for Shen Yun's Artistic Director, D.F. "I'd love to meet him… I think D.F. understands that we live in a time where people are falling apart, not only because of the lack of connections with each other, [which] leads people to be frustrated. And when they get frustrated, they move [in] directions that are against what the Creator has put together for us," he said.
"I'm impressed with everything he (D.F.) has been doing [and] the message that he brings to all the people in the world," Dr. Divino said.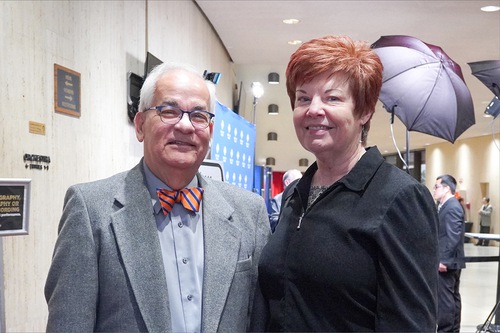 "They're Serving the World"
Douglas Andrew Laird, owner and founder of Peak Care in north Derbyshire, saw Shen Yun in Birmingham on January 8.
"I think this brings the grace of God, the grace of the Divine into living expression, in the dance and the movement and the color… Everything about it was a living portrayal of the beauty of life," Mr. Laird said.
"Their energy and their gracefulness are fantastic… I think that's a message for the soul to use our physique in a way that's graceful, and not hard and rigid, and that life is meant to be a flow.
"But I think this is a real portrayal of faith and the divine origin and the creator of life and all that we enjoy… It's a marvelous show and a marvelous presentation.
"[Shen Yun] brings out a different dimension in life, for young people and all ages, to see the wonder of life beyond… There's more to it than just 'me' and 'mine,' in a selfish way…
"[The performance] just brings out a wider context of the reality of a divine being… It presents a message to all faith groups… It's got great messages in there for everybody.
"They're serving the world… I just hope they'll continue and become larger and spread to every community and country around the world, so every nation, press, leaders, and presidents and everybody gets the flavor and the message in their hearts and in their lives.
"I see [Shen Yun] as a standard for others, something to aim at… They're breaking new ground… taking their wisdom and what they learned 5,000 years ago to bring it into this present age: Breaking out of a rigid restraint and dark time, that we're in, to bring new light and life to what we live in now," Mr. Laird said.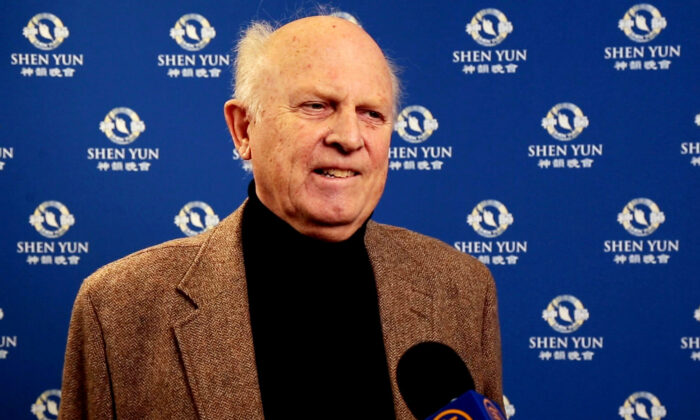 "Powerful Energy That was Heartfelt"
On the evening of January 4, architect Patricia Quosig and her family saw Shen Yun in Berlin.
"The show was fantastic! She had a colorful, powerful energy that was heartfelt. Truly admirable and wowed us! We all enjoyed it very much," said Patricia Quosig, an architect and designer who has helped design buildings that have received industry acclaim for their innovation and clever design.
She said that Shen Yun evokes in her an abundance of emotions that "encompass everything—joy, sadness, everything." She praised it as "really beautiful and unforgettable."
Ms. Quosig was struck by the purity and self-discipline of the Shen Yun dancers. "There was absolutely no attention to the individual, they [the Shen Yun artists] showed the whole. It's very beautiful, so the audience doesn't focus on the individual, but sees the dance itself, which is a force that the dance performers embody as a whole. It was mesmerising, it was moving, it was truly outstanding! I can hardly find words to describe it. I was completely overwhelmed," she said.
Her mother, Christina, who is a retired radiographer, added, "I was also very excited and my heart was pounding with excitement. Shen Yun is so beautiful. It's like no other performance."
Christina praised the Shen Yun dancers not only for their skill but also for their dedication to their roles. "The dancers exude an aura that the audience can feel in their hands and feet. They really put their heart and soul into it. They don't just dance, they really put their hearts into the role. That's how I felt. The fluid movement and dynamic of the men, the difficult tricks they pull are fascinating," she said.
Shen Yun's goal of reviving traditional culture also resonates with Ms. Quosig. "These are values that have been lost in today's society, and it would be great if we could go back to the traditions as they once were. Don't let the world be filled with war and murder. We should bring back the old traditional values and combine them with modernity," she said.
Christina added, "Yes, we should revive the traditions, not just in one country, but in all countries, all over the world."
Ms. Quosig, whose family are devout Catholics, was struck by the portrayal of a scene where only the Creator can redeem when humanity is in great need. She said, "What was impressive about the show was that it showed the faith and connection between life and God, which is the essence of life. People should try to live according to their beliefs."
Christina said that faith is very important and a life saver for people: "People need to have hope to be saved and to endure. It would be a shame if we didn't have a (life saving) straw to hold on to; there would be no more life," she said.
"Exquisite and Absolutely Breathtaking"
Leah Yates, principal of a dance school, saw Shen Yun in Birmingham on January 8.
"I thought the visual aspects were amazing. The technique was definitely on point. I love that it's a mixture of styles but then it holds its own creativity and its own brands," Ms. Yates said.
"Overall, it was exquisite and absolutely breathtaking. I would love, absolutely love to be able to choreograph myself to that standard, but my gosh you have got to have some amazing artists, which you clearly have got. They should be so proud of themselves. It's amazing," she said.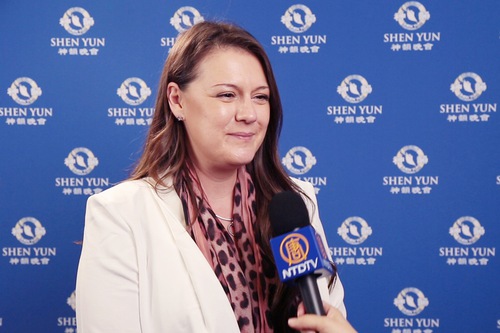 "Above and Beyond What We Would Find Anywhere Else"
Clay and Kimberly White saw Shen Yun in Dallas, Texas, on January 7.
Kimberly, the vice president of a telemedicine company, thought the show was "fantastic" and "absolutely beautiful."
Her husband Clay, the owner of a consulting firm, purchased the tickets as a Christmas gift for her after seeing Shen Yun commercials online.
"This was a lovely date night and an emotional experience. It was really great," Kimberly said.
"Being able to witness [the show] firsthand was remarkable. It was just stunning from start to finish," Clay added.
Kimberly loved the spiritual element of Shen Yun's performance. "It was clear to me that there were divine spirits and that there is a higher power celebrated through this performance," she said.
"It was emotional to see that on stage and to feel—what I think was intended in the performance—a return to tradition and to the beautiful and glorious life that [we once had] long ago.
"This has been lost even in American culture. So, to get to see that play out on stage in the beautiful dancing, in the colors, and in the music was really beautiful. I really appreciate it," Kimberly said.
Clay, who also does ballroom dancing, was mesmerised by the skill of the performers. "I was getting lost in the movements of the dancers. The choreography was just amazing. The music was very relaxing and easy to embrace… [Shen Yun] is above and beyond what we would find anywhere else. It's just beautiful," he said.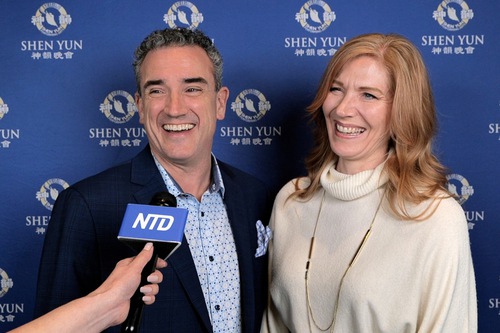 "Healing for All of Us"
Pyper Thaller, clinical psychologist, saw Shen Yun in Austin on January 7.
"Oh it just made me cry, truly. It's so beautiful to see so much about your culture, and what could've been lost, and that it's not. And the courage, the compassion, and the wisdom, and sharing, and the bravery of what Chinese people today are still going through. You feel a bit of that in the show, and it gives compassion to hope that this fight is for healing and for ultimate good for them. So the Chinese people will be in my thoughts and prayers now after seeing this performance," Ms. Thaller said.
"Beautiful, so beautiful. Communism is so dangerous. The fact that people can persist and survive and be resilient to create and to live with art, and healing for all of us, is just such a gift," she said.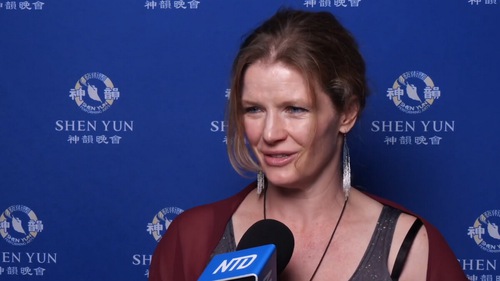 "A Celebration of Life"
Shane Deverill, senior strategic planner at the Defense Forensic Science Centre, and his wife Libby saw Shen Yun in Atlanta, Georgia, on January 7.
"It was fabulous, on a couple of fronts. First of all, the fusion of the technology with the dancers was so real to me. And I thought the choreography was just flawless. And then the synchronisation of the dancers coupled with the message that they wanted to bring across came across very well. And I thought it was done just to the right degree," Shane said.
Libby also shared her thoughts, "I've never seen Chinese classical dance, so just absolutely amazing… The one dance about the persecution with the faith and all that spoke to me."
"I would say it's a celebration of life. One spirit, letting it free and also talking about the country that you love, being a part of its traditions over time," Shane said.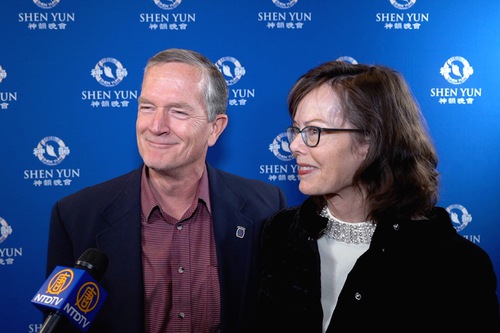 Student from Mainland China: "The Future China Will Need People Like This"
Tang Yisong is a Chinese student who has been in the U.S. for nine months. He saw Shen Yun in San Francisco on January 6.
"Very proud, very proud. Very excellent! [Shen Yun] basically restored China's culture and history. It allowed us to experience very real history and culture, China's history and culture," Mr. Tang said.
He said he feels that Shen Yun artists are a group of people with high morality. "They're people with a high sense of justice and conscience, and very kind. Their sense of morality is very strong. This is a spiritual state that mainland China is lacking right now. So the future China will need people like this, to change people's morality and rebuild mainland Chinese's moral values," he said.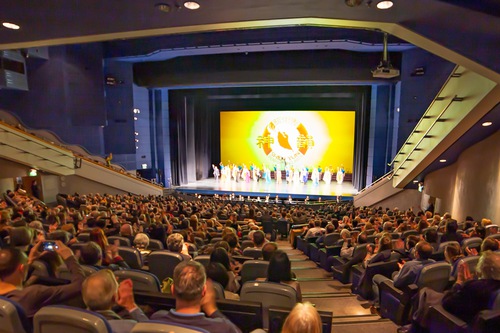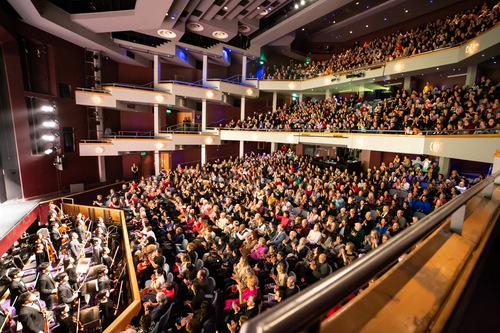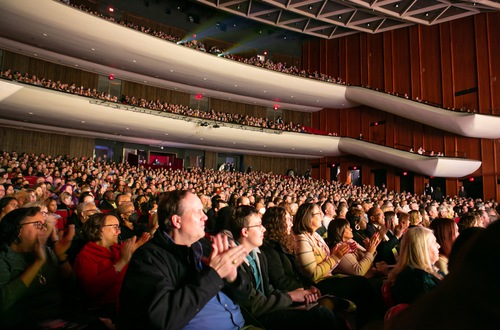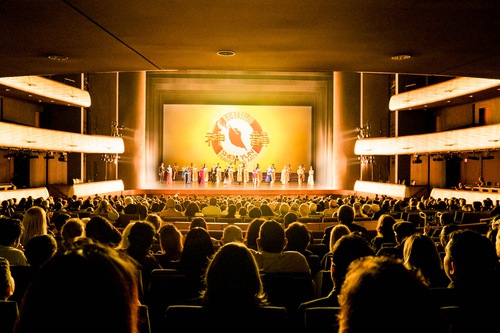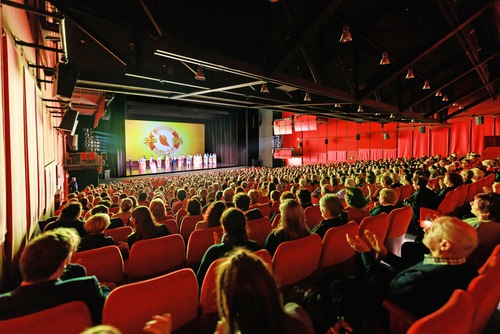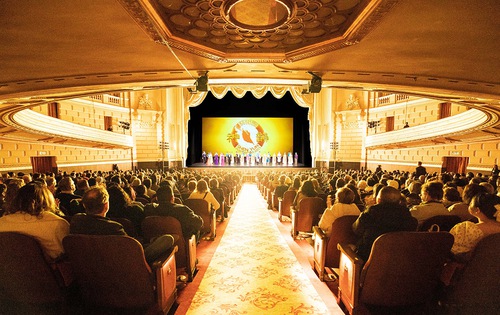 Upcoming Performances
Shen Yun continues its 2023 tour with upcoming performances in:

Berkeley, California, January 13–16
Dallas, Texas, January 14–15
Worcester, Massachusetts, January 14–15
Pittsburgh, Pennsylvania, January 14–15
Savannah, Georgia, January 14–15
Oxford, United Kingdom, January 14–15
Lausanne, Switzerland, January 14–17
Kamakura, Japan, January 13–15
Chinese version available
(Clearwisdom)