(Minghui.org) May 13, 2022, marked the 30th anniversary of Falun Dafa's introduction to the public and the 23rd World Falun Dafa Day. Nearly 4,000 Falun Dafa practitioners from New York and surrounding areas paraded along 42nd Street in Manhattan to celebrate the anniversary.
The parade assembled at Dag Hammarskjöld Plaza near the United Nations and departed from 2nd Avenue on the east end of Manhattan Island. The route traveled west and passed by many New York landmarks, including Grand Central Terminal, Bryant Park, Times Square, and the New York Public Library, and finished at 12th Avenue near the Chinese Consulate.
The parade started at 11 a.m. on the east side of Manhattan and stretched nearly two miles along 42nd Street. Passersby who stopped and watched included United Nations officials, white-collar workers from the Midtown business district, local residents, and tourists from all over the world.
One spectator said that his body felt powerful energy as practitioners went past. One said that the parade was colorful and peaceful. An official from a foreign country said, "I hope you [Master Li Hongzhi] will continue to lead people to save mankind and save the future, thank you!" A United Nations official said, "Mankind needs to thank Master Li."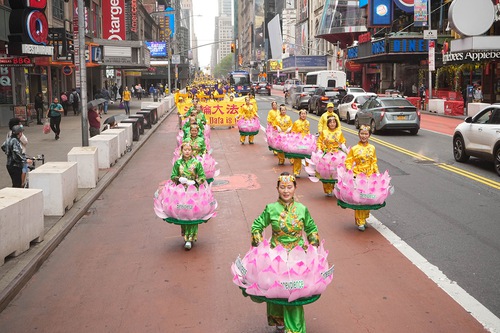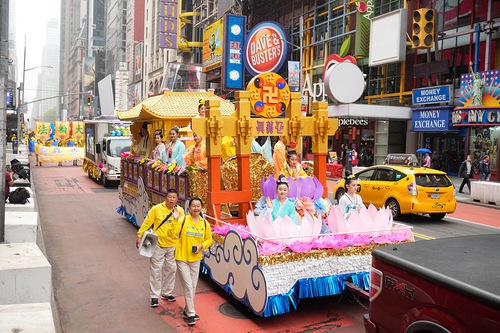 Mr. Yang, a Chinese spectator, said, "[Falun Gong] shouldn't be banned in China. People have freedom. The CCP not only controls people's minds, but also their bodies, and everything is controlled by the government. I think this is very scary! You might have become numb if you have lived in China for a long time, but after living in the United States for a long time, I think it would be unbearable for me to go back."
Spectator Gabriela Sharma said she agreed with the banners in the parade. "The point is to end communism," she said. "The CCP should be dismantled, it is the head of all evil."
Laura Hartman, an American veteran, agreed with everything about the march. "I know that people in other countries should have the same freedoms we have in America, and I'm against the CCP, against everything about the CCP, which continues to persecute the Chinese people. I will do everything I can to help people break away from the CCP," she said.
Office worker Carlos Hernandez came down to the street to watch the parade after he heard the drum beats from the Tian Guo Marching Band. He took photos and video footage of the parade and accepted a paper lotus flower and a flier introducing Falun Gong. "I'd love to know more, and I'll go online to find out more," he said.
A spectator named Sylvia was chatting with her son using the Facetime app on her phone so she could show him the parade marching by. "My son is in Mexico and he can see the parade too," she said.
A tourist named Malissa was excited to see so many things from a different culture. She was on her way to a store, but stood by the roadside to watch after she heard music from the parade. "I love all parts of the parade, very beautiful. I am very touched," she said, "I like the United States, because there are different cultures, I will definitely learn more about Falun Gong."
Joseph Woodruff, a tourist from Indiana, read the banners closely as the parade passed by Bryant Park. He spoke to a practitioner in a yellow T-shirt, "I don't like communism. Communism is bad. I saw these messages. I want to join you to show my support!" He then joined the parading of Falun Gong practitioners.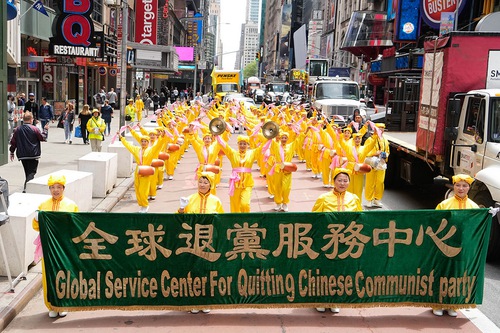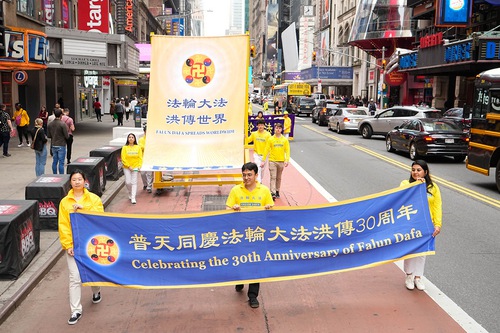 Event Organiser: Falun Dafa brings beauty and hope to mankind, and more people will surely join
Yi Rong, event organiser and spokesperson for the New York Falun Dafa Association, said that they organise a parade every year to celebrate World Falun Dafa Day.
Falun Dafa, also known as Falun Gong, is an advanced cultivation practice of mind and body. It was first introduced to the public by Master Li Hongzhi in 1992 in China. The Chinese communist regime launched a brutal persecution of Falun Dafa in 1999 that is still ongoing today.
Over the past 23 years, Falun Gong practitioners have firmly defended their beliefs and spread the truth. Falun Gong has not been eliminated, and has instead spread to more than 100 countries and regions around the world.
Master Li Hongzhi, founder of Falun Dafa, has been nominated for the Nobel Peace Prize several times. There are Falun Gong practitioners all over the world, "I obtained Fa (Falun Dafa) myself in the United States," Yi Rong said.
Many people feel depressed as human society experiences moral decline, raging plagues, wars, and with world peace in jeopardy. "I hope everyone embraces Falun Dafa and Truthfulness-Compassion-Forbearance," Yi said, "Dafa brings peace, beauty, and hope. As long as you embrace Falun Dafa, as long as you support it, you will immediately feel the compassion of Dafa. More people will surely join Falun Dafa in the future."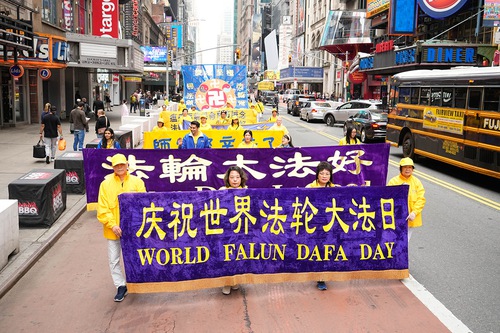 All content published on this website are copyrighted by Minghui.org. Minghui will produce compilations of its online content regularly and on special occasions.