As residents in Toowoomba welcomed the annual Languages & Cultures Festival on August 12, 2018, they also happily embraced Falun Gong, a self-improvement practice that was first introduced in China in 1992.
The annual festival promotes traditional culture, and brings mutual understandings and friendship between different races. There was a peaceful and joyous atmosphere at the southwest corner of Queens Park, and the crowds kept coming. Booths were established for various groups, as were three stages, the Peace Stage, the Harmony Stage, and the Good Will Stage, to offer performances from over 40 community groups.
Falun Gong practitioners have been invited and participated regularly in the event since 2006. Like the years before, many visitors kept coming to the booth to inquire about the benefits of the practice. Hundreds of fliers were quickly given out. Many spectators were also drawn to the practitioners demonstrating the five exercises.
"I Love Falun Gong!"
Several tourists from India were drawn to the Falun Gong exercise demonstration. One of them, Jihan, wanted to learn the sitting meditation. She posed for a photograph with the practitioners and said, "I love Falun Gong! I will search for more information online. I want to practice!"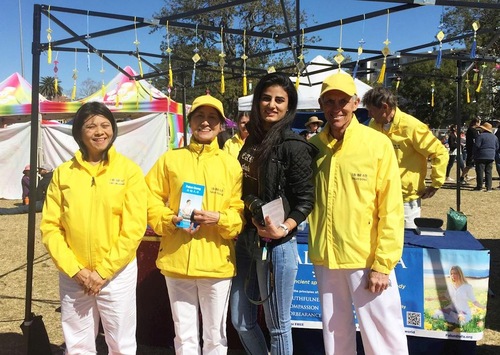 "Please Help Me Quit the Young Pioneers"
A few students from Japan and China watched the exercise demonstration, after which a practitioner told them about how the practitioners in China were relentlessly tortured and harassed in unspeakable ways during the 19-year-long persecution.
As a result there has been a trend of Chinese people quitting the Chinese Communist Party (CCP) and its affiliated organisations, so as to separate themselves from the evil Party.
Before the students left, the one from China said to a practitioner, "Madam, please help me quit the Young Pioneers, one of the CCP's youth organisations. I will make sure my family knows about the persecution."
Spectators Interested in Learning the Exercises
The practitioners went on the Good Will Stage to introduce and demonstrate the movements of the five exercises. Many in the audience got up and learned the movements. Several came to the Falun Gong booth afterward to get more information. They said that they felt very comfortable after doing a few movements and hence really wanted to learn.