Falun Gong (also called Falun Dafa) practitioners participated in the Floral Parade, the feature event of the Carnival of Flowers in Toowoomba, a city in Southeastern Queensland, Australia, on September 16, 2017.
The Carnival of Flowers is the largest community event and one of the premier celebrations in Australia. The Floral Parade was the pinnacle of the carnival, which attracted 100,000 spectators to the streets this year. Falun Gong practitioners brought traditional Chinese culture and the message of Falun Dafa to the people.
The Tian Guo Marching Band, comprised of Falun Gong practitioners, was invited to perform again this year in the Floral Parade. Wearing bright traditional costumes, the band members marched neatly and played resonant music including "Falun Dafa Is Good," "Falun Holy King," "Ode to Joy," and other pieces. Spectators were touched by the music and rewarded the band with warm applause.
Chinese people have gained an increasingly positive understanding of Falun Gong during recent years. Those who were influenced by the Chinese Communist Party's propaganda were previously hostile to Falun Gong practitioners.
However, most of the misunderstandings have been dispersed by the peacefulness, rationality, and compassion of Falun Gong practitioners. More and more Chinese are surprised and proud of the practitioners' beautiful presentation of Chinese culture. Many took photos of the Falun Gong procession to capture the precious moment.
Ms. Du from China told the reporter it was the first time she had watched the Floral Parade. When asked what she was most impressed with, she answered, "I'm most impressed with Falun Dafa! I'm surprised to find Falun Dafa here! It appeared twice in the parade and was introduced twice through the speakers. Powerful! It's heart-shaking! Totally unexpected!"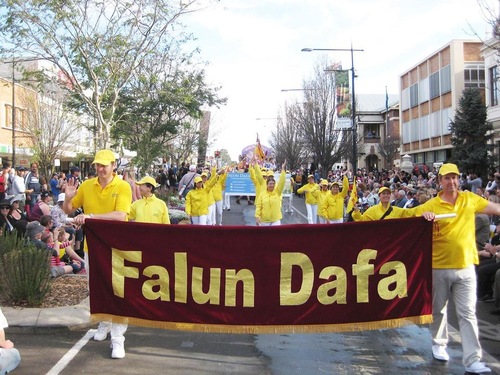 Among the more than 70 participating groups and 34 floats, the Falun Gong float stood out, featuring a large dragon boat decorated with two golden dragons in clouds, with a shining Falun and the words "Truthfulness, Compassion, Forbearance."
A dozen practitioners dressed in traditional Chinese costumes waved at spectators with bright smiles. Waves of cheers and applause arose as the float proceeded along the parade route.
Nine announcement stations with loudspeakers were positioned along the parade route. The hosts introduced the participating groups as they approached.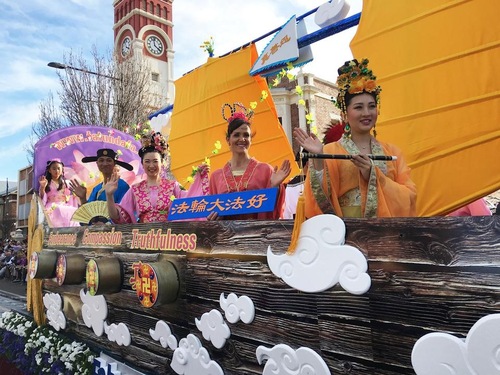 The spectators learned that Falun Dafa is a self-improvement cultivation practice with five sets of exercises, and for all ages. Practitioners in more than 100 countries around the world benefit from the cultivation practice. Some hosts commented, "Such a great practice! I want to learn it too!"
This was the 18th year that Falun Gong practitioners have been invited to participate in the Floral Parade. Members of the marching band came a long way, from Sydney and Melbourne, to participate. Parade organizers said they deeply appreciated the practitioners' great contribution.
Anna, a city government employee who organized the parade, came to thank the practitioners in person. She said, "Your dragon boat is gorgeous! I can tell you have put a lot of time and effort in it. Thank you! Hope to see you again next year!"
49 total views