(Minghui.org) Falun Gong practitioners in South Australia held a rally in front of the provincial parliament building in Adelaide on July 18, 2023. They condemned the Chinese Communist Party's (CCP) 24-year-long persecution and called for an end to the atrocities.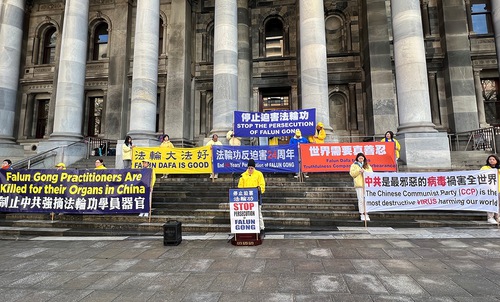 Falun Gong practitioners in South Australia held a candlelight vigil on the evening of July 20, 2023 in front of the Chinese Consulate to commemorate the Chinese Falun Gong practitioners who were persecuted to death.
South Australian Falun Dafa Association spokesman Brian said that Falun Dafa has improved the health of tens of thousands of Chinese people, but out of personal jealousy, Jiang Zemin, the then leader of the CCP, launched this persecution in July 1999.
"In this building right behind us, international human rights lawyer David Matas reported his research conclusions on November 29, 2022, saying that there were Falun Gong practitioners and other prisoners of conscience in China who were killed by industrialised organ harvesting, and there was no law enacted to stop the killings, whether in China or internationally," Brian said.
He also introduced the international investigation into the CCP's live organ harvesting of Falun Gong practitioners, and the progress of some countries in sanctioning human rights criminals in accordance with the Global Magnitsky Human Rights Accountability Act. He called on the Australian Government to help stop the persecution.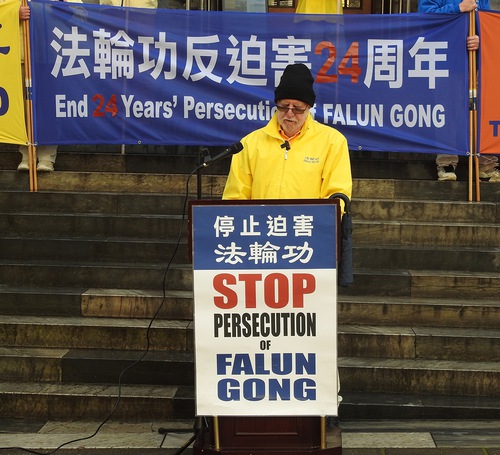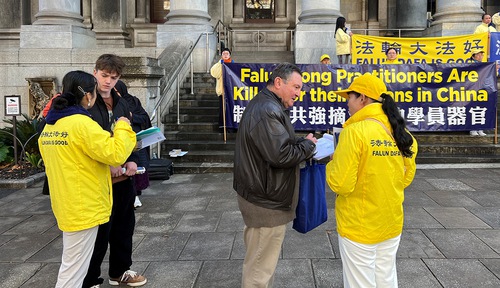 Member of Legislative Council: I Support You in Protesting the Persecution
A letter from Tammy Franks, member of Legislative Council of South Australia, was read during the rally.
The letter said, "I commend the spirit of practitioners who remain committed to their principles of truth, compassion and forbearance during these difficult years. It takes great strength to stand strong and stand up for your beliefs and practices in the face of ongoing oppression and persecution. Thank you for your commitment to peacefully defending your right to practice your faith and principles, and please know that we stand with you, and condemn attempts to silence criticisms of the Chinese Communist Party's human rights abuses."
"For over 20 years the Chinese Communist Party has tried to silence the voices of Falun Dafa practitioners, but you are certainly not silenced here today. None of us can or will be in the face of this injustice."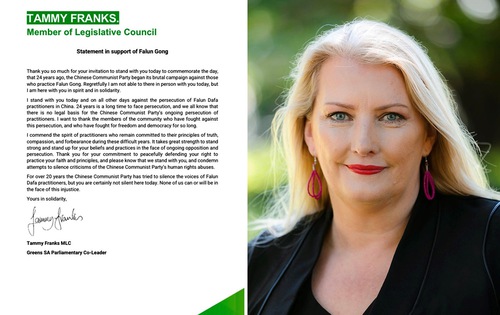 At the rally, Ms. Chao, a Vietnamese community leader, called on everyone to stand together and gather strength to fight against the persecution. She said that if we persevere, justice will prevail.
Ms. Chao condemned the CCP's persecution of Falun Gong. She said that the CCP pursues lies and deceit, mind control, and brutal suppression, which are completely opposed to Truthfulness-Compassion-Forbearance.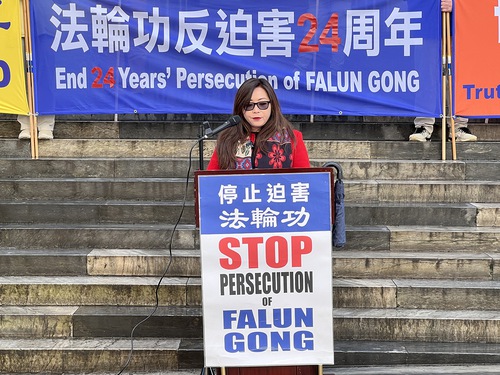 Public Support of Falun Gong
Norman Lapins from Kangaroo Island said, "I think what you are doing is meaningful and peaceful. If we hadn't come to the city today, we might not have had the chance to understand. Some other countries, such as China and Russia, want totalitarian control, and have shown anti-human practices. I can't imagine the suffering of the people there. Live organ harvesting is a terrible thing and must never be allowed. If everyone can keep in mind Truthfulness-Compassion-Forbearance, it will bring about a better world for our children and grandchildren. Please keep at it."
Jay learned about Falun Gong a year ago when he encountered practitioners collecting signatures opposing the persecution near Chinatown.
"I learned that this is a kind of meditation practice. I believe in Truthfulness-Compassion-Forbearance. I think it's very good. I don't see any threat of this meditation. Why does the CCP think these practitioners are a threat? People have the right to pursue spirituality and beliefs. I am very disgusted by the CCP's bullying. Everyone has the same human rights," he said.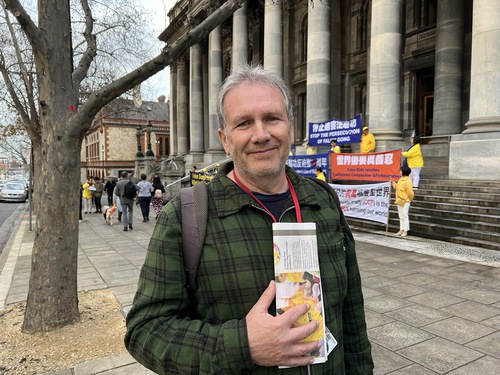 Prakash, a young man from Nepal, said, "We should have a peaceful and free environment. No country has the right to interfere with people's ways of life. The Chinese authorities should not persecute people, or even kill people. It's against humanity."
"Many changes and disputes are happening in the world today. The traditional culture we once had is gradually disappearing. The traditional values of Truthfulness, Compassion, and Forbearance that you spread and follow today are very remarkable. Thank you," he said.