(Minghui.org) Twenty-nine children and their parents attended the summer camp organised by the Minghui School of Tokyo Metropolitan Area, which was held July 23-26 at Kamogawa Youth Nature House, the only ocean-type public education facility in Chiba City. Some non-practitioner parents and children who attended the camp said they very much enjoyed it.
Along with doing the Falun Dafa exercises and reading the teachings, the summer camp offered various activities such as playing at the beach, learning dance techniques, fireworks, and group discussions. Both parents and children praised the enjoyable and productive days, and said they looked forward to another session.
An adult who does not practice Falun Dafa said she was impressed because the activities were well-planned. For example, almost no child played with their cell phone during the camp. She pointed out that electronic devices have become a major problem in today's society, and especially seem to have a negative impact on children. She was glad children learned other activities and talked with each other.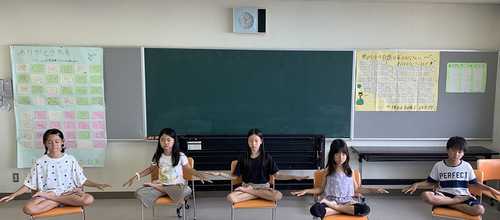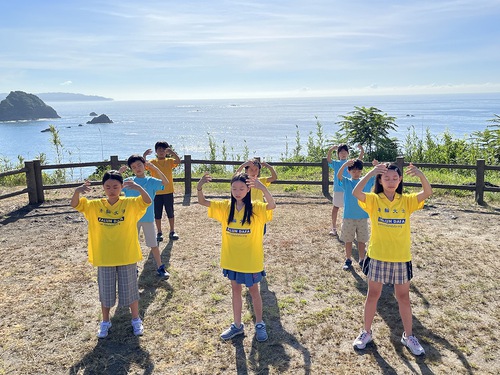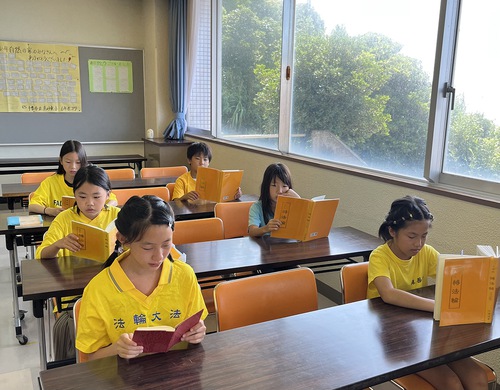 A Positive Environment
Seeing the other campers do the exercises as a group every day, some children who rarely did them joined in. A 10-year-old boy said he was reluctant to do the fifth Falun Dafa exercise (meditation) at home because it was too painful. At camp he was able to meditate for 30 minutes. His mother said she liked the group environment very much.
One girl, who is not a practitioner, asked why everyone was meditating and sending righteous thoughts. Another camper told her practicing Falun Dafa improves both mind and body. The girl's mother said she knew about Falun Dafa and was happy to spend time with practitioners. "It is amazing that you work so hard every day and still have so much energy–I guess it is because you do the exercises," she said.
Another mother, Chen, also liked the group meditation. She said meditating with others helped the children calm down and stay focused. She believed having inner peace gives one wisdom. Not only did she encourage her children to learn the exercises, she also did them.
Two children who did not practice Falun Dafa said they had a great time. They liked the young practitioners and had made friends with them. They also hoped to attend more activities like this in the future. One 9-year-old girl could not read Chinese, but she read Hong Yin with other young practitioners. (Hong Yin is a collection of poems written by Falun Dafa's founder.)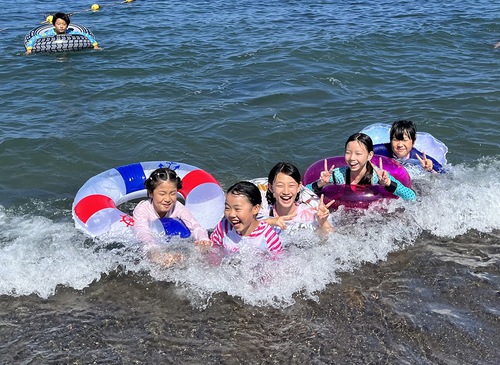 Learning from Each Other
A group discussion was held before the summer camp ended. Four-year-old Youyou said she liked being with other young practitioners. Even though she only read Hong Yin for five minutes at home every day, she was impressed that other children spent more time reading. She and her mother said they planned to increase the time they read the Falun Dafa teachings.
Two brothers said the teachings showed them how to be good people. The older boy read Hong Yin and did the exercises and did not need their mother to remind them. His 6-year-old young brother was able to recite some poems from Hong Yin.
Ayami, 10, said she cherished the principles of Truthfulness-Compassion-Forbearance very much. She reminds herself that she's a practitioner, and is always considerate of others. As a result, she gets along well with classmates at school.
Akari, 12, said she planned to go to Taiwan next year and that is why she wanted to read the Falun Dafa teachings in Japanese this year. She talked about improving her xinxing at school. One classmate said bad things about her and other children. Akari became upset and took some extreme measures. Another student pushed Akari over and injured her arm. But fortunately her head barely missed being hit by a desk. She understood that she was protected by Master Li, founder of Falun Dafa. "At that moment, I knew this accident happened because I had harmed that friend, and this was the consequence," she said. "I decided to be nice to others from then on even if they were wrong."
Ryo is 9 and said some classmates said bad things about him in the past. He retaliated by badmouthing them. After he read the Falun Dafa teachings at the Minghui summer camp, he learned about the principles of no loss no gain. In fact, when other people said bad things about him, he did not lose anything and could even receive virtue (de) instead. Since then, he also studied Falun Dafa teachings at home with his mother. He no longer said bad things about others. Miraculously, others also stopped saying bad things about him.
Ten-year-old Hikaru said he also improved a lot through group study. He was able to follow Falun Dafa's teachings no matter what others did.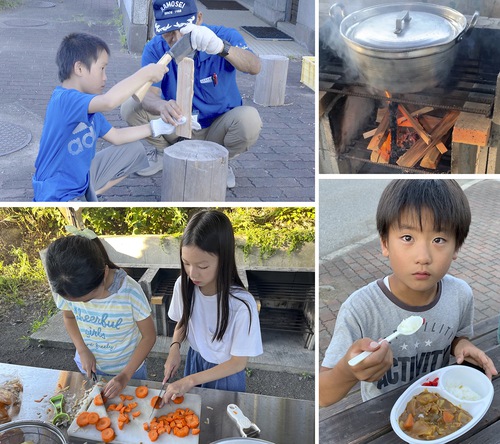 Feedback from Facility Managers
This is the first time Falun Dafa practitioners in Japan had such an event and they were praised by managers at the facility. They said the campers were very polite and kept the building clean.
For example, the air conditioning system broke down and the rooms were hot. Other groups who were using the building became upset and complained. But Minghui School campers were very cooperative and did not say anything. Both the children and adults who participated in the Minghui camp were polite and considerate, which the building managers greatly appreciated.
A camp coordinator gave the managers information about Falun Dafa and the principles of Truthfulness-Compassion-Forbearance. They welcomed practitioners to come back and encouraged them to teach the practice in the community.
Chinese version available
(Clearwisdom)