(Minghui.org) Falun Dafa practitioners held an informational day in Canberra's city centre to mark the Chinese Communist Party's (CCP) 24-year-long persecution of Falun Dafa on July 20, 2023. Practitioners demonstrated Falun Dafa's five sets of exercises, displayed truth-clarification poster boards and banners, distributed Falun Dafa materials and collected signatures to end the persecution. Many locals stopped by the booth to learn more about Falun Dafa and sign the petition to express their support.
Practitioners gathered in front of the Chinese Embassy and held a candlelight vigil in the evening to commemorate those who have lost their lives because of their faith in Falun Dafa. Practitioners called for an end to the CCP's ongoing brutal persecution.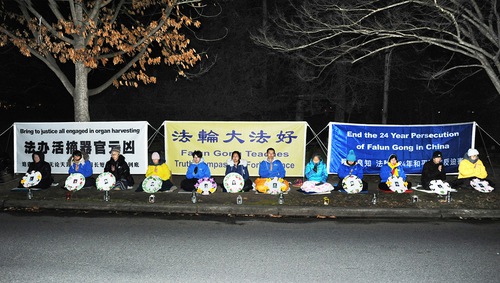 Ms. Ma Li, spokesperson for Canberra's Falun Dafa practitioners, said, "The CCP has used every possible rogue method in forcing Falun Dafa practitioners to give up their faith during the past 24 years. Minghui.org issued a detailed report on how the CCP inhumanely murdered Falun Dafa practitioners in 2013. There are over 206 methods of torture, including severe beatings, electrocution, force-feeding, injecting unknown substances that damaged the central nervous system and forced slave labor. Nearly 100 million practitioners and their families have been subjected to slander and long-term surveillance during the past 24 years. Millions of practitioners were kidnapped, illegally detained, sent to forced labor camps, brainwashing centres and sentenced. The number of practitioners subjected to force live organ harvesting is also unknown. Countless of families have been torn apart, destroyed and their homes broken up."
She continued, "Falun Dafa practitioners both inside and outside of China have risked their lives to help end this persecution over the past 24 years. It is the principles of Truthfulness-Compassion-Forbearance that brought practitioners together. No matter how crazy the CCP gets, practitioners will never give up. Over the past 24 years, practitioners have worked tirelessly to expose the lies of the CCP. Practitioners have brought the truth of Falun Dafa to the world."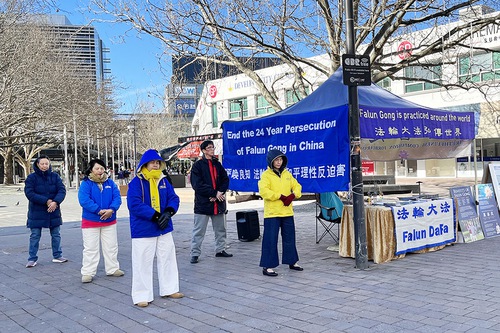 "You are doing a great job in exposing the crimes of the CCP."
Monty Bretly, a student, stopped by the practitioners' booth. He said, "I understand that Falun Dafa is a good practice and it can calm one's mind. You are doing a great job in exposing the crimes of the CCP. The CCP is horrible. The CCP does not have an organ donation system yet it has done many organ transplants. These organs come from prisoners of conscience and the CCP profits from it. This is inhumane. The CCP is extremely against freedom of speech. The CCP is too evil and terrible."
Monty continued, "We need to tell people to stop doing business with the CCP. Many people are doing business with the CCP and the CCP uses the money to do bad things. The profits should go to better places. The CCP has only brought disasters to humankind and never admits responsibility. Communism is wrong."
"The CCP is absurd and shameless in persecuting Falun Dafa," he said.
Andrew Lawson is a forklift driver. He said, "I know Falun Dafa is a peaceful cultivation method. The CCP persecutes Falun Dafa because the practice is well-liked by many Chinese people. Falun Dafa is beneficial to humans, to countries and to the world. I have always wanted to start practicing Falun Dafa but never truly got the chance to start."
He said, "I like the banner that read, 'CCP is not China.' The CCP does not represent China. The international community is condemning the CCP's delusional attempts to infiltrate the globe. The CCP is absurd and shameless in persecuting Falun Dafa. We must all stand up to stop it."
Canberra: Rally Calls to End the Persecution of Falun Dafa in China