(Minghui.org) Falun Dafa practitioners from Australia, New Zealand, and other countries gathered in Melbourne, Australia during the last weekend of October. They held a parade and a character formation activity to spread the beauty of Falun Dafa to people, and they also exposed the Chinese Communist Party's ongoing persecution.
Many practitioners took the opportunity to share the wonders of practicing Falun Dafa and express their gratitude to Master Li Hongzhi, the founder of Falun Dafa.
New Immigrant: Adhering to the Principles of Truthfulness-Compassion-Forbearance and Facing All Challenges with a Calm Heart
Nguyen Thi Kim Oanh is a retired bank officer who started cultivating Falun Dafa in 2020. She had suffered from long bouts of insomnia. "My heart is very happy after cultivating Falun Dafa because I do not have to rely on any medications at night," she said.
Being a new immigrant, Nguyen Thi Kim Oanh has many new issues to consider, but she feels optimistic about life. "Everything can be solved as long as I abide by Dafa's teachings and the principles of Truthfulness-Compassion-Forbearance. I believe I can live well in this new city of Melbourne, as I am a member of the Falun Dafa community," she said.
She continued, "Falun Dafa is becoming more and more widespread and there is something very indescribable. Everyone knows the beauty of Falun Dafa. I am very grateful to Master."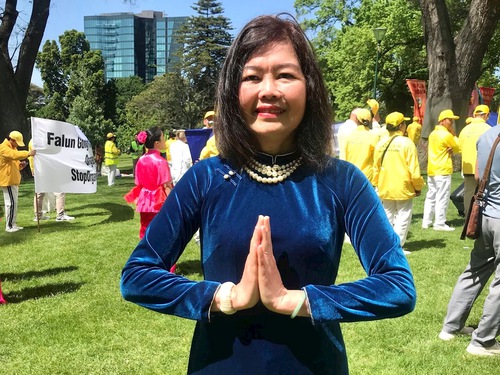 Media Worker: Thank You Master for Giving Me Everything
Richard Szabo, from Gold Coast, works as a department director of a media outlet. He is 40 years old and started cultivating Falun Dafa in 1999. He said, "I found out about Falun Dafa through my father. My father is Hungarian and my mother is Vietnamese. I was born in Australia."
Richard was a reserved person prior to cultivating Dafa. He would often feel anxious when in public and would have panic attacks. He said, "Falun Dafa helped me open up in front of people and it also helped me let go of my anxieties. Dafa has helped me calm down and realize that being out in public is good. It's good to talk to people and to introduce Falun Dafa to other people. I tell them how much Falun Dafa has benefited me physically."
He said, "Falun Dafa has helped me with my relationships. It has also helped me understand Chinese culture and my own Asian heritage."
Richard was glad that he participated in the Fa conference and activities in Melbourne. He took the opportunity to reflect and constantly improve.
"I want to thank Master for everything that I have. Everything I have is because of you and I am forever grateful," he said.
High School Student: Cultivating Dafa Has Made Me a Better Person
Violeta Thodori is 17 years old and started practicing with her parents when she was very young. She participated in the character formation in Melbourne on October 28, 2023.
"Every teenager wants to try new things, and gets influenced and peer pressured very easily. People also get emotional and angry easily. However, I felt like I've stayed pretty calm throughout and kept close to my heart as much as possible," she said.
She experienced that abiding by the principles of Truthfulness-Compassion-Forbearance has helped her in life. "I can become a better person and help myself be true to my values without changing, even with other influences around me."
She said that the practitioners who came to the activity are united like one big body. She continued, "I feel very peaceful. Though there are thousands of people at the activity, I am still able to focus and concentrate."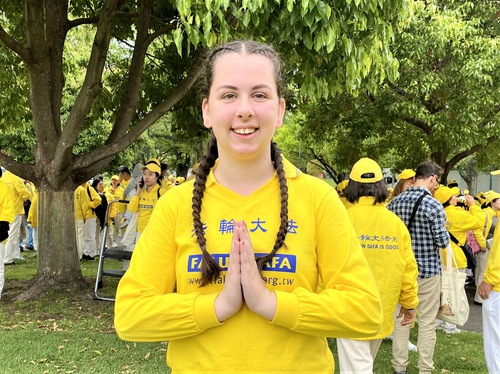 More Optimistic After Cultivating Falun Dafa
Stephanie Page, a Falun Dafa practitioner from Wellington in New Zealand, started cultivating Falun Dafa in 2019. She said that she has become more positive and happy after cultivating. "I can better control my emotions. Much of my relationships with my family members were tense in the past. I can harmonise with them now," she said.
She has realised that she needs to incorporate Truthfulness-Compassion-Forbearance into her life and this has also taught her how to look inward. "At the time, when I feel like I can't do it, I will reflect on that situation and do well the next time. I am a Falun Dafa practitioner and I need to constantly eliminate my human attachments to upgrade."
She flew from New Zealand by herself and was distributing truth-clarification flyers during the parade. She remembers feeling upset and distraught after learning about the brutal persecution in China.
She hopes that more people can learn about the CCP's crimes. She felt truly happy, being able to attend the parade and the character formation. She stated, "Attending a big event was a different experience for me."
Family Lives in Harmony after Cultivating Falun Dafa
Thuy Do is a preschool teacher who became a Falun Dafa practitioner in 2014. "Everyone in my family cultivates Falun Dafa. I observed that they have become better and cared for each other. Their health also improved. This gave me faith in Dafa and I began cultivating as well," she said.
"I am fortunate that my husband is also a practitioner. Everyone in our family abides by the principles of Truthfulness-Compassion-Forbearance. Everyone follows the Fa to look within themselves and find their own shortcomings," she said.
Thuy Do continued, "It has helped me improve my health a lot, as well as improve my character."
"Everyone in my family came to attend this activity in Melbourne. However, many problems occurred when it was almost time to attend the Australia Fa Conference. My mother and I still had not received our visas when the rest of my family members already had. I felt nervous and did not know what to do and whether or not I could make it. Upon second thought, I knew Master had already arranged everything for us. At noon that same day, my agent called me and told me that our visas were approved," she said.
"My family and I obtained good health because of Dafa. We have more time to help others. I would often go to Hong Kong to attend Dafa parades and events. This is very important to my family and me. Every opportunity I get to participate in a Fa conference is also an opportunity to help raise awareness of Falun Dafa's persecution. This way, more people can better understand the beauty of Dafa. I personally feel very moved and happy to become a Dafa disciple and in participating in today's activity," she said.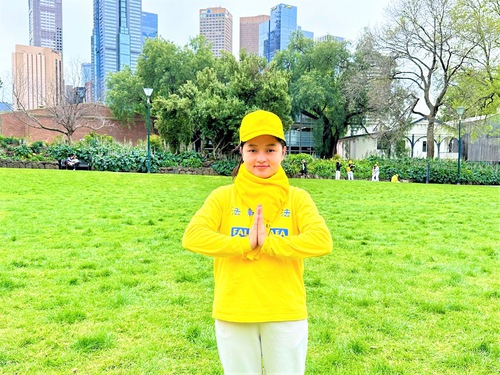 Copyright © 2023 Minghui.org. All rights reserved.