(Minghui.org) July 20, 2023 is the 24th anniversary of Falun Gong practitioners' peaceful struggle against the Chinese Communist Party's (CCP) persecution. Practitioners in Sao Paulo, Brazil held activities to raise awareness at the Chinese Consulate and in the Liberdade district of Sao Paulo, Brazil.
From 8:30 a.m. to 10:00 a.m. on July 20, two Brazilian practitioners distributed Falun Dafa informational materials to people waiting in line to enter the consulate, and talked with them. Some curiously asked for more information.
In the Liberdade district of Sao Paulo, practitioners introduced Falun Gong (also called Falun Dafa) and talked about the CCP's persecution to passersby. Their activities drew the attention and interest of many passers-by.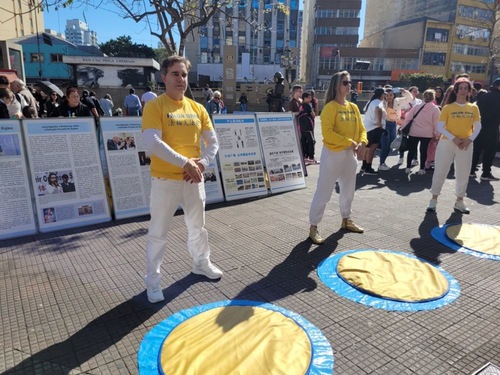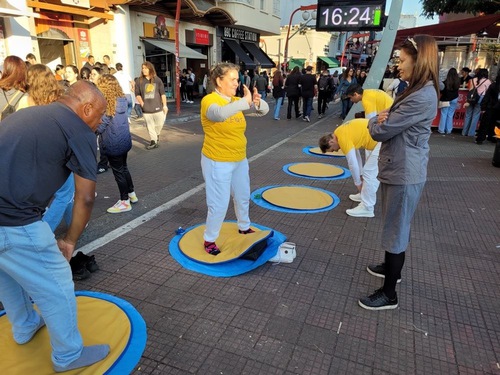 Liberdade District, also known as the Oriental District, is located in the center of Sao Paulo and has a unique cultural atmosphere. A large Asian population lives there. One also finds the largest Japanese community outside of Japan.
On the day of the event, Falun Dafa practitioners placed display boards, introducing the spread of Falun Dafa in China in the early 1990s and exposing the CCP's persecution of Falun Gong practitioners since 1999. They also demonstrated the five sets of Dafa exercises. The peaceful exercise music and graceful movements drew the attention of many passers-by, and many stopped to see what was going on.
Some practitioners also distributed informational Dafa materials introducing Falun Dafa, as well as origami lotus flowers on which were printed the words about the Falun Dafa.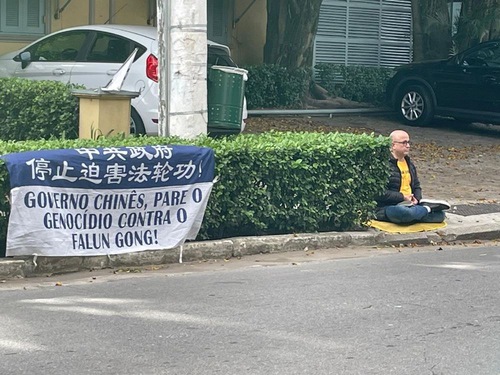 Many people stopped and asked for information. Some people said that they had learned about the CCP's persecution of Falun Gong practitioners from different social media, including the CCP's forced organ harvesting from imprisoned practitioners. Passers-by also took fliers and magazines distributed by practitioners,.
Dentist Heriot, who was passing by with his sister, spent a long time reading the display boards. He became interested in Falun Gong. His sister got a lotus flower and Dafa materials from a practitioner. When he learned that the event was to commemorate the 24th anniversary of Falun Gong's peaceful resistance, Heriot encouraged the practitioners and told them, "Thank you for your efforts."
After sunset, practitioners held a candlelight vigil to commemorate the Chinese Falun Dafa practitioners who lost their lives in the persecution. The vigil drew the attention of many passers-by, who stopped to look at the display boards. Most people were touched, and took photos and videos of the candlelight vigil.
When a woman and her two daughters passed by the event site, she stopped to watch and talked with a practitioner. She told the practitioner, "I want my girls to understand the message you convey about freedom of belief."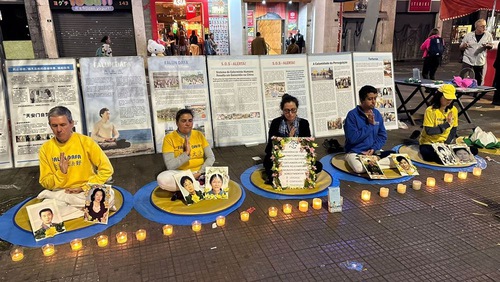 Chinese version available
(Clearwisdom)
Sao Paulo, Brazil: Practitioners Raising Awareness of Falun Dafa