(Minghui.org) Practitioners and human rights advocates held a rally on Capital Hill in Canberra, on November 22, 2022, to expose the persecution of Falun Dafa in China. During the rally in front of Parliament House, speakers condemned the Chinese Communist Party's (CCP) atrocities and witnesses spoke about their experiences.
"The CCP has persecuted Falun Dafa for 23 years since 1999," said John Deller, spokesperson for the Falun Dafa Association in Australia. "It's not easy to sit here for hours during the day and the wind and the rain. But that commitment, dedication, forbearance, and compassion of Falun Gong practitioners move people in Parliament House."
It is an expression of the great teaching we have been privileged to learn through Master Li Hongzhi. "It's a testament to the teaching and the principles of Falun Dafa that we come together in these efforts to try and help the parliament today, yesterday and tomorrow understand Falun Gong, because understanding the goodness of Falun Gong really helps people understand China and get a clearer understanding of the evilness of the Chinese Communist Party (CCP)," he added.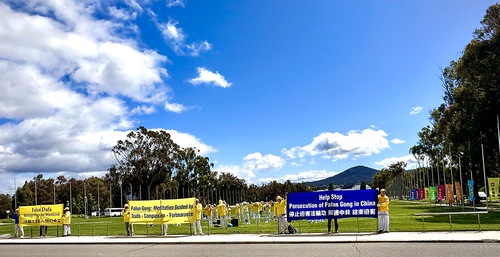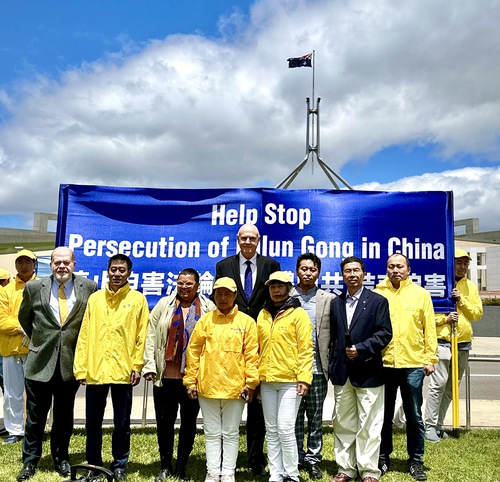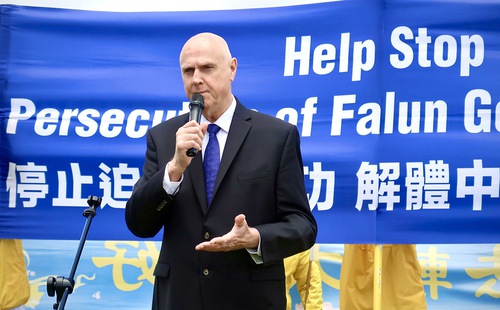 Stop Organ Tourism
David Matas, renowned human rights lawyer, hopes the government will establish laws that ban Australian citizens from going to China for transplant tourism. He said such laws will help end the CCP's persecution of Falun Dafa and forced organ harvesting from practitioners, Uyghurs, and other minorities.
"One is that there should be a motion on this issue. A second is legislation right now," he explained. "It's very easy for me to see a gap in the law and point out a gap in the law, but unless there's constituents, electorate, people that are local people that are concerned, the politicians aren't going to be concerned and so the fact that you're here that your concern is really what's needed in order to get this. That changes to prevent and to remedy this abuse."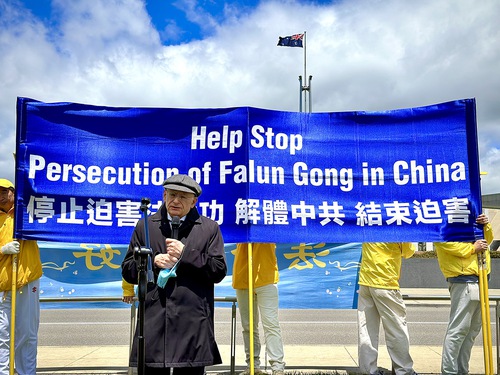 Ending the Hideous Crime 
Glenda Merritt, a community leader and Ngunnawal Elder, said she and her family had a medical background. "It's real. It's happening. It's happening in plain sight – organ harvesting. You know what's happening in China is pure evil, keeping people alive while I harvest their organs," she remarked.
Because the CCP has censored such information and covered it up, Merritt said she did not know this until several years ago. "[Let's] do it from the heart. It's not just a bit of paper or a report. Everyone can read reports and put them aside. But we need to really, physically act. And this is why I'm standing here today because I'm so proud of all of you for being here today. And it breaks my heart where you'd have to fight for it," she continued. "Let's put an end to these evil doings."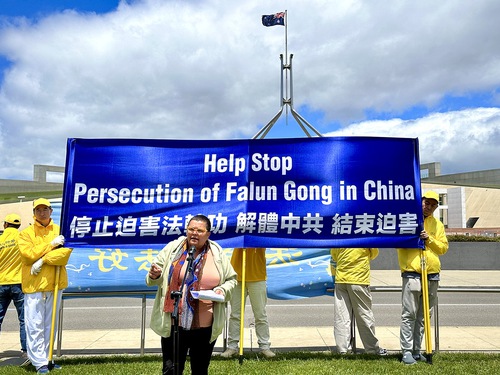 Courage to Support the Upright
Tenzin P. Doring, a representative from the Tibetan Parliament-in-Exile, commended Falun Gong practitioners for their faith in Truthfulness-Compassion-Forbearance. He said that by suppressing Falun Gong, the CCP is undermining traditional values and endangering mankind.
"Therefore, China Communist Party is not only a threat to you, not only a threat to me, but it is also a threat to not just one billion Chinese people, it is a threat to the eight billion people who want to practice compassion, truth, and forbearance," he said. "I know that it is very dangerous to be a right person when the government is wrong. But it takes a sacrifice of human blood. It takes the sacrifice of human patience, it takes the sacrifice of human tolerance to be on the right side.
"We have to submit to compassion, we have to submit to the truth, we have to submit to forbearance and, of course, we'll have to submit to kindness," he added.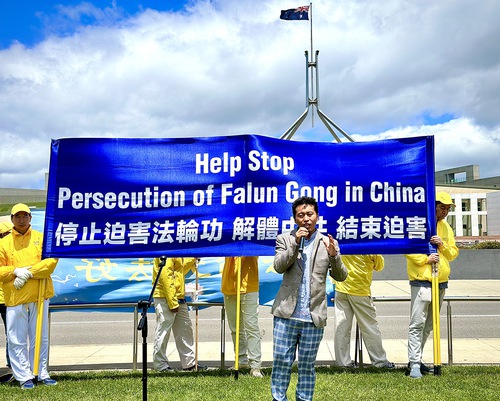 The CCP Allows No Freedom
Andrew Bush, human rights advocate and senior member of the Liberty Party, said the totalitarian CCP regime does not allow democracy. It kills people at will and extracts organs recklessly. The regime wants to control people and allows no freedom.
"We support human rights. We support individual freedoms, we support the rights of people to live their own lives as they want to," he explained. "We must keep trying to get that message to the people of China. They're the key to our success. And I believe in the long term, we can succeed. We will succeed, and we will achieve to see changes in China and the death of the Chinese Communist Party."
Testimonies from Witnesses
Several practitioners spoke at the rally and described how they and their family members were mistreated in China for their belief. Xiong Qi, who now lives in Melbourne, fled China with his daughter years ago. His wife, Ms. Jiang Yongqin, a former teacher at the Zhejiang Sci-Tech University, was detained numerous times for practicing Falun Gong.
On June 12, 2022, Ms. Jiang was arrested again at home by Xin'an police of Jilin City in Jilin Province. Even her 8-year-old daughter and 86-year-old mother were taken to the police station and interrogated. Her mother was terrified and became confused (dementia). Ms. Jiang was tortured, including being sexually assaulted.
Xiong hopes the Australian government and citizens will pay more attention to the persecution in China. He said that by recognizing the vicious nature of the CCP and rejecting the regime, their efforts will help stop the brutality in China.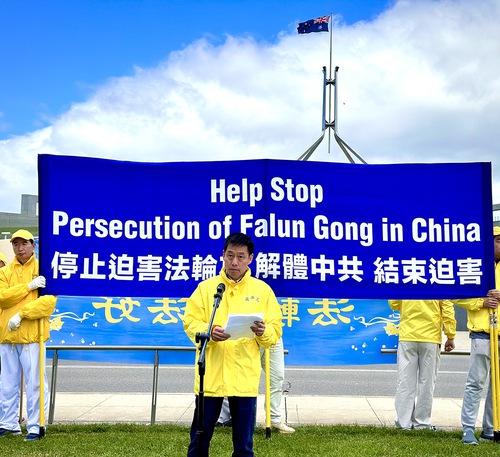 Chen Xiao said she was persecuted in China for practicing Falun Dafa. Blood samples were forcibly taken from her while she was incarcerated.
Her mother, 74-year-old Ms. Tan Zezhen, has been detained in Sichuan Province since December 2020. Nearly two years have passed and officials have not allowed the family to visit. Chen does not know her mother's condition and is very worried.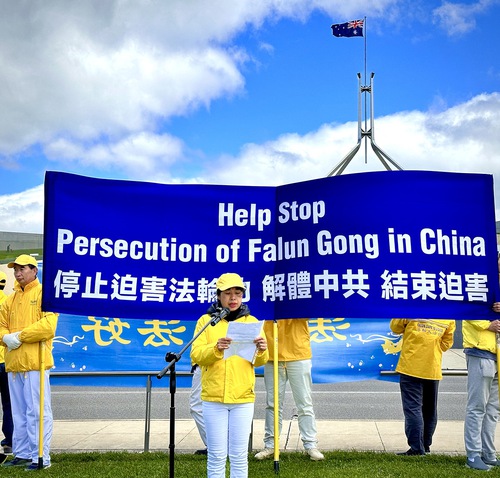 Beyond Imagination
Drawn by the peaceful event, Calum stopped to listen and asked what it was about. Shocked by the atrocities, he said the CCP's crimes are insane. "This is wrong since people should be protected for exercising their freedom of belief instead of being suppressed," he said.
Ara said the CCP has severely violated human rights. These are basic rights and they should be protected everywhere on this planet. She said that forced organ harvesting is unacceptable.
Liam is an embassy staff member and he said the crime of forced organ harvesting is astonishing. "The CCP's brutality is beyond imagination and I cannot understand why those officials would allow this," he said. "We need the principles of Truthfulness-Compassion-Forbearance in this society."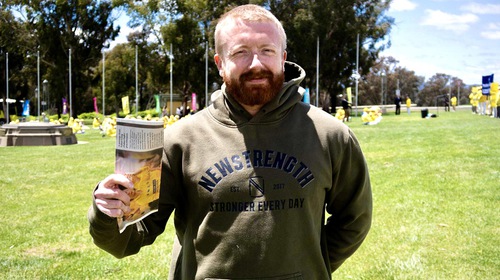 Background: What Is Falun Dafa and Why Is the CCP Persecuting It?
Falun Dafa (also known as Falun Gong) was first introduced to the public by Mr. Li Hongzhi in Changchun, China, in 1992. The spiritual discipline is now practiced in over 100 countries and regions worldwide.
Millions of people who have embraced the teachings, which are based on the principles of Truthfulness, Compassion, and Forbearance, and have learned the five exercises have experienced improved health and well-being.
Jiang Zemin, former head of the Chinese Communist Party (CCP), perceived the spiritual discipline's growing popularity as a threat to the CCP's atheistic ideology and on July 20, 1999, he issued an order to eradicate the practice.
Under Jiang's personal direction, the CCP established the 610 Office, an extralegal security organisation with the power to override the police and judicial systems and whose sole function is to carry out the persecution of Falun Dafa.
Minghui.org has confirmed the deaths of thousands of practitioners as a result of the persecution over the past 23 years. The actual number is believed to be much higher. Countless practitioners have been imprisoned and tortured for their faith.
There is concrete evidence that the CCP sanctions the harvesting of organs from detained practitioners, who are murdered to supply China's organ transplant industry.
Chinese version available
(Clearwisdom)
Canberra: Practitioners Hold Candlelight Vigil at Chinese Embassy to Commemorate April 25 Appeal
9 total views