June 7, by Falun Dafa Practitioner in Wollongong
---
To kick off the winter season, local Wollongong Falun Dafa practitioners participated in the annual Thirroul Seaside and Arts Festival held on Sunday 4 June.  Thirroul, located in the northern suburbs of Wollongong, backing onto the iconic escarpment, some 60 kilometres south of Sydney saw many visiting the event.
The Falun Dafa stall shared information on the beauty of Falun Dafa with free brochures, exercise demonstrations and visitors were able to chat with practictioners, asking questions and taking away information.
Free lotus flowers were made available (part of the Petals of Peace Project) which visitors, children were able to fold a lotus flower which they took away with them.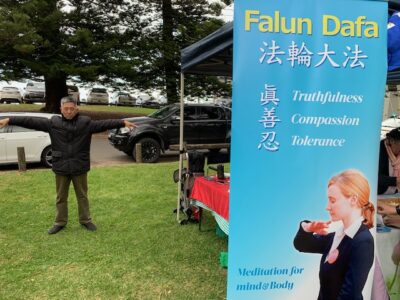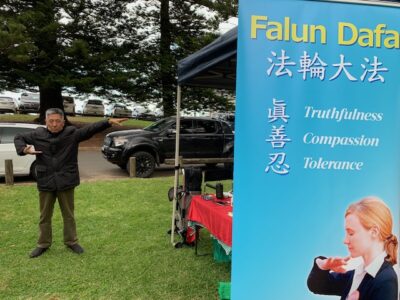 During the days festivities, the exercises were constantly demonstrated and free teachings were made available.  Many who walked by took a look at the exercises, some stopped and watched for a while the peaceful nature of the mediation exercises.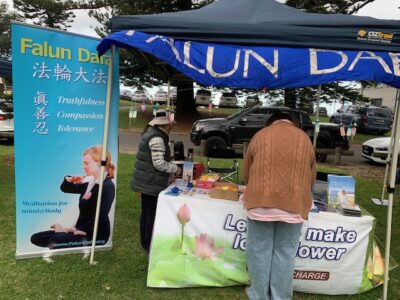 Some visitors were saddened to hear of the continued persecution of Falun Dafa at the hands of the Chinese Communist Party (CCP), amazed at such violations of human rights are still allowed to occur.
As the Sunday event draw to a close, many were able to experience the beauty of Falun Dafa with the free exercise demonstrations, free lotus flower folding, free brochures made available and more importantly (local Falun Dafa practictioners) dear hope that their visit will add to the enrichment of their lives.