(Minghui.org) Falun Dafa practitioners won waves of applause from spectators at the 25th Bielefeld Carnival of Cultures in northwest Germany on June 3, 2023. The Tian Guo Marching Band, practitioners demonstrating the exercises, lion dancers, dragon dancers, waist drum players, and banner team all participated. As the parade passed through the city centre, practitioners also handed out lotus flowers with the words "Truthfulness-Compassion-Forbearance" on them to people on both sides of the streets.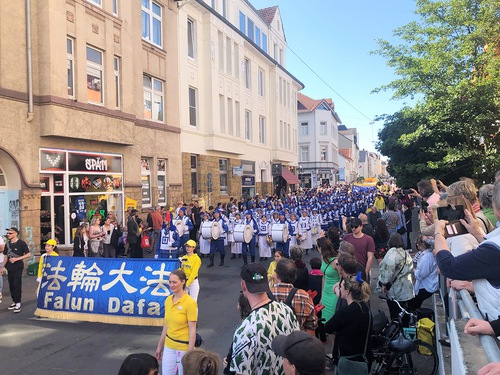 The parade ended at City Hall Square, where the festivities continued. On a stage in the square, a practitioner introduced Falun Dafa and explained the principles of Truthfulness-Compassion-Forbearance and the five exercises. Both the host and those watching on two large screens showed their appreciation with warm applause.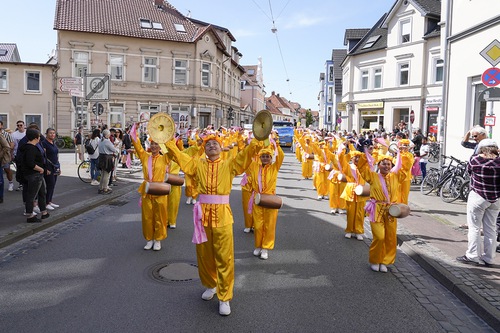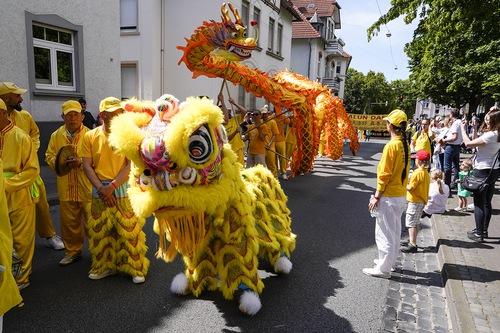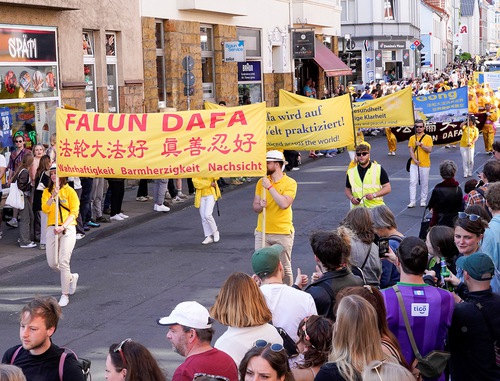 Traditional Values
In addition to the parade, practitioners also set up booths in the old town and Festival Square to tell people about Falun Dafa. When they heard that the Chinese Communist Party (CCP) persecutes the practice, many people signed a petition to help end the persecution.
Fanar, who lives in Bielefeld, said she was drawn to the practitioners' performances. When she heard about the principles of Truthfulness-Compassion-Forbearance, she said, "I like these (principles) and I want to learn how to practice!" She took a photo of the Falun Dafa website and exchanged phone numbers with a practitioner to keep in touch. Before she left she hugged a practitioner and said, "I can tell you are all great people and I am so happy to meet all of you here today."
A father and his two young sons came to the booth. He said they'd been handed lotus flowers by a practitioner as they watched the parade, and they were curious about Falun Dafa. Besides signing the petition calling for an end to the suppression in China, the father took several brochures and said he would read them.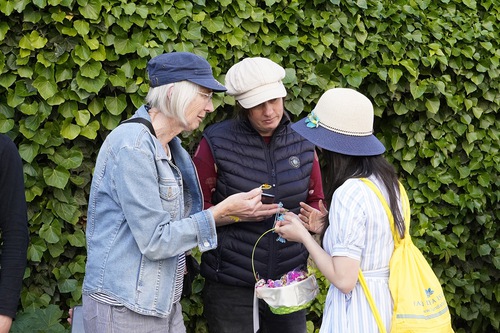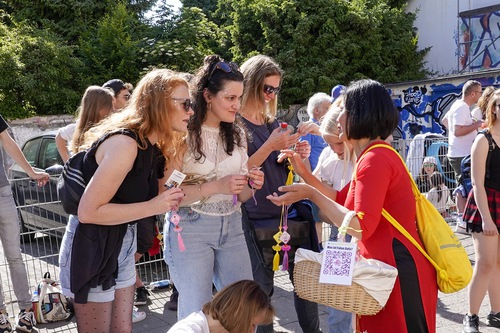 Ursula said she'd recently signed the petition. "This persecution is horrible and I think such petitions are very important," she said. "The more people that sign it the better. I will definitely tell my family and friends about it."
Having heard about Falun Dafa before the event, Ursula said she discussed the principles of Truthfulness-Compassion-Forbearance with a friend. "I really like these words because they are so important," she added. "Not just me, I think my sister and friends will also let more people know about this."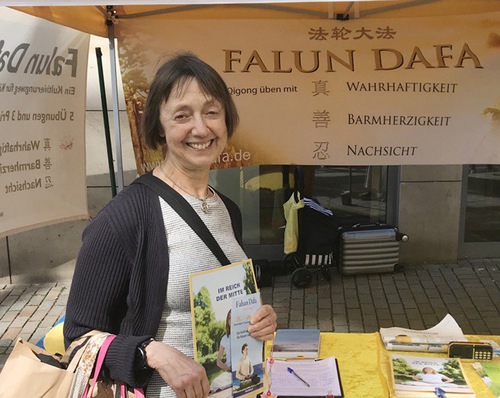 83-Year-Old Practitioner: Falun Dafa Is Wonderful
Phan Nguyen, 83, came to Germany from Vietnam over 40 years ago. He was one of the oldest practitioners participating in the event. In the past, he had to take medication every day for diabetes and he seldom went out.
"About a year ago, I heard about Falun Dafa on the Internet, and I was interested," he recalled. He contacted the local practitioners, and a Vietnamese practitioner taught him the exercises. "After I did them for one month I no longer needed medication," Nguyen explained. "Then I heard about the persecution by the CCP in China and I knew I had to do my part to end it." So he participates in activities to tell people about Falun Dafa.
He said his character had truly improved. "If someone said anything bad about me in the past, I would immediately argue with him," he said. "Now I try to follow the teachings of Truthfulness-Compassion-Forbearance, and handle it differently." Noticing how he has changed, many people around him are also interested in learning the practice.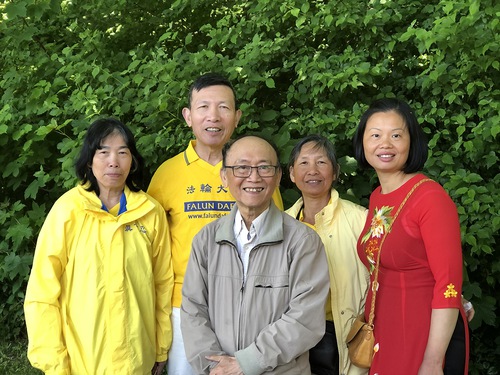 Chinese version available
(Clearwisdom)
Germany: Recalling Falun Dafa's Introduction in Frankfurt 25 Years Ago