(Minghui.org) When Chinese premier Li Qiang visited Berlin and Munich on June 20, 2023, Falun Dafa practitioners held peaceful appeals in both cities urging the German government and the public to help end the Chinese Communist Party's (CCP) persecution of Falun Dafa.
They called on the German government to pay attention to the CCP's negative impact on world safety and to help bring the 24-year suppression of Falun Dafa to an end.
After German chancellor Olaf Scholz met Li in Berlin in the morning, Bavarian Minister-President Markus Söder met the premier in Munich that evening. Throughout these meetings, Dafa practitioners peacefully protested outside the German Chancellery and Munich Residenz.
Many passersby learned about Falun Dafa and how the CCP persecutes this peaceful group. They signed petitions calling to stop the brutalities including the regime's forced organ harvesting of prisoners of conscience.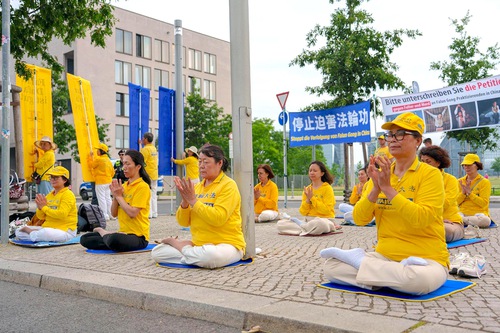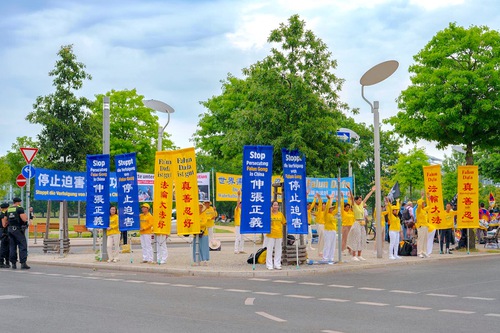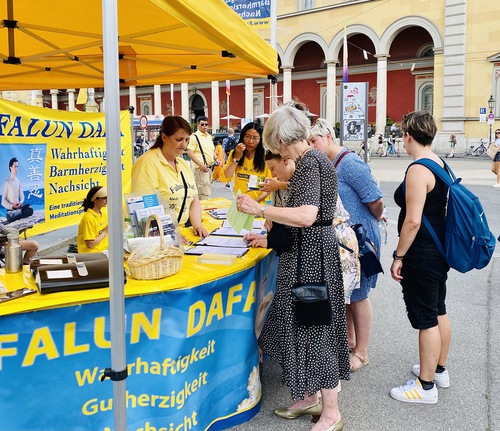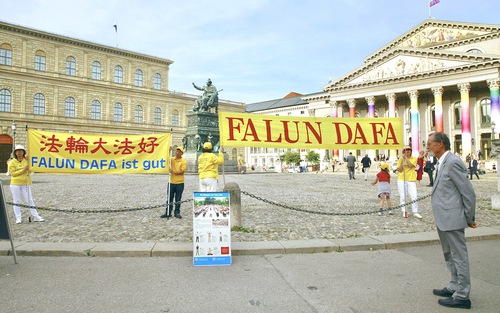 Member of Parliament: Importance of Human Rights Dialog
Michael Brand, Member of Parliament and a human rights advocate, thanked those who attended the events including Tibetans, Uyghurs, Hong Kong residents, and Falun Dafa practitioners. He said that anything in China that is different from the CCP can be targeted and brutally suppressed by the regime, and that is why it's important for people to gather together to oppose these human rights abuses. 
MP Brand said that human rights were not included in the agenda during the dialog between the German government and the Chinese premier, adding that it is wrong that the CCP commits the crimes of genocide and human rights violations, which are ignored.
Brand commended those who attended the rally, as they are not intimidated by the CCP. He said he bowed to them for their courage and efforts.
Margarete Bause, a former Member of Parliament and representative from Transparency International, told practitioners she has been paying attention to the human rights situation in China and will pass on the information to her successor.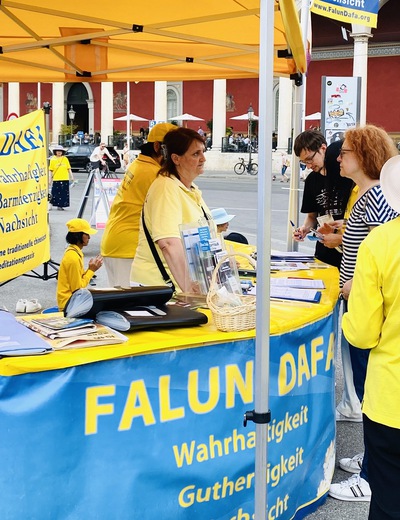 Detained for Their Faith
After his parents were arrested by the CCP on May 12, 2023, Ding Lebin has been asking for help in Germany to secure their release. After attending the peaceful protest in Berlin, Ding joined the event in Munich in the late afternoon.
Bavaria and Shandong province have close ties, and the Chinese province has been heavily involved in the persecution of Falun Dafa, Ding said. Around Falun Dafa Day (May 13) this year, over 40 practitioners in Rizhao City (in Shandong Province) alone were arrested for their belief. Although Ding's mother Ma Ruimei has since returned home, she is still being watched by the police. Ding's father, Ding Yuande, is currently held in the Rizhao Detention Centre.
During an interview with Reuters, Ding said he hopes more people can learn about what is going on in China. He believes that the efforts of the Bavarian Minister-President and other German officials will help draw attention to the human rights situation in China, including the plight of Ding's father and other Falun Dafa practitioners.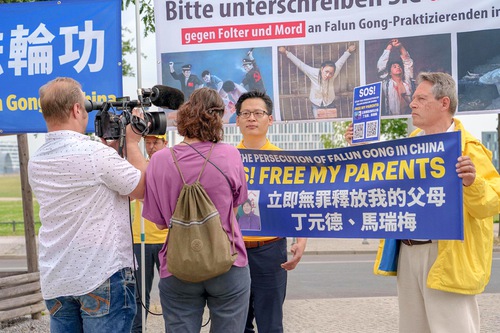 A Sad Situation
After seeing the practitioners' event in Munich, retired teacher Monica immediately signed a petition calling to end forced organ harvesting in China. "We have to stop this crime," she said.
She added that the CCP is known for its human rights abuses, noting that it is unfortunate that over 30 years have passed since the Tiananmen Square Massacre, and the current situation in China is even worse. Monica said it is hard to imagine that the CCP would suppress Falun Gong practitioners for their faith in the principles of Truthfulness, Compassion, and Forbearance. She felt sad for the misery that the Chinese people are experiencing.
Richard Steindol, a baker, said he is sad to hear that the CCP has been persecuting Falun Dafa practitioners for 24 years for their faith in traditional values. "What the CCP is doing is like a battle between Satan and the divine," he remarked.
As he signed a petition to show his support for Falun dafa practitioners, Mr. Steindol said he'd felt a strong energy when he walked past practitioners as they did the exercises. "That is why I am here to support this," he explained.
Background
Falun Dafa (also known as Falun Gong) is a meditation system based on the principles of Truthfulness-Compassion-Forbearance and five sets of exercises. It has brought enormous physical and spiritual benefits to those who practice, since its introduction to the public in 1992. After the CCP began to suppress Falun Dafa in 1999, tens of millions of practitioners in China have been discriminated against and severely mistreated by the authorities for their belief.
Chinese version available
(Clearwisdom)
Bielefeld, Germany: Falun Dafa Well Received at Cultural Festival