(Minghui.org) Falun Dafa practitioners in Bucharest organised an event near the AFI Cotroceni shopping centre on May 20, 2023, to raise awareness of the Chinese Communist Party's (CCP) persecution of Falun Gong.
Bucharesters from all walks of life stopped by the booth to speak with practitioners. Many of them expressed support for Falun Dafa and its values of Truthfulness-Compassion-Forbearance and condemned the CCP's persecution, which has continued for 24 years.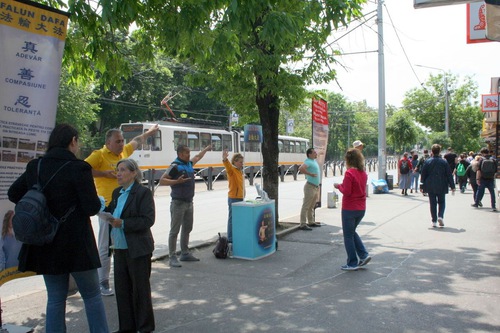 A painter who came by the booth said that she was very sorry that she had not met Dafa practitioners and learned about the persecution earlier. She said Falun Dafa's principle of putting others before oneself can have a positive effect on society. She also said the sacrifice that Falun Gong practitioners make is one example .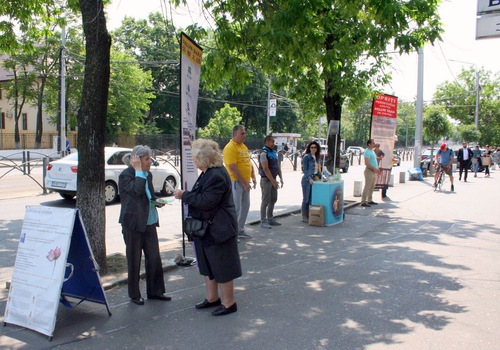 An 84-year-old former military officer was pleased to see the practitioners' event. "The moral principles that the Falun Dafa practice promotes among people are good, and I think they will help today's decaying society," she said. "These morality-oriented actions are more than welcome, since today's media spread immoral and uncultured information and have a bad influence on people."
She took a flier with information about Falun Dafa and an origami lotus flower as gifts for her daughter.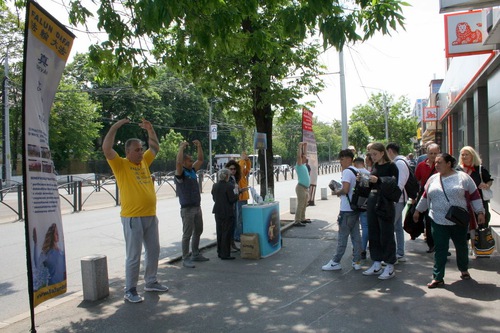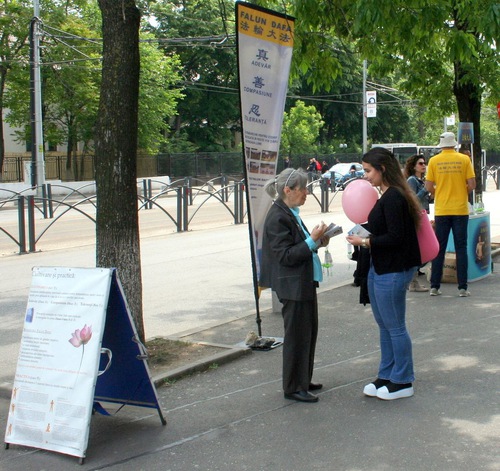 A young university student, was touched after hearing about the persecution perpetrated against Falun Dafa practitioners in China by the CCP. She said she felt deep regret hearing about Chinese practitioners' suffering and wished them "success for a better future."
She added that she wished people would be kinder, like the way Falun Dafa's principles teach people to be. "If the world were kinder and less rushed – it would be much better," she said.
A group of girls said that Falun Dafa's values of Truthfulness-Compassion-Forbearance are good for everyone to follow in everything they do. They each took a lotus flower before leaving.
A mother accompanied by her eight-year-old daughter Maia stopped at the booth and heard the practitioners' introduction of Falun Dafa. Practitioners gave the mother and daughter a copy of The Lotus Story, a children's book written by practitioners that helps children understand and live by Truthfulness-Compassion-Forbearance.
Romanian Falun Dafa practitioners have also produced a video version of the children's book, which has received over 1.8 million views and 31,000 likes on Facebook.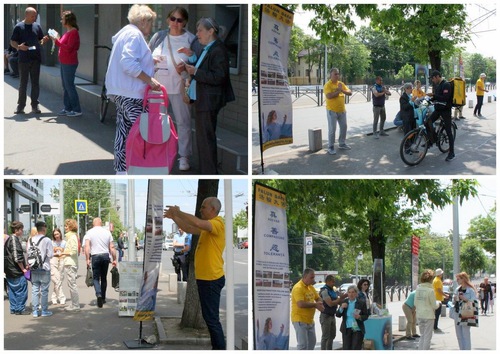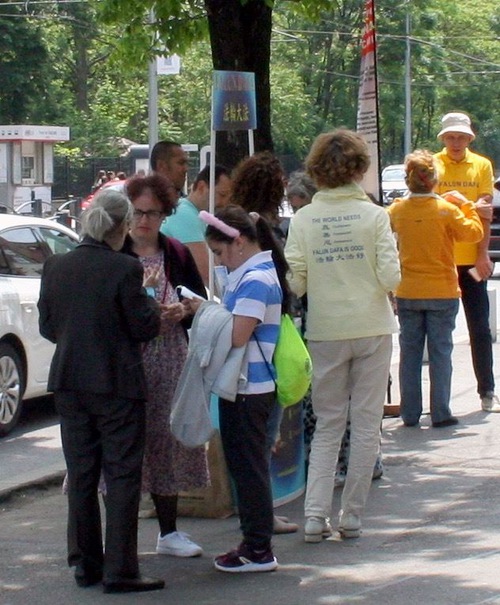 Chinese version available
(Clearwisdom)