(Minghui.org) Romanian Falun Dafa practitioners held several special informational activities and exercise demonstrations in Brașov on May 13, 2023, to commemorate World Falun Dafa Day. Practitioners from Brașov and other parts of the country participated.
In the morning, practitioners did the exercises together in a park at the practice site located at 5 Tower Street. Then they set up an information stand on Republic Street, which is popular with both Romanians and foreign tourists, to raise awareness of the Chinese Communist Party's (CCP) persecution of Falun Gong practitioners.
Both events promoted the benefits of Falun Dafa by demonstrating the exercises and distributing informational materials. Many Romanians stopped to inquire about the practice during the activities and to show their support for the practitioners in China who are still being persecuted for their belief.
Romanians Take a Stand Against the Persecution
Practitioners collected signatures on two petitions during both activities. One petition was initiated by an NGO called Cherish Humanity and called on the Romanian president to condemn the Chinese Communist Party's forced organ harvesting from Falun Dafa practitioners and other religious and ethnic minorities.
The other petition, organised by the Global Service Center for Quitting the CCP, condemns the CCP for its egregious human rights abuses. The second petition has garnered over 3.5 million signatures from people around the world.
Vlad, who is Romanian, grew up in Belgium. He was one of the many who signed the petitions. He had heard about Falun Dafa before this event and the suffering of practitioners in China. He said practitioners in China have been subjected to forced organ harvesting for too long.
He watched the Falun Dafa exercise demonstration closely and told a practitioner that what drew him to the practitioners' event was the "high-vibration energy field" he felt.
Vlad said that what fascinated him was seeing how detached the practitioners were from their physical bodies and from the hustle and bustle of their surroundings. He said he would consider learning the exercises in the future.
A woman from Brașov asked why practitioners are persecuted in China. She watched the exercises and said she couldn't understand what harm they could do and for what reason practitioners in China are tortured and killed.
After signing both petitions, she said, "Practitioners who have their organs harvested against their will suffer a terrible injustice. Forced organ harvesting is a very strange phenomenon with serious implications."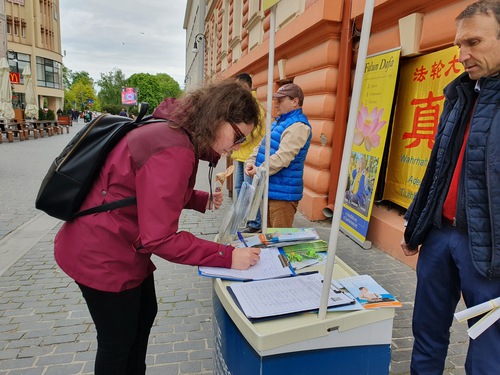 Radu Amariei was handed a leaflet with information about Falun Dafa as he passed by and recognised a former colleague who had since become a Falun Dafa practitioner. Amariei was happy to see his former colleague volunteering for a humanitarian cause on behalf of those deprived of the freedom to practice their faith in China. He signed the petition.
Amariei said he encouraged any form of movement. In his opinion, qigong promotes good health, not only because it is based on physical exercise, but especially because it is based on moral values.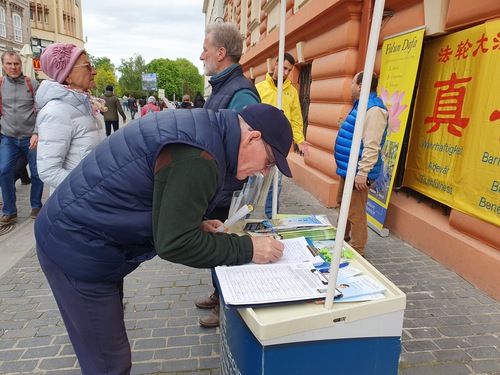 Captivated by the Exercises
One man who stopped in front of the Falun Dafa booth said he was very happy to learn about the practice of Falun Dafa and its moral benefits. He said that as he was passing by "the light on the faces of those doing the exercises" caught his attention.
He listened to the music, watched the exercises, saw the informational materials with Chinese characters, and wanted to know their meaning. He found out that the Chinese characters stand for the basic principles of Falun Dafa: Truthfulness, Compassion, and Forbearance.
When he heard what the characters meant, he wanted to learn how to say them in Chinese, which is a rare phenomenon in Romania.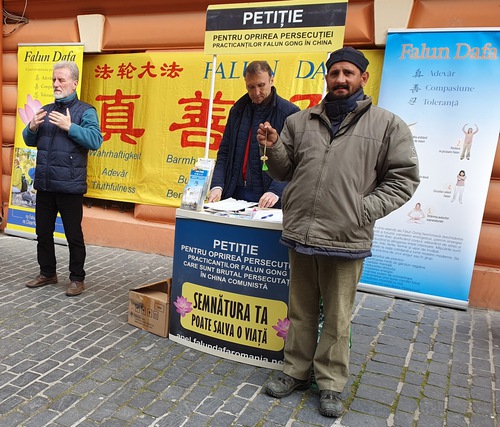 A New Practitioner Participates in the Celebration
Although she only recently started practicing Falun Dafa, Marlene wanted to join her fellow practitioners at the event.
"I want to tell people about the benefits of Falun Dafa and that practitioners gain health and wisdom by doing the exercises and raising their moral standards, I'm glad that these things can be learned in our city here in Brașov," she said.
Marlene was drawn to Falun Dafa from the moment she first saw the Brașov practitioners doing the exercises one morning as she was riding her bike in the park. She joined the group that day. "Since then, I've never missed the exercises," she said.
The principles of Truthfulness, Compassion, and Forbearance resonated with her."Kindness, truth, and compassion are principles that have guided me all my life, and these are values I strongly believe in," she said.
She added that a school of practice that promotes, cultivates, and instills these values in people is a tremendously good thing, and she's glad she finally found it.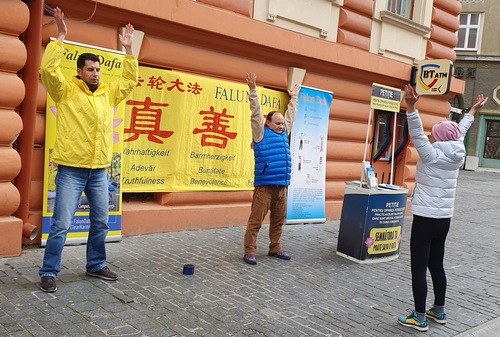 Sorin, a Falun Dafa practitioner, came from a town 140 kilometers (87 miles) from Brașov. He joined the event in Brașov "to celebrate World Falun Dafa Day with other practitioners and to talk to people about the benefits of Falun Dafa.
"We want people to understand that Falun Dafa practice is extremely serious and that it helps to improve a person by doing physical exercises that are good for the body and by improving one's moral standards, all based on the principles of Falun Dafa: Truthfulness, Compassion, and Forbearance," he said.
Radu, another Falun Dafa practitioner, came from 370 km (230 miles) away to support the event in Brașov on 13 May.
The following day, May 14, practitioners from Brașov and around the country joined the practitioners in Bucharest, Romania's capital, to support events dedicated to World Falun Dafa Day.
Chinese version available
(Clearwisdom)
Romania: Event in Europe's Cultural Capital Exposes Persecution in China