(Minghui.org) Falun Gong practitioners in Istanbul held a peaceful protest activity in front of the Chinese Consulate on April 17, 2023. They commemorated the 24th anniversary of over 10,000 Chinese Falun Gong practitioners' peaceful appeal in Beijing on April 25, 1999.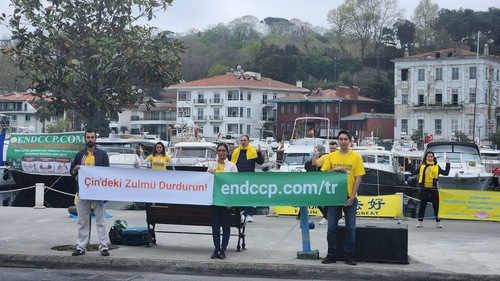 During the event, people who passed by in their cars gave thumbs up and honked their horns to show their support. Some people stopped their cars to take truth-clarification materials practitioners were handing out. They condemned the Chinese Communist Party's (CCP) persecution of Falun Gong and signed a petition calling for it to end.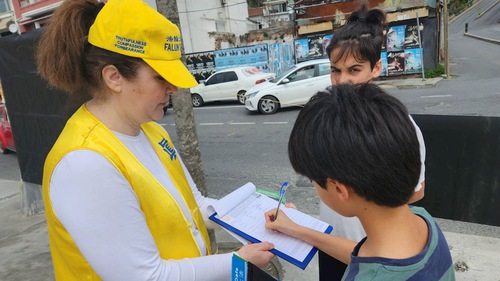 Kadir Rezzak, a translator and social media expert, is a Uyghur-Turk born and raised in Kashgar in Xinjiang Province, China. "I remember when I was in high school in China in 1998, the CCP started to arrest Falun Gong practitioners. The CCP harvests organs from living Falun Gong practitioners, which is very sad. Now they are also persecuting Uyghur Turks. I condemn the CCP. The CCP's actions have been described as genocide by the United States, the United Kingdom and many European countries," Rezzak said.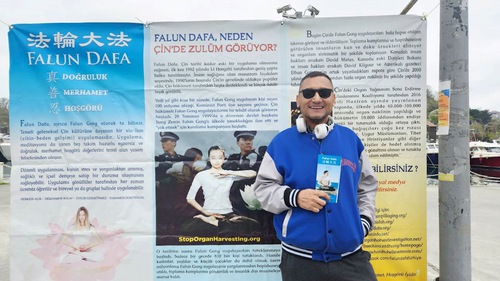 A car with several people inside stopped in front of the practitioners. The man in the car said, "When I saw the sign 'Stop the Persecution in China,' I wanted to help. What can I do?" He said that he and his family were Uyghur Turks. They all signed the petition after hearing about the CCP's ongoing persecution.
Chinese version available
(Clearwisdom)
Turkey: Introducing Falun Dafa at a Shopping Centre in Istanbul