(Minghui.org) Practitioners in Istanbul held an event to introduce Falun Dafa on Saturday, March 25, 2023, at Tepe Natulis AVM, one of the most popular shopping malls on the Asian Side of Istanbul. Even while the practitioners were setting up their display, some people were eagerly waiting to learn the exercises.
Some mall visitors sat on nearby benches for a long time and watched practitioners do the exercises. Some asked for fliers, and some talked with the practitioners to learn about Falun Dafa.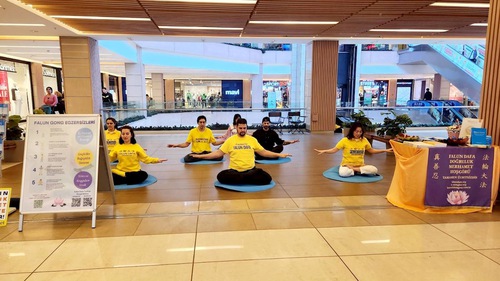 Toprak and Deniz are seven-year-old twins. They did the fifth Falun Dafa exercise, the meditation. Toprak said that he felt very peaceful and Deniz said his heart was calm. Their mother Hatice Hanım, said, "They are in the 1st grade of primary school. Children are distracted these days. I have various meditations done at home, but this is the first time they sat for such a long time. I was surprised," she said.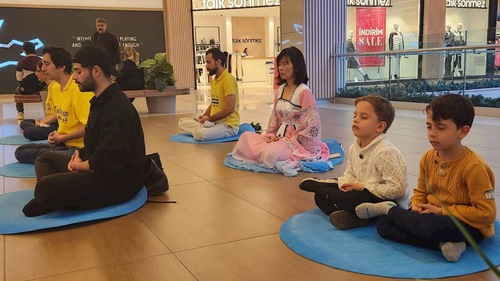 Two women, one in her 40s and the other in her 60s stopped and talked with practitioners. They took the information about Falun Dafa and headed for the escalators. They both fell down on the escalators, but they still held the brochures tightly. Two practitioners hurried over to help them. One practitioner told the women, "You're okay, you're fine." They stood up and realised that they were, indeed, fine.
Mustafa Bahtiyar is a tourism professional and said he first heard about Falun Dafa years ago on the Internet. He was happy to meet practitioners during the event. He said that he would take the Falun Gong book, Minghui magazine, and promotional brochures and learn more about Falun Dafa.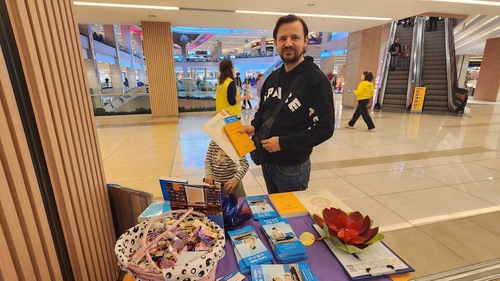 During the six-hour event, practitioners had the opportunity to talk to visitors for a long time and answered their questions. Many people took brochures and left with a smile.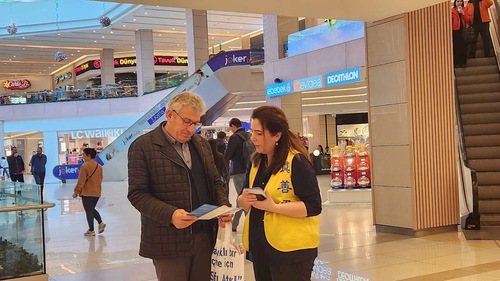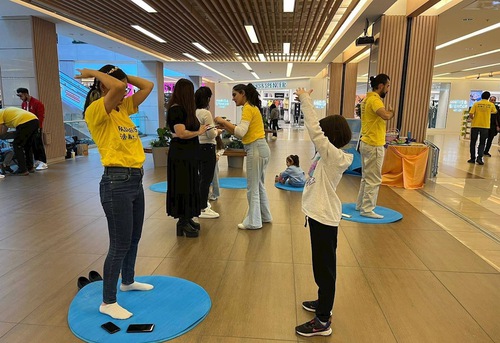 Background: What Is Falun Dafa?
Falun Dafa (also known as Falun Gong) was first introduced to the public by Mr. Li Hongzhi in Changchun, China, in 1992. The spiritual discipline is now practiced in over 100 countries worldwide. Millions of people who have embraced the teachings—which are based on the principles of Truthfulness, Compassion, and Forbearance—and learned the five exercises have experienced improved health and well-being.
(Clearwisdom)