(Minghui.org) A 7.8-magnitude earthquake struck southern Turkey and northern Syria on February 6, 2023.
The death toll rose quickly in the hours afterward. As of late afternoon on February 7, 5,894 people have died in Turkey, and another 1,932 deaths were reported in Syria. The World Health Organisation estimated that up to 20,000 may have died, according to The Guardian.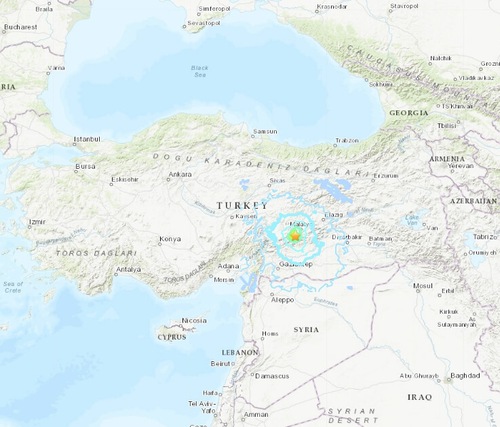 Cities Hit Severely
At 4:17 a.m. local time on February 6, 2023, an earthquake with a magnitude of 7.8 occurred near the Turkish city of Gaziantep, with a focal depth of only 17.9 kilometers. At 1:24 p.m., a second quake with a magnitude of 7.5 struck nearby and was also felt in Ankara, the capital of Turkey, some 600 kilometers (375 miles) away. Over ten cities in Turkey were affected.
Agence France-Presse reported that the strong earthquake and subsequent aftershocks have caused the collapse of 5,606 buildings in Turkey, including the Yeni Mosque in Malatya. Syria has also announced the collapse of dozens of buildings.
Tremors Felt in Many Countries
The quake struck 23 kilometers (14.2 miles) east of Nurdagi in Gaziantep Province, according to the U.S. Geological Survey (USGS). Nurdaj is located along the Turkey-Syria border and the tremor was felt in several countries in the region, including Cyprus, Syria, Lebanon, Jordan, Iraq, and as far away as Romania, southern Russia, and Egypt.
NATO, the European Union, and 45 countries are providing assistance in the aftermath of the disaster.
Multiple Strong Aftershocks
According to the Turkish National Meteorological Agency, heavy snow and strong winds are predicted for the provinces of Osmaniye, Kahramanmaras, Adiyaman, and Malatya, which will further hinder rescue efforts. Multiple aftershocks have hit these provinces over the past 12 hours.
Turkey reported at least 120 aftershocks.
A CNN witness said that aftershocks were still being felt hours after the quake struck. Subsequent photos of the earthquake from the scene showed buildings flattened and cars overturned.
Strong aftershocks hit southern and central Turkey. About 11 minutes after the main quake, the strongest aftershock with a magnitude of 6.7 struck an area about 32 kilometers (20 miles) northwest of the epicenter. Nineteen minutes after the main quake, another 5.6-magnitude aftershock struck.
Gaziantep-based journalist Eyad Kourdi told CNN there were as many as eight very strong aftershocks in less than a minute after the 7.8-magnitude quake hit, knocking household items off shelves. He added that many of his neighbors left their homes after the quake.
Chinese version available
(Clearwisdom)
146 total views