(Minghui.org) The 31st Toronto Golf and Travel Show was held at the International Center from February 3-5, 2023. This is the largest golf expo in Canada and the third largest in North America.
Temperatures outside the event were minus 30 degrees but it was bustling indoors. Practitioners demonstrated the exercises to slow, relaxing music, quite a contrast to the surrounding hustle and bustle. Falun Dafa books including Falun Gong and Zhuan Falun were for sale at their booth. Many people stopped and told practitioners, "The atmosphere at your booth makes me feel at peace." Some gave practitioners a thumbs up. A constant flow of people stopped by to learn the exercises.
"Everyone in the World Should Learn Falun Dafa"
Shyamal's parents are from India but he was born in Canada. He came to the booth to learn more about Falun Dafa. He said, "Like Chinese, Indians love to pursue and delve into the realm of faith and spirituality."
A practitioner told him, "Falun Dafa teaches one to live by the principles of Truthfulness, Compassion, and Forbearance. Because good will be rewarded with good and vice versa, one must be a good person."
Shyamal said, "I believe in this. Only when we love everyone unconditionally are we able to reach the state of Truthfulness-Compassion-Forbearance. I think one can decipher the truth with firm conviction. We may live in a material world, yet I believe other dimensions exist. That is going into a spiritual realm. We must learn to control our emotions and stop getting angry because that will create a negative field and attract bad consequences. When we treat others with kindness, we give out a positive field and therefore good things will come to us. I definitely support Falun Dafa in teaching one to be good.
"I think everyone in the world should practice Falun Dafa because they will benefit from following the principles of Truthfulness-Compassion-Forbearance and be blessed in return."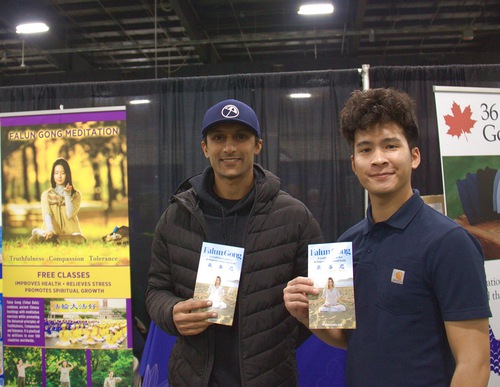 "I Want to Learn to Be Considerate of Others"
Angela said she'd learned to meditate in the past. She was drawn to the Falun Dafa booth, and after listening to practitioners describe Falun Dafa, she purchased a copy of Zhuan Falun.
She said, "Everyone needs to learn and put Truthfulness, Compassion, and Forbearance into practice. I am usually friendly, but I cannot tolerate injustice. I find it hard to forgive. Through chatting with practitioners, I understood why I should cultivate, so I bought this book. I hope to be someone who thinks of others through practicing cultivation and to be able to sacrifice. In particular, I need to work on improving my endurance."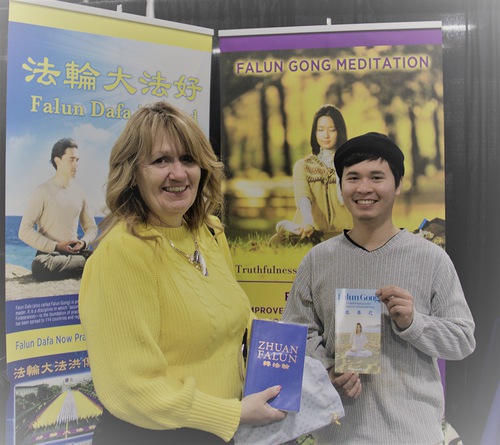 "This Practice Makes Me Feel Calm and Wonderful"
Prakash is 83 this year. He used to own a business and had 400 employees. When he asked practitioners about the benefits of practicing Falun Dafa, he was told, "This is a mind and body practice. Some practitioners are in their 70s but appear to be in their 40s." He laughed and said, "I, too, want to become young. I want to learn the exercises."
After learning the movements, he said, "I was a little tense when learning the gestures as I had to pay attention to what practitioners were doing so that my movements would be accurate. However, after I became familiar with the movements, I felt very relaxed. This made me feel calm and wonderful—as if I had gone to heaven."
When practitioners told him Falun Dafa requires adherents to not only do the exercises but also treat others with kindness, he replied, "Everyone should be kindhearted."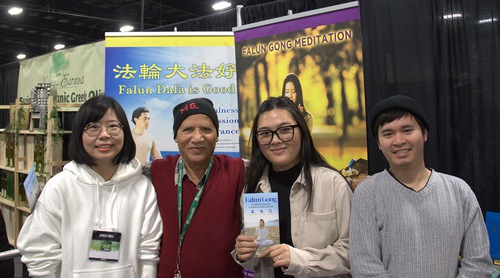 "I Must Learn Falun Dafa"
Catherine's booth was next to the practitioners. She watched as they demonstrated the exercises. She said, "I'd like to give this a try!" A practitioner showed her the exercises. Afterward she said, "I want to learn more.
"I felt light. There was an energy field and it made me at peace. I even felt hot and numb. Yesterday, a practitioner came to my booth to buy olive oil. She shared her story of recovering from cancer by practicing Falun Dafa. I always loved to meditate. My mother told me about Falun Dafa in the past because she loved to study Chinese cultivation ways. She also told me Falun Dafa practitioners were persecuted in China. After hearing this practitioner's story, I was touched. I thought to myself, 'I must learn Falun Dafa.'
"I live in the city and always see practitioners doing the exercises in the park next to my place. I will join them for sure and do the exercises with them."
Falun Dafa Benefits People
Steven said after accepting a brochure from a practitioner, "I was about to go online to read about Falun Dafa." He said he saw news reports about the persecution in China. "I oppose this suppression because believing in Falun Dafa is a personal choice, and the CCP has no right to interfere in this. It just wants to control people and make them do what it orders. To my knowledge, Falun Dafa is great, there is nothing bad about it. It will only benefit people. Truthfulness-Compassion-Forbearance is very important and I believe in it. That is why I came to the stall."
Antonio was curious when he passed by the stall and saw three practitioners doing the exercises. He pointed at one as she meditated and said, "I did not see her move at all."
After listening to practitioners' brief introduction, he said, "I agree with Truthfulness, Compassion, and Forbearance. I believe only when you are devout can you live by these principles. I believe this is the wisdom given to us by gods. Through faith in God, we can become selfless, compassionate people. When we have such wisdom, we can in turn, share it with others. We should try to understand how others feel and treat them with kindness. We should try our best to help those in trouble."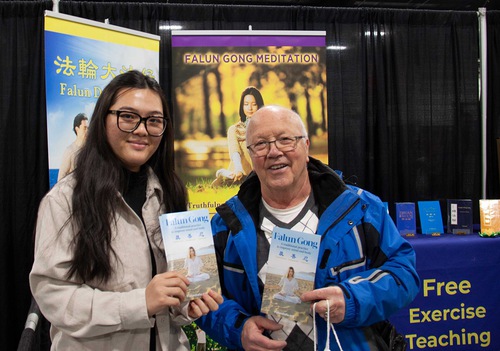 "I Will Continue to Do the Exercises"
Carol and Rosy are good friends. After learning the movements, Carol said, "The movements are slow and gentle, yet I felt warm as I did them. I am an active person. This practice has given me a different experience. It helped me calm down."
She added, "I am a psychologist. I often use meditation to help my patients heal their illnesses. During the healing process, I need to be very tolerant and understand how they feel. Therefore I absolutely agree with the principles of Truthfulness, Compassion, and Forbearance. I will definitely go to the Falun Dafa website to continue doing the exercises when I go home."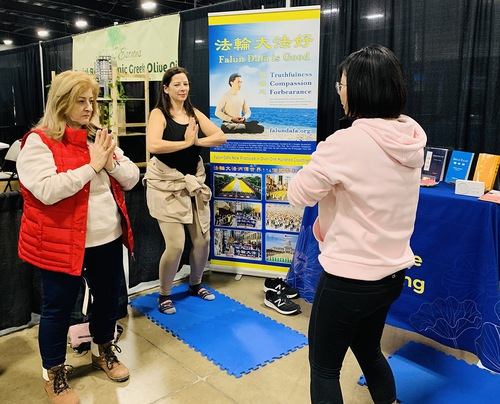 Danielle and her mother Lisa came to the stall just before the exhibition was about to end. Danielle was keen to learn the exercises but did not want to make her mother wait. Her mother encouraged her, saying, "I will watch while you learn."
After learning the exercises, Danielle said, "I feel so relaxed. My body felt stretched out.
"I've read about Falun Dafa on social media. I know it requires practitioners to meditate with a quiet mind, so one feels very relaxed."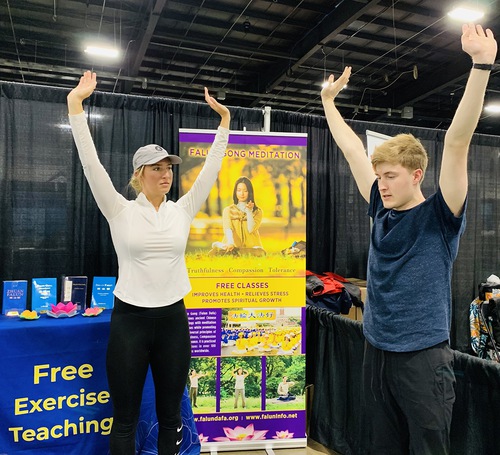 150 total views