(Minghui.org) Falun Dafa practitioners participated in Adelaide's Australia Day Parade on January 26, 2023. They shared Falun Dafa's principles of Truthfulness, Compassion, and Forbearance and were well-received. Some Chinese spectators shouted, "Falun Dafa is good!"
A spirited parade of over 60 South Australian communities came together to celebrate the area's diversity by dressing up in their traditional costumes. The parade started from the Pinky Flat area and ended at Elder Park. Thousands gathered and applauded on King William Street.
Suspended for three years due to the COVID-19 pandemic, the parade was a joyous occasion and well-attended. Practitioners in yellow T-shirts that read "Falun Dafa Is Good" demonstrated Falun Dafa's five exercises to much applause.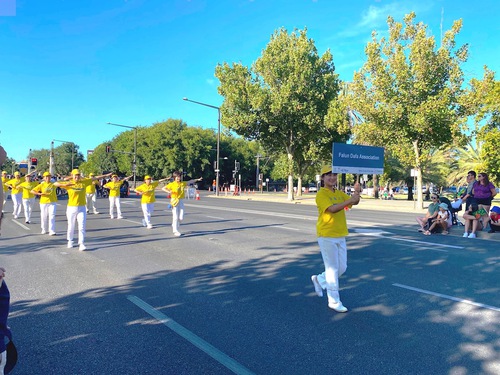 A man who read "Truthfulness-Compassion-Forbearance" on their banner gave practitioners a thumbs up, while another shouted, "Falun Dafa is good!"
Ms. Chen, a practitioner who participated in the parade, said that she wanted to share Falun Dafa's blessings with everyone on the route. She said that, after she started to practice Falun Dafa, she became calmer and "can enter into a state of tranquility during the meditation exercises."
The city of Adelaide has invited Falun Dafa practitioners in South Australia to participate in the Australia Day Parade many times and their entries have been recognised as "The Prettiest," "The Most Creative" and for having "The Best Music."
Chinese version available
(Clearwisdom)
197 total views