(Minghui.org) Chinese people ended 2022 in a new wave of COVID infections and deaths. Hospitals, funeral homes, and crematories in some major cities have all reached capacity. Instead of celebrating the New Year, many are living in fear, not sure how to stay safe amid the surging cases.
In many places, medical workers who tested positive were still required to work. People are scrambling to get their hands on the last few pills of fever medicine. There are long lines outside crematories. Some experts estimated the daily deaths in China have exceeded 10,000.
As hospitals were overwhelmed, some medical facilities such as the Xietu Road Branch of Zhongshan Hospital (affiliated with Fudan University in Shanghai) lined up patients by the side of the road to give them intravenous injections and oxygen.
Hainan Province announced on December 30 that 50% of its residents had been infected. Since the Chinese Communist Party (CCP) often under-reported COVID cases, some suspect that the real numbers are even higher. Zhang Wenhong, director of the Centre for Infectious Disease at Fudan University's Huashan Hospital, said the infection rate during this wave was very high and could reach 80% (or 1.1 billion people) by the Chinese New Year holiday season (starting January 22, 2023).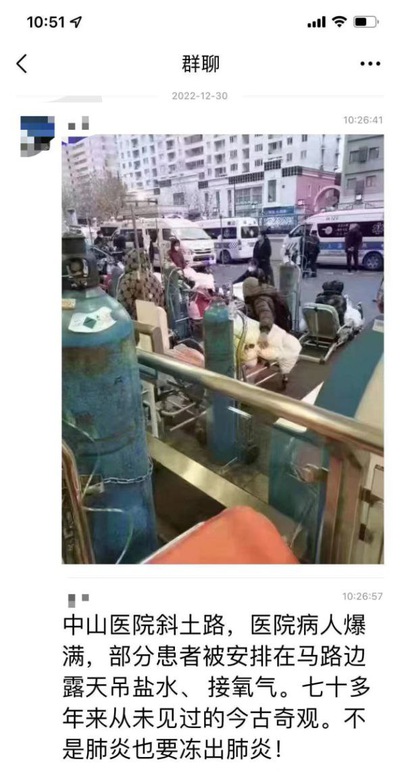 The CCP is Always "Right"
When the CCP abruptly ended the three-year-long zero-COVID policy on December 7, it lifted almost all restrictions with no exit plan. China's National Health Commission (NHC) further renamed COVID from "novel coronavirus pneumonia" to "novel coronavirus infection" and downgraded it from a Class A to a Class B infectious disease (which no longer requires quarantine).
All this happened so quickly that citizens could not react fast enough. When the zero-COVID policy was still in place, the CCP was depicting COVID as a highly infectious and lethal disease that must be eliminated at all costs. Instead of enhancing its healthcare system, the CCP exhausted almost all its resources on conducting endless COVID-testing, and locking things down. Now that it has ditched the zero-COVID policy, the CCP is telling people that the disease is as mild as the common flu.
"Why did [the CCP] suddenly make a U-turn?" remarked a Beijing resident. "It seems like we are all being fooled."
The CCP's propaganda machine is very efficient. Before the previous political slogans, such as "vowing to defeat any infection case," faded away, new slogans propagated through Xinhua News Agency, People's Daily, and CCTV, such as "Chinese people are not intimidated by the pandemic. We know there is a danger, but we go for it…"
The sudden end of the zero-COVID policy reflects the CCP's shortsightedness in handling the COVID situation. Ding Liang, a public health expert in the United States, recently told VOA that it seems that Beijing "wants those who would be infected to get infected sooner, and those who would die to disappear sooner. This way, the peak would arrive earlier and things can get back to 'normal' earlier."
According to the Nine Commentaries on the Communist Party, Mao Zedong once said, "Battling with heaven is endless joy, fighting with the earth is endless joy, and struggling with humanity is endless joy." Following in Mao's footsteps, the CCP battled with the virus. However, instead of achieving zero-COVID, it sparked public anger and failed to contain the virus. The CCP had no choice but to abandon its zero-COVID policy. The virus soon reached almost every corner of the country.
Zhou, a native of Yunnan Province, told VOA (Voice of America) on December 29 that his hometown, a small village between Yunan Province and Guizhou Province, was also hit with the new wave of COVID. "I cannot even describe the remoteness of that place. It has always been one of the poorest and most rural places in China," he said. "But my mother told me that almost everyone in the village got infected about one week ago – no one was able to escape it." There are about 600 or 700 residents in the village. Several elderly villagers and one girl have died.
Threat to the World
WHO's Director, General Tedros Adhanom Ghebreyesus, recently said that the agency needs more information on the severity of the outbreak in China, especially on hospital and ICU admissions, "in order to make a comprehensive risk assessment of the situation on the ground."
France, the United Kingdom, and Spain announced on December 30 that they were imposing stricter measures against the recent COVID surge in China. The French government now requires passengers from China to present a negative COVID test result obtained within 48 hours before boarding a flight to the country. In addition to urging its citizens to avoid unnecessary travel to China, the French government planned random PCR test at airports on travelers from China to identify new variants.
The British Department of Health and Social Care said that beginning January 5 people traveling from China on direct flights would be asked to take a pre-departure COVID test. Also, the U.K. Health Security Agency will launch surveillance starting on January 8, with a sample of China arrivals being tested for the virus.
Health Secretary Steve Barclay said that the British government was taking a "balanced and precautionary approach," adding that the measures were intended to be "temporary" as officials assess the latest COVID data.
"At the national level, we will implement controls at airports and require travelers from China to present a negative COVID test or be fully vaccinated," remarked Spanish health minister Carolina Darias. She and the French government will continue to push for similar measures in other countries of the European Union.
Several other countries have already began requiring travelers from China to present negative COVID test results, or undergo testing. They include the United States, South Korea, India, Italy, Japan, and Taiwan.
Chinese version available
(Clearwisdom)