(Minghui.org) Shen Yun Performing Arts launched its 2023 world tour in Atlanta, Georgia, on December 24. After Christmas, the company continued to perform in Atlanta, while kicking off its tours in Japan, Germany, and the American states of California, Texas, Massachusetts, and Florida.
While Shen Yun's revival of divinely-inspired arts and culture left many audiences worldwide in awe, the company cannot perform in China due to the communist regime's systematic destruction of traditional culture. The performance has become a way for Chinese descendants to reconnect with their own heritage.
This season, for the first time, with the sponsorship of the Epoch Times, Shen Yun offered discounted prices for mainland Chinese for the shows in California and Boston to encourage them to experience their own culture. A number of the mainland Chinese attendees expressed feeling moved, proud, and appreciative after seeing the performances.
"The Performance Really Made Me Very Moved"
Ms. Kang from China saw Shen Yun with her daughter in San Jose, California, on December 29. This was her first time seeing Shen Yun, and she came after seeing the discount for mainland Chinese.
"Shen Yun carries forward traditional Chinese dance, and finds a home in the U.S. [The live orchestra] is a blend of Chinese and West. I think it's great," Ms. Kang said during an interview with a Minghui correspondent.
"Seeing the scenes triggered my feelings. I thought of how the land of China has suffered so much pain and hardships. I felt very said," she said in tears. "As someone born in an atheist country, I feel that we've deviated from the path toward the divine, too far, too far. I don't know where this nation should go… I think the Chinese have suffered too much pain and hardships. The performance really made me very moved," she said.
"What Shen Yun presents is a kind of spirit, a kind of spirit of the culture," she said. Ms. Kang said that dance crosses national borders, transcends ethnicities, and does not isolate anyone; and culture is a kind of intermediary. Shen Yun uses the intermediary of dance and built a bridge to deliver intentions of the divine, messages of the divine.
She hoped that the words of the divine that were delivered by Shen Yun through dance "can be brought to our land of China."
"A Blessing for the Family" 
Ms. Jin from China also saw Shen Yun with her child in San Jose on December 29.
"I hope that me coming to see it (Shen Yun) can bring blessings to my family," Ms. Jin said. She said that the pandemic in China is severe right now and her family members have all contracted the virus. She hoped to bring the beauty of Shen Yun to her family members.
"I thought it was pretty good… [Shen Yun] did everything very well. The performance and the background all blended together. My child also thought it was very interesting," she said.
Ms. Jin said that Shen Yun displayed many traditional Chinese dances. "It conveys to the Western world that Chinese people are not like the atheism propagated by the CCP, but have traditional values and moral constraints," she said.
During this time of holidays, Ms. Jin said she hoped to watch the performance under this "great opportunity," "experience it," and have a good understanding of Falun Gong. "There are many things in reality that I don't know if they're real or not. I had to come see it, experience it… Shen Yun probably has a Falun Gong background. I wanted to come experience it. This is real… Because I've come in touch with some of the many propaganda in China, but it feels like it was becoming more and more distant. So I wanted to come and experience it live," she said.
Ms. Jin said she was immersed in Shen Yun's performance, and praised the dancers' skills. "[They] focus on the training, and did the professional dancing especially well," she said.
She also spoke about the dance drama based on the classic novel, Journey to the West, which is a well-known novel among all Chinese families. "It was very well-done. The performance and the background all blended together. Our child also thought it was very interesting," she said.
"I really appreciate how they [put on] such a good performance, especially that they're delivering traditional Chinese notions in the Western world. I thank them very much for their hard work," she said.
Ms. Jin said that the situation in China is very serious right now and the pandemic is severe. Both her parents as well as her brother's family all contracted the virus.
"I think [coming to Shen Yun] is a blessing for the family… I disagree with a lot of the pandemic policies in China, that everything was suddenly opened up. Hopefully me coming to see (Shen Yun) will bring beautiful blessings to my family," Ms. Jin said.
"Very in Awe and Very Touched"
Ms. Wan from China saw Shen Yun in Boston on December 27. This was her first time seeing Shen Yun. She was in tears as she spoke during the interview.
"Actually I kept shedding tears from beginning to end. That piece [about the persecution], I'm not a Falun Gong practitioner at home, but I've heard of people that were persecuted. So I saw that here. I also really missed my home. I'm very moved. These performers performed very well, very professional. Their movements were all very synchronised. Our ethnic clothing is very beautiful. Those water sleeves were very beautiful, and [the dancers] were very synchronised.
"Whether the music, the scenes, or the staging, it was all very good. I'm very in awe and very touched. Especially being able to see our traditional culture and five thousand years of culture in the U.S., and able to spread it in the U.S. right now, I feel very proud," she said.
Ms. Wan said that she cried many times while watching the piece depicting the persecution of Falun Gong practitioners, because she knew that all of it was true.
"I think people truly need to have a faith. Truthfulness-Compassion-Forbearance are all in reality what we should pursue. They're helpful for both the society and humankind," she said.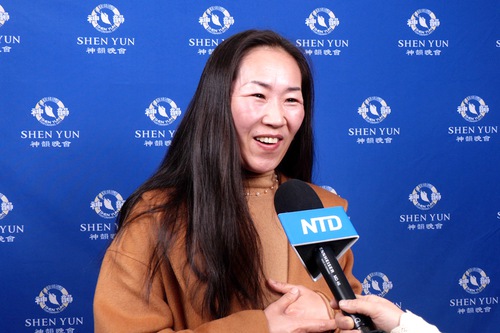 "I Feel Very Proud"
Luo Zesong, who recently immigrated to the U.S. from China, saw Shen Yun in San Jose on December 26. He choked up and shed tears several times during the interview.
"I was very awestruck to see this program… It's not very easy to be able to gather together so many excellent artists," Mr. Luo said.
He said that he learned about Shen Yun in China on the Internet after bypassing the Great Firewall, but this was his first time seeing it in a theater.
"Thank you very much, Shen Yun, for bringing out so much excellent culture and tradition. Secondly, it displayed the dark side of [the CCP] to people in the world, so people can wake up," he said.
"If we can't stop how the CCP does whatever it wants, every one of us, whether you're in the East or West, will be a victim," Mr. Luo said.
He felt very proud as a Chinese after seeing overseas so many mainstream audience members like and seek after authentic Chinese culture. "First, I feel I have this kind of pride that we Chinese have. We have such good culture and such good arts. I feel very proud. Second, I will share it with my family and friends and let them come experience this joy together," he said.
"I hope that one day, in mainland China, I can very freely, relaxingly, and happily watch Shen Yun with my family, peacefully without any interference," he choked up again while saying this. "I believe that day will come. It will!" Mr. Luo said.
Upcoming Performances
Shen Yun continues its 2023 tour with upcoming performances:
Boston, Massachusetts, December 31
Houston, Texas, December 31–January 2
San Jose, California, December 31–January 1
Miami, Florida, December 31–January 1
North Charleston, South Carolina, January 2–3
Gainesville, Florida, January 3–4
Berlin, Germany, December 31–January 7
Woking, United Kingdom, January 4–5
Fukuoka, Japan, December 31
Hiroshima, Japan, January 2–3