(Minghui.org) Falun Dafa practitioners were invited to participate in Norwood's Christmas Parade in Adelaide on November 26, 2022. Many local parade-goers praised the practitioners' float, saying it was outstanding and colorful. Others said it was memorable.
The Christmas parade resumed after COVID restrictions were eased, and the popular event was filled with colorful floats, music and entertainment. Practitioners' golden Fa boat attracted the attention of spectators the length of the parade route. Many took pictures or video recording of the procession.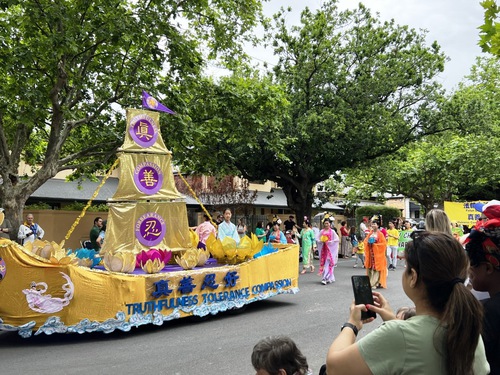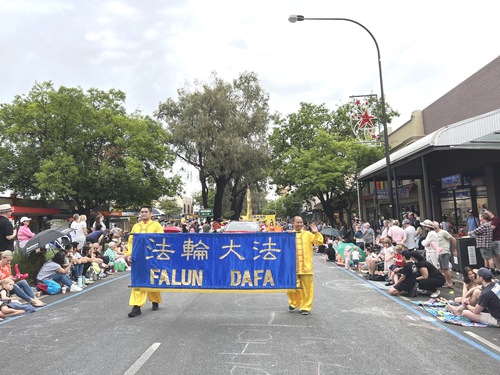 Golden Boat Spreads Blessings
Many spectators said the golden Fa boat with the words "Truthfulness-Compassion-Forbearance" and "Falun Dafa is good" was especially eye catching. Practitioners dressed as celestial maidens demonstrated Falun Dafa's fifth exercise, the meditation. Two little practitioners dressed as fairies waved to spectators. With the music Falun Dafa Is Good playing in background, celestial maidens carrying lotus flowers and Dafa practitioners with banners walked behind the float.
The crowd applauded as the Falun Dafa procession walked by. Some cheered and called out, "Falun Dafa is good!" while others imitated the hand movements of the meditation exercise.
Before the parade started, people noticed the big golden float and took many pictures. Practitioners handed out handmade paper lotus flowers and told them about Falun Dafa.
Ms. Sun from Northeastern China is 80 years old. She brought her grandson to the parade and was attracted to the practitioners' sparkling float. After she learned that the float was designed and made by practitioners, Ms. Sun remarked, "This float is beautiful!"
A practitioner told Ms. Sun, "We want people to know the true essence of traditional Chinese culture and the beauty of Truthfulness-Compassion-Forbearance. Falun Dafa is welcomed and recognised worldwide. However, the Chinese Communist Party (CCP) created propaganda to slander Falun Dafa."
Ms. Sun was happy to take a paper lotus flower and said that she was interested in learning Falun Dafa.
Justin, who works in the health department, brought his family to the parade. He was happy to see practitioners and said their procession was filled with brilliant colors and looked beautiful. He wanted to learn more about Falun Dafa's principles of Truthfulness-Compassion-Forbearance, noting, "These principles are very good."
After the parade several people asked practitioners about the CCP's ongoing persecution of Falun Dafa. Practitioners told them about the current situation in China. Other people wanted to know where local practice sites were located.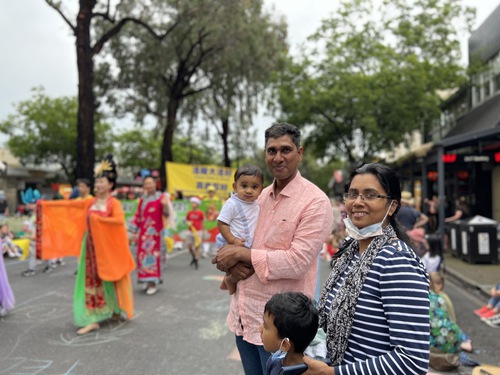 Benefitting in Both Mind and Body After Cultivating Falun Dafa
Trinh from Vietnam said this was the first parade he'd participated in. He wanted to tell everyone about the blessings he received from practicing Falun Dafa. He also hopes more people will know how practitioners in China are persecuted.
Trinh said that he became healthier and was full of vitality after he began practicing Falun Dafa. Prior to that, he was under a lot of pressure while studying for his doctorate degree. After he began practicing Falun Dafa, Trinh was able to calm down, focus and study more effectively.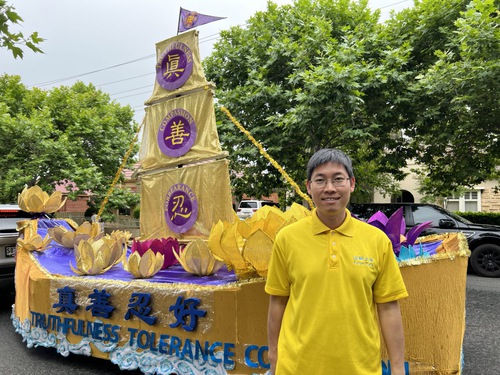 Mr. Truong and his family practice Falun Dafa. He and his three children participated in the parade. Ngoc, his eldest daughter said, "I am happy to see that Falun Dafa is so well received."
Ngoc continued, "Practicing Falun Dafa benefited my whole family. Everyone is able to find their own shortcomings and be tolerant. We now live harmoniously. My father is more caring and I can honestly express my feelings. Many children are afraid of their parents, but this is not the case for me. I respect my parents and I've learned to calmly express my thoughts."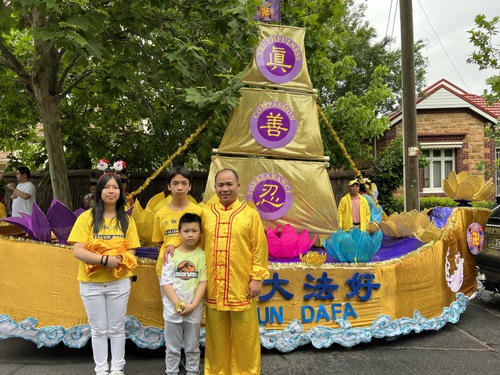 Bella was very happy to see many young practitioners attend the parade. She shared that she is pregnant and said, "Studying the Fa is definitely important for my future child." Bella said that reading the teachings has brought a lot of positive changes, especially changes in her mentality.
"I remind myself that I am a practitioner and that I need to look inward, find my shortcomings and upgrade my character. I have also learned to place others first."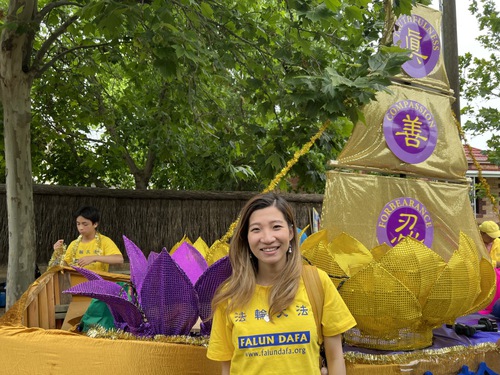 Background: What Is Falun Dafa and Why Is the CCP Persecuting It?
Falun Dafa (also known as Falun Gong) was first introduced to the public by Mr. Li Hongzhi in Changchun, China, in 1992. The spiritual discipline is now practiced in over 100 countries and regions worldwide.
Millions of people who have embraced the teachings, which are based on the principles of Truthfulness, Compassion, and Forbearance, and have learned the five exercises, have experienced improved health and well-being.
Jiang Zemin, former head of the Chinese Communist Party (CCP), perceived the spiritual discipline's growing popularity as a threat to the CCP's atheistic ideology and on July 20, 1999, he issued an order to eradicate the practice.
Under Jiang's personal direction, the CCP established the 610 Office, an extralegal security organisation with the power to override the police and judicial systems and whose sole function is to carry out the persecution of Falun Dafa.
Minghui.org has confirmed the deaths of thousands of practitioners as a result of the persecution over the past 23 years, though due to the difficulty in getting information out of China, the actual number is believed to be much higher. Countless practitioners have been imprisoned and tortured for their faith.
There is concrete evidence that the CCP sanctions the harvesting of organs from detained practitioners, who are murdered to supply China's organ transplant industry.
Chinese version available
(Clearwisdom)
Adelaide Rally: Collective Effort Needed to End the CCP's Crimes
12 total views