(Minghui.org) The persecution deaths of 31 more Falun Gong practitioners were reported in October and November 2022.
Falun Gong, also known as Falun Dafa, is a mind-body practice based on the principles of Truthfulness, Compassion, and Forbearance. Since its public introduction in 1992, countless people have been drawn to its profound principles and health benefits. Fearing its ever-growing popularity, the Chinese communist regime launched a nationwide campaign in July 1999, attempting to stamp out the practice.
The newly-confirmed 31 deaths include one each in 2007, 2008, 2012, 2013, 2015, 2019, and 2020. Three deaths occurred in 2016, four n 2021, and 17 in 2022.
The 31 practitioners, 18 of them women, lived in 17 provinces or municipalities. Liaoning and Heilongjiang topped the list with five cases each, followed by four cases in Jiangsu and three in Inner Mongolia. Henan had two cases. The 12 remaining regions, including Anhui, Guangdong, Guizhou, Hebei, Hunan, Jiangxi, Jilin, Shandong, Shanghai, Shanxi, Sichuan, and Yunnan, each had one case.
Except for four practitioners whose ages aren't known, the other practitioners were between 45 and 82, including seven in their 70s and two in their 80s. They came from all walks of life, including an engineer, a jewelry merchant, a former police officer, and a teacher. Some of the elderly practitioners had their pensions suspended and were destitute before eventually passing away.
Three of the practitioners died while still in custody. Most of the others passed away after succumbing to long-term mental distress, incarceration, and torture. Many families fell apart due to the persecution, including three families each losing three members.
Below is a selection of the deaths. The full list of the 31 deceased practitioners can be downloaded here (PDF).
Deaths in Custody
Shanxi Man Dies in Prison While Serving Time for His Faith
Mr. Luo Baojun of Taiyuan City, Shanxi Province, in his 60s, died in April 2021.
He was arrested on June 25, 2018, for studying Falun Gong's teachings with other practitioners. The police smashed in his door and broke into his home. They sealed his door after the raid. He was held at the Gujiao Detention Centre.
Eight other practitioners were arrested on the same day, including Ms. Wang Lanmei, Ms. Wang Suping, Ms. Sun Zhifen, Ms. Zhang Qingxiang, Ms. Zhang Runying, Ms. Guo Runxian, Ms. Tian Yuqin, and Ms. Hu Lanying. Most of them were in their 60s at the time of the arrest.
The Yingze District Procuratorate indicted the nine practitioners on January 2, 2019. They appeared in the Yingze District Court on April 2, 2019, handcuffed and shackled. The practitioners' lawyers entered not-guilty pleas for them. They argued that the police searched their homes without a warrant and fabricated evidence against them.
Eight of them were sentenced to between one and ten years in prison. Ms. Wang Lanmei's case was paused for two years and then reopened. She was sentenced to a two-year prison term.
Mr. Luo was sentenced to five years and fined 20,000 yuan. He was taken to the Jinzhong Prison around June 2019. Since the Chinese communist regime initiated the "Zero-out" campaign in early 2020 to force Falun Gong practitioners to renounce their faith, the prison authorities aggressively carried out the campaign.
The practitioners were only allowed one steamed bun per meal. Any food they had bought previously was confiscated. Those who refused to renounce Falun Gong were held in solitary confinement, forced to stand facing the wall for long hours, or hung up by their wrists and beaten. Even when some gave in to the torture and signed statements to renounce Falun Gong against their will, the guards further ordered them to verbally abuse Falun Gong before the torture was stopped.
According to another practitioner imprisoned there, Mr. Luo fell while taking a shower in April 2021 and passed away shortly after. Due to strict information censorship in the prison, more details about his case aren't clear.
67-year-old Man Dies in Prison While Serving Seven Years
Mr. Ge Zhenhua of Harbin City, Heilongjiang Province, died in prison on October 22, 2022. He was 67.
Mr. Ge was arrested on June 20, 2016, for putting up banners about Falun Gong and distributing informational materials. The Shangzhi City Court sentenced him to 12 years with a 50,000-yuan fine on December 2, 2016. He appealed with the Shangzhi City Intermediate Court, which upheld his conviction but reduced his prison term to seven years with a 30,000-yuan fine.
Since the pandemic broke out in 2020, the authorities in Hulan Prison have ordered strict management of incarcerated Falun Gong practitioners. They force the practitioners to sit on small stools all day long and deny them family visits. The prison authorities pressure the practitioners to renounce their faith. Those who refuse to comply are brutally tortured.
Mr. Ge's family was informed by the prison around early October 2022 that he'd suffered a stroke and was in the hospital. The prison ordered the family to pay his medical costs, which was over 10,000 yuan a day. The family couldn't afford to pay and the prison forced them to sign a consent to stop the treatment. Mr. Ge passed away on October 22.
Wrongfully Convicted Woman Dies Days After Being Denied Medical Parole
Ms. Liu Hongxia, a 47-year-old Falun Gong practitioner, was denied medical parole despite her critical condition and died on November 8, 2022.
Ms. Liu of Dalian City, Liaoning Province, was arrested on October 28, 2021, for putting up posters about Falun Gong. She started a hunger strike on February 14, 2022, to protest the persecution.
When her lawyer went to visit her on February 28, 2022, he was told that she had been moved to Xinhua Hospital, which is associated with the Dalian City Detention Centre and local prisons.
In the hospital, Ms. Liu was tied to a bed, force-fed, and injected with unknown drugs. She was denied all visits, including by her lawyer and family.
Judge Guo Danhua of the Ganjingzi District Court tried Ms. Liu virtually and sentenced her to four years on July 13, six days after she was taken back to the detention centre. No one in her family was allowed to attend the hearing. Her lawyer's request to postpone the proceedings was also denied. Ms. Liu was so weak and emaciated that she couldn't even sit up and slumped in her chair during the entire proceedings.
When her lawyer was finally given a pass to visit her after the trial, she couldn't remember her hospital stay but did know that she was force-fed and given the injection. Her lawyer appealed the case for her, but the higher court ruled in October to uphold the original verdict.
Ms. Liu was admitted to Xinhua Hospital again in late August and was moved to an intensive care unit in late October. The doctors issued a critical condition notice for her. Her family applied for medical parole for her on October 25, but the court and the detention center denied it.
Ms. Liu was extremely weak when her family was allowed to visit her on October 29. She began to bleed from her mouth and nose on November 4. Thinking that she would die in a few days, the doctor asked her family to bring her child to see her for the last time. The visit was monitored by a police officer. Ms. Liu passed away on the morning of November 8.
Deaths of the Elderly
81-year-old Man Dies One Year After Serving Third Prison Term
Mr. Liao Songlin struggled with poor health after he was released on July 13, 2021, having served a three-year term for practicing Falun Gong. The 81-year-old Chenzhou City, Hunan Province, man passed away on October 14, 2022. Even after his passing, local community workers still came to harass him and even attempted to verify his death by checking out his place of burial.
Mr. Liao, a veteran retired from the Military Reception Center, was arrested at home on July 19, 2018. After days at the detention centre, the then-77-year-old man was diagnosed with high blood pressure, heart disease, a minor stroke, and tuberculosis. Instead of releasing him, officials sent him to a military hospital. His wife demanded his release, but to no avail.
The Beihu District Court heard Mr. Liao's case in the hospital on September 27. He was handcuffed and shackled and not allowed to defend himself. The judge sentenced him to three years on October 22, 2018. His pension was suspended during his term.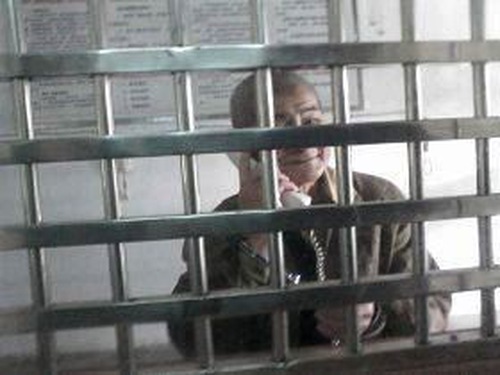 82-year-old Man Dies due to Mental Distress from Wrongful Prison Sentence
Mr. Zhou Shaotang of Panjin City, Liaoning Province, died on November 17, 2022, after he succumbed to the mental pressure of a wrongful one-year sentence for practicing Falun Gong. He was 82.
Mr. Zhou was arrested on January 13, 2021, for talking to people about Falun Gong at a community fair. When he was taken to the police station, he saw a big photo of himself on the desk. He suspected that the police had been following him and seeking an opportunity to arrest him.
The police took Mr. Zhou home and confiscated his Falun Gong books. As both he and his wife suffered medical episodes, the police didn't take him back to the police station but came back every three days to harass him.
The Xinglongtai Court tried Mr. Zhou on September 28, 2021. His family took him there in a wheelchair. He fainted during the session due to high blood pressure, and the judge adjourned the hearing.
Given Mr. Zhou's condition, the judge held another hearing at his home in early December 2021 and sentenced him to one year of residential surveillance on December 8. They left a cell phone at his home to monitor his daily activities.
The sentencing and cellphone surveillance were too much for Mr. Zhou. He developed a lung condition and died on November 17, 2022.
Prior to his latest ordeal, Mr. Zhou was arrested on December 31, 2000, for holding up a banner about Falun Gong on Tiananmen Square. He was later sentenced to four years. The police continued to monitor and harass him after he was released.
Woman Nearing 80 Dies After Incarceration and Trial While Suffering Acute Lymphoma
Ms. Luo Qinxian, nearly 80, was incarcerated for her faith in Falun Gong, even though she was in critical condition from acute lymphoma. She passed away on September 5, 2022, one month after she was placed on residential surveillance.
Ms. Luo of Kaili City, Guizhou Province, was arrested on October 12, 2021, for talking to people about Falun Gong. The court scheduled a hearing for April 12, 2022, but postponed it after her family hired a lawyer to enter a plea of not guilty on her behalf.
On April 13, 2022, the social security bureau suspended Ms. Luo's pension and ordered her to return the payments she had received since December 2021, shortly after her arrest was approved. They cited a new policy that no incarcerated retirees are entitled to any benefits, although no Chinese labor law has such a stipulation. They threatened to sue her if she didn't turn in the money in time.
Ms. Luo was diagnosed with acute lymphoma, a type of cancer that affects the white blood cells, on May 16, 2022, and was operated on at a local hospital. While she was recovering, the authorities took her back to the detention center on May 27 and wouldn't allow her to be released on bail, despite her critical condition.
The court heard Ms. Luo's case in the detention center on July 19. Because her condition kept deteriorating, the court finally allowed her to be released on August 12 and put her on a six-month residential surveillance.
By then, Ms. Luo's body had become severely deformed. She was in tremendous pain all over. Any slight touch would cause her to wince in pain. Fluids oozed from her legs and her face was swollen. She lost almost all her hearing and had little vision left. She passed away a month later on September 5.
Family Falling Apart
Belated News: Parents and Son All Pass Away in the Persecution
A family of three in Changzhou City, Jiangsu Province, took up Falun Gong in 1996. Their long-term ailments soon disappeared and they enjoyed a peaceful life.
After the Chinese communist regime initiated the persecution of Falun Gong in 1999, the son, Mr. Cai Wenming, was sentenced to seven years. He struggled with a persistent heart condition and passed away at 47 in 2013, six years after being released. His mother, Ms. Zhen Xiangying, passed away three years later. His father, Mr. Cai Jianhua, was sentenced to three years in early 2020. He passed away in May 2020 before starting to serve the term. He was 77.
Son's Death
Mr. Cai Wenming was arrested on October 27, 2000. As they were beating him, the police said to Mr. Cai, "We can arrest people like you whenever we want without following any legal procedures." The police also handcuffed Mr. Cai, covered his eyes, and hung him up by his wrists to a door frame. He dangled in the air as the officers hit him with belts and batons.
The officers filled a tank with water and pushed his head down into it. They tortured him until they exhausted themselves. Before dawn, they stripped him and forced him to kneel on the concrete ground.
The officers tortured Mr. Cai the same way the next day. He became incontinent as a result. The residents living nearby could hear his screams at night.
During his four days of detention and torture, chief Hong tried to frame him as the ringleader who organized local practitioners to go to Beijing in early October to appeal for Falun Gong, when, in fact, he was out of town on a business trip during that time.
Mr. Cai was sentenced to seven years on August 9, 2001. After he was released in October 2007, he often had intense chest pain, which sometimes lasted for days on end. He began to experience systemic pain in July 2013 and was unable to sleep at night. He passed away in late October. He was 47.
Mother's Death
Four months after Mr. Cai's arrest in October 2000, his parents, Mr. Cai Jianhua and Ms. Zhen, were taken to a brainwashing centre and beaten with metal rods and wooden sticks. After their feet became extremely swollen, the officers forced them to stand for hours before allowing them to sleep.
Ms. Zhen suffered such intense back pain that she couldn't stand up straight and had to lean against the wall to walk. Fearing that she might die in custody, the police released her on April 13, 2001. She was bedridden for three months.
After she recovered, Ms. Zhen went to Beijing to appeal for the right to practice Falun Gong and was given two and a half years in Judong Women's Forced Labor Camp.
The torture she suffered in the labor camp took a toll on her health, followed by her son's death in 2013. She fell ill soon after and died three years later in April 2016.
Father's Death
Mr. Cai Jianhua was first arrested on July 18, 2000, when he went to Beijing to appeal for Falun Gong. The police stripped him and forced him to kneel. They also slapped him in the face and hit him on the head.
On July 24, the police handcuffed Mr. Cai, hung him up by his wrists to a door frame, and beat him. After one morning of beating, they let him down around noon. He passed out for 50 minutes. Hong poured cold water over him to wake him up. When he came to, he was incontinent.
Mr. Cai went to Beijing to appeal again in early October 2000. The police also handcuffed and almost suffocated him. At night, they stripped him down to his underwear and forced him to kneel on the concrete.
After nearly two decades of repeated arrests and harassment, Mr. Cai was taken to the police station again in 2018 for talking to people about Falun Gong. He was arrested one more time two months later, after being reported for talking to people on the bus about Falun Gong.
Due to his health, he was denied admission by the detention center and released on bail. When the bail expired a year later, the police extended it for another year.
The court sentenced Mr. Cai to three years in 2020. He passed away in May of that year, before being taken to prison.
Belated News: 55-Year-Old Woman Dies As a Result of Persecution, Leaving Her Incapacitated Husband and Their 13-year-old Daughter on Their Own
After Ms. Jiang Haiying became pregnant with her daughter at the age of 44, the Baotou City, Inner Mongolia, resident was determined to give the child the best she could offer. But a trip she made four years after her baby was born to visit her mother forever changed her family's fate.
Ms. Jiang and her then-four-year-old daughter were waiting to board the train at the Baotou Train station on September 1, 2014, when the police stopped her and arrested her in front of the little girl.
After that, the little girl was too frightened to ever go to the train station again. She also trembled whenever she saw a police officer. The once outgoing girl became withdrawn and rarely spoke. Her father worked tirelessly to try to rescue her mother but to no avail.
The police kept Ms. Jiang incarcerated for two years and attempted to get her sentenced to prison for refusing to give up her faith in Falun Gong.
Even after the police finally released Ms. Jiang in 2016 when they failed to collect enough evidence to charge her, they still repeatedly harassed her at home.
In 2019, only three years after Ms. Jiang had returned to her family and when her daughter was nine, her husband suddenly fell into critical condition. Although he survived, he was incapacitated afterward and needed her to take care of him.
To support her family, Ms. Jiang picked up her previous profession as a teacher and began to offer tutoring classes to earn an income.
But the continued police harassment eventually wore her out. She developed lumps in her breast and was forced to hire a nanny to care for her daughter, while she moved in with her parents, both nearing 80. Her elderly mother had to take care of her, as well as her father, who had been struggling with the side effects of cerebral thrombosis.
Ms. Jiang passed away on July 10, 2021. She was only 55.
His brother is now caring for her husband and her mother is looking after her 13-year-old daughter.
Deaths after Long-Term Persecution
Belated News: Jewelry Merchant Dies Three Years after Being Jailed
Two years after a jewelry merchant in Kunming City, Yunnan Province, took up Falun Gong, he was arrested and sentenced to three years for exposing the Chinese communist regime's persecution of this ancient mind-body practice. Mr. Zhu Yandong was tortured in custody and his health was damaged as a result. He never recovered due to ongoing harassment following his release on September 8, 2016. He passed away three years later, on August 25, 2019. He was 51 years old.
Mr. Zhu had a very successful business selling jadeite and lived in luxury. Despite his wealth, he still felt empty inside and lacked true happiness.
In February 2011, a close friend of his took up Falun Gong and introduced the practice to him. Both of them were deeply moved by the profound principles taught by Falun Gong. Mr. Zhu found the answers to many of the questions he had about life that had puzzled him for over 20 years.
After that, he began diligently practicing Falun Gong. Within a year, he quit all his bad habits of drinking, smoking, and gambling. Meanwhile, his high blood pressure, high cholesterol, and many other problems also disappeared. He understood the real purpose of life and enjoyed inner peace.
Because he shared his experience with people and told them about the persecution, Mr. Zhu was arrested on September 9, 2013, and later sentenced to three years. The prison guards beat him and injected him with toxic drugs. His blood sugar increased quickly, which also caused his vision to decline. The guards also forced him to wear a straitjacket.
By the time he was released on September 8, 2016, Mr. Zhu had been physically and mentally traumatized. The authorities continued to harass him following his release, which caused his health to deteriorate further. He eventually passed away on August 25, 2019.
Former Prison Guard Passes Away in the Persecution
Ms. He Zhongping, a retired guard at Abazhou Prison in Sichuan Province, passed away on September 30, 2022, after being persecuted for her faith in Falun Gong. She was 67.
Ms. He of Dujiangyan City, Sichuan Province, was arrested on February 14, 2003, for refusing to give up her faith and detained for 15 days. She was arrested again in May 2003 for distributing informational materials about Falun Gong and was held in a forced labor camp for over two years. She was released around August 2006.
In 2008, the authorities suspended Ms. He's pension with the excuse that she refused to renounce Falun Gong. They allowed her only a 300-yuan-a-month low-income subsidy. When she appealed, the authorities claimed that, because she had violated the law, even giving her the low-income subsidy was generous.
Although Ms. He's low-income subsidy was later increased to 600 yuan, it was still barely enough for her to get by. She appealed repeatedly to her supervisors and clarified the facts about Falun Gong, but to no avail.
In recent years, her health began to decline and she lost her vision. On June 6, 2022, three guards from Abazhou Prison went to her home, claiming they were going to get her pension reinstated. She trusted them and signed a document, even though she could no longer see well enough to read it.
When her daughter visited her the next day, she realised that the guards had deceived Ms. He into signing a statement to renounce Falun Gong.
Ms. He was devastated and cried for two days. Her health deteriorated quickly after that and she passed away on September 30.
Former Teacher Dies after Enduring Two Labor Camp Terms and Endless Harassment
After enduring two labor camp terms, six arrests, and endless harassment for practicing Falun Gong, a former teacher in Enping City, Guangdong Province, passed away in June 2022. Mr. Hu Yuanhuan was 51.
Just days before, several local police officers harassed him again, threatening to pry open his door and break in.
Mr. Hu took up Falun Gong in 1997. For upholding his faith, he was fired by the school where he worked and repeatedly targeted by the authorities.
Mr. Hu was arrested in March 2001. He held a hunger strike to protest the arbitrary detention, only to be force-fed through a thick plastic tube bought at a hardware store and inserted into his nostril. The deputy head of the detention center told the inmates he ordered to force-feed Mr. Hu that the head of the detention center would take care of everything if Hu died from the force-feeding.
Lu threatened to cremate Mr. Hu alive or take him to the hospital, have his organs extracted, and falsify a document to say that he voluntarily donated the organs.
Mr. Hu once fell into a coma as a result of torture, but the guards took him to the Sanshui Forced Labor Camp and accused him of pretending to be dead. In the labor camp hospital, the guards tied him to a bed in a spread-eagle position and force-fed him again. He was released two months later on the verge of death.
Officer Chen Jianhua sneaked into Mr. Hu's home by scaling the fence in March 2007 to arrest him. Mr. Hu held a hunger strike again and was shackled and chained to a tiger bench. He was given another term at the Sanshui Forced Labor Camp. During the eight months he was held in the labor camp hospital, the guards again chained him to a bed and force-fed him. Meanwhile, the inmates verbally abused him and tried to brainwash him by smearing Falun Gong. He was again released on the verge of death.
After he recovered, he went out of town and found a job. The police arrested him again in December 2019 at his new workplace. He was taken back to the Enping City Police Department and later released on bail.
The police monitored him closely and installed surveillance cameras outside of his home. They also ordered his brother Mr. Hu Yuanhuang to check on him throughout the day and report his situation. The physical and mental torture took a toll on his health. He became very weak and suffered high blood pressure. He passed away in June 2022.
Related articles in Chinese:
Related reports:
Chinese version available
(Clearwisdom)