(Minghui.org) On November 12, 5,000 Falun Dafa practitioners from all over Taiwan gathered at Liberty Square in Taipei and formed huge Chinese characters: "Falun Dafa Has Been Taught Publicly for 30 Years," together with a giant Falun ("Law Wheel") under the brilliant sun. It was a spectacular sight, drawing many tourists and locals to stop and take pictures.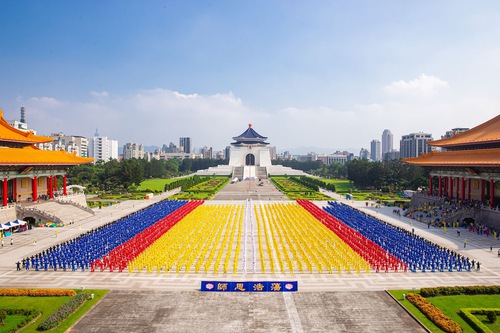 Mr. Hsu from Chiayi accompanied his wife, who is a Falun Dafa practitioner. They left home at 4:30 a.m. to participate in the event. This was the first time that he has witnessed the character formation in person.
Mr. Hsu said that his wife has practiced Falun Dafa for more than ten years. Her allergies disappeared and her health improved. After practicing she became peaceful and full of goodwill. He said that he encourages his wife to practice Falun Dafa.
Mr. Hsu said that what moved him the most was that Falun Dafa teaches people to practice Truthfulness-Compassion-Forbearance. He observed that practitioners do not focus on personal gain but selflessly contribute. The spectacular character formation event and the countless practitioners who helped make preparations all worked hard so that people could learn about Falun Dafa. They are not afraid of the scorching sun and hard work. He said sincerely, "If more people were like Falun Dafa practitioners, society would be stable."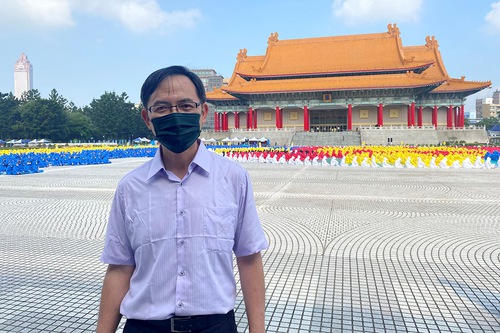 Teacher: Natural, Simple and Beautiful
English teacher John Michael Nix from the U.S. accompanied his wife to the event. Nix said that his wife often talked about Falun Dafa with him, and he was supportive. He said, "Everything is so natural. She started to practice one day. She is such a good person. She followed the instructions to enter the venue and sit down. Everything is simple, natural and beautiful."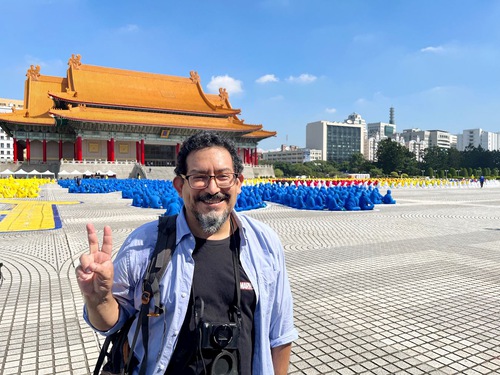 Jenny, who lives near Liberty Square, is a retiree. She exercises nearby every day and said she's seen practitioners' character formation for many years. She noticed that the characters formed are different each year.
Jenny said that it was so hot that day, it must not be easy for practitioners to sit still. This requires great concentration and a healthy body. She said one year even though it rained hard, practitioners still formed characters. She said that this ability must be the result of daily meditation.
The Scene Is Amazing and Touching
Ms. Chen, who is an administrator, came to watch the character formation. She said, "It's amazing and beautiful." She said that her colleague is a Falun Dafa practitioner and told her about the event.
She said it was the first time she's seen so many people assembling in such a short period of time, and then they quietly went to their assigned spots. She said she was touched. She said after walking around the square, "The scene is spectacular."
When she learned that many Falun Gong practitioners in China were brutally persecuted by the Chinese Communist Party (CCP), she was indignant and said, "The CCP is really bad and persecutes kindhearted people. We should rescue the persecuted practitioners to Taiwan."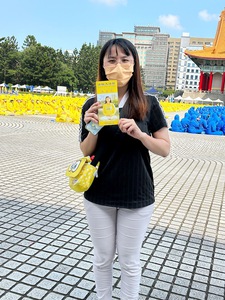 After the character formation activity, the 5,000 practitioners began demonstrating the five exercises. The movements are slow and round, and easy to learn. Chou Chunju, who has lived in the United States for many years, was in Taipei visiting her mother. They went to Liberty Square and happened to see the large exercise demonstration scene. They thought the scene was magnificent and beautiful.
Ms. Chou took photos and videos while practitioners demonstrated the exercises. She said that she knew there were many Falun Dafa practitioners in the United States, but this was the first time she saw so many practitioners in Taiwan.
She said she did not know much about Falun Dafa, but she knew that the CCP persecutes it. She said that different beliefs should be respected. She said the scene was very peaceful. Ms. Chou and her mother talked with practitioners and learned that Falun Dafa teaches people to follow Truthfulness-Compassion-Forbearance to improve one's character and practicing the five exercises can help one become fit. They both said they were interested in practicing Falun Dafa.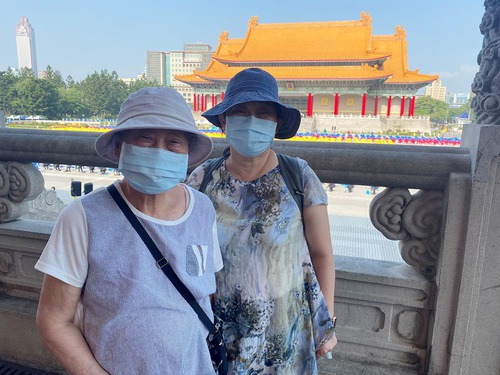 Background: What Is Falun Dafa and Why Is the CCP Persecuting It?
Falun Dafa (also known as Falun Gong) was first introduced to the public by Mr. Li Hongzhi in Changchun, China, in 1992. The spiritual discipline is now practiced in over 100 countries and regions worldwide.
Millions of people who have embraced the teachings, which are based on the principles of Truthfulness, Compassion, and Forbearance, and have learned the five exercises, have experienced improved health and well-being.
Jiang Zemin, former head of the Chinese Communist Party (CCP), perceived the spiritual discipline's growing popularity as a threat to the CCP's atheistic ideology and on July 20, 1999, he issued an order to eradicate the practice.
Under Jiang's personal direction, the CCP established the 610 Office, an extralegal security organisation with the power to override the police and judicial systems and whose sole function is to carry out the persecution of Falun Dafa.
Minghui.org has confirmed the deaths of thousands of practitioners as a result of the persecution over the past 23 years. The actual number is believed to be much higher. Countless practitioners have been imprisoned and tortured for their faith.
There is concrete evidence that the CCP sanctions the harvesting of organs from detained practitioners, who are murdered to supply China's organ transplant industry.
Chinese version available
(Clearwisdom)
Taipei, Taiwan: Practitioners Share the Benefits of Falun Dafa During Events at Liberty Square