(Minghui.org) Falun Dafa practitioners in Taipei gathered at Liberty Square on August 13 to introduce the practice to tourists and local residents. Despite the hot weather, the popular square was filled with pedestrians, joggers, and cyclists who stopped to talk with practitioners.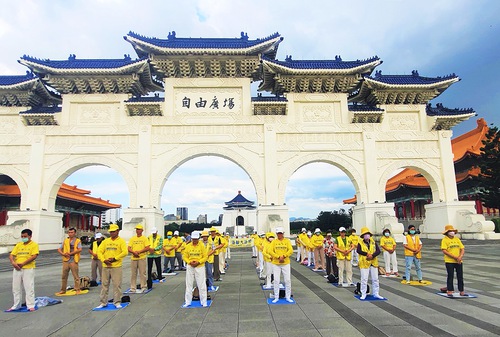 Recovery from Insomnia
Ms. Ni Zheng from Yonghe District, New Taipei City, said, "I used to suffer from severe insomnia." She said she also had stomach illnesses, a skin condition, and gynecological problems. Doctors could not help her. When she saw Falun Dafa practitioners doing the exercises in a park, she was drawn by the gentle movements and decided to give the practice a try.
Her insomnia disappeared almost instantly. "It was very easy to fall asleep after doing the exercises. I felt so relaxed that one day I even forgot to lock the front door before going to bed," Ms. Ni said with a smile. She said her other health problems soon disappeared.
She added that the benefits are beyond physical improvement. "If more people practiced the principles of Truthfulness-Compassion-Forbearance, this world would become a better place," she explained. "Practitioners are from all walks of life and they will lead society towards peace and safety."
Peptic Ulcer Healed Without Medical Treatment
Mr. Qiu is a software developer who worked at the Hsinchu Science Park. Due to high pressure at work, he developed a duodenal ulcer. For the first three years of his practicing Falun Dafa, he did not put in much effort. But after moving to Taipei, he joined the Tian Guo Marching Band and began to take cultivation practice seriously. Within 6 months, the duodenal ulcer was healed without medical treatment.
As he follows the teachings of Falun Dafa, Mr. Qiu tries to be a better person wherever he is. His dedication to work and his accomplishments have won his coworkers' trust. "The different assignments at work are often interconnected and any mistake could negatively affect the downstream process," he said. "This means I have to do things well even when nobody is watching."
One time, his supervisor asked him to finish a task related to an art design. Although he did not like it initially, he reminded himself that he is a Dafa practitioner and tried his best to do well. "Falun Dafa helped me to look at this from a different angle," he said. "When we put our heart in it, we can come up with beautiful designs that benefit and inspire people."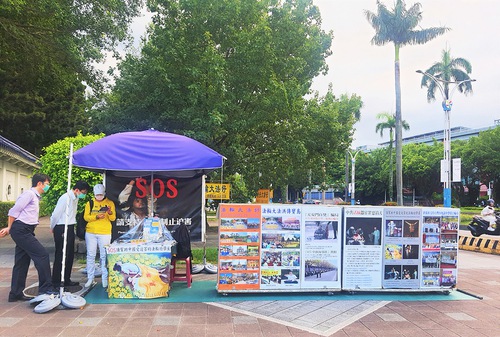 No Pursuit
Ms. Huang Yuzhen from Vietnam said she used to have a bad temper. After she began practicing Falun Dafa she was able to control her temper and her migraine headaches disappeared. "People said I am friendlier and kinder than before," she shared.
When she first began practicing Falun Dafa, Ms. Huang had just graduated from college. It was not easy to find a job and she experienced financial difficulty. "Through reading Zhuan Falun, the main teachings of Falun Dafa, many of my questions were answered. I also learned that this environment is for me to cultivate within. I just need to do well, with no pursuit."
Ms. Huang later met another practitioner and married him. Following her husband to Taiwan, she did not find a job at first. Instead of worrying, she kept on reading Dafa's teachings and doing the exercises. She soon found a legal counseling job for government agencies to assist foreign spouses. "I am grateful to Master Li (the founder of Falun Dafa) for giving me this opportunity," she said.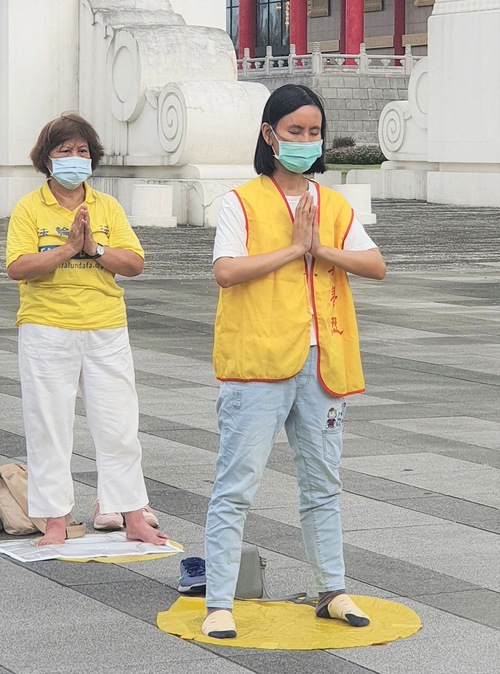 Life with a Purpose
Dafa practitioners also maintain a booth next to Liberty Square where they introduce Falun Dafa to passersby and tell them about the persecution in China.
Ms. Qing Jun often volunteers at the booth. A friend suggested she try practicing the Falun Dafa exercises years ago, and she liked them very much. "The first time I read Falun Dafa's teachings, my abdomen felt warm with something rotating in it – just as it's described in Zhuan Falun," she said. "It was so amazing."
A democracy advocate since she was young, Ms. Qing took part in activities years ago. After she began practicing Falun Dafa she said she could feel a big change in herself. "Dafa taught me how to tell right from wrong. I also learned the purpose of life – and I constantly look inward to improve myself," she said.
Across the strait, however, Falun Dafa practitioners in mainland China are detained and tortured for their belief in Truthfulness-Compassion-Forbearance. "The police can break into their homes, arrest them and confiscate their property. Even children are deprived of opportunities to go to school," she said. "This violates basic human rights. Everyone should pay attention to this issue."
For 23 years since the Chinese Communist Party (CCP) began to suppress Falun Dafa in 1999, practitioners have been peacefully raising awareness of the brutality in the hopes of bringing it to an end soon. "Falun Dafa gives us good health and high moral values," Ms. Qing said, "and you do not need to pay a penny for that. To me, Falun Dafa is the best."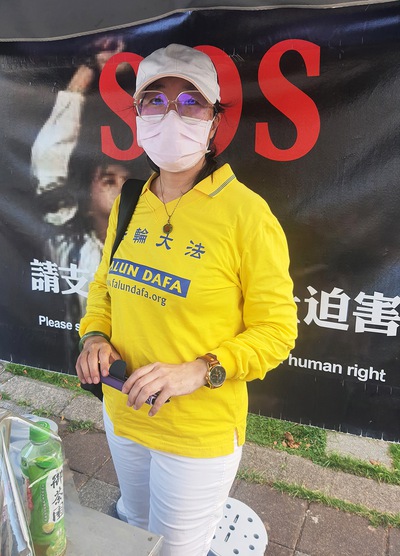 Chinese version available
(Clearwisdom)