(Minghui.org) The Mind Body Spirit Festival was held at Brisbane's Convention and Exhibition Centre from September 9 to 11, 2022. Falun Gong practitioners demonstrated the exercises at the event. Many people took information while some learned the exercises and experienced firsthand the calm energy of Falun Dafa.
187 different groups participated in the three-day event, and there were tens of thousands of attendees. Practitioners introduced Falun Dafa, (also called Falun Gong) and exposed the ongoing persecution happening in China. Some people learned the exercises at the Falun Dafa exhibition booth, while many asked practitioners for the address of local practice sites planning to learn the exercises in the future.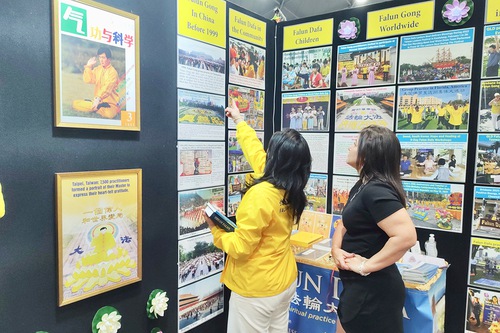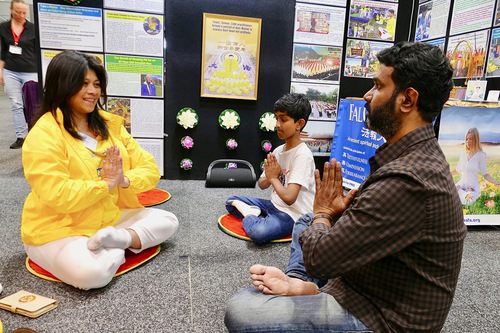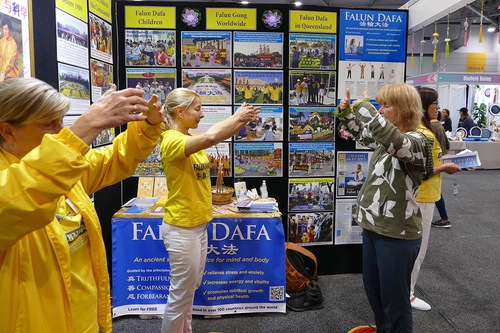 Festival Attendees Learn the Falun Gong Exercises
Nine-year-old Caio Welch, whose name means happiness, was particularly interested in Falun Gong. He joined in with practitioners as they performed the 2nd exercise, "Falun Standing Stance."
His father stood watching and said to practitioners, "I thought some of the photos on display looked familiar when I saw your booth. I realised this must be Falun Gong because our whole family saw a Shen Yun performance early this year. There was a program on Falun Gong and it left a deep impression on me." Weich and his family learned about the persecution of Falun Gong from the performance.
Sherona practiced yoga when she was young. She was especially intrigued when she saw Falun Gong at the festival. Practitioners gave her information and gave her daughter a paper lotus flower symbolising purity amidst adversity. Her daughter was delighted to receive the flower.
Sherona returned the third day. She said, "I want to try this." She then learned the first four exercises. She said, "I am lucky to have come back today. I love how peaceful the exercises make me feel. It is very relaxing." She asked practitioners where she could join a group to do the exercises and said she planned to go to a practice site on weekends.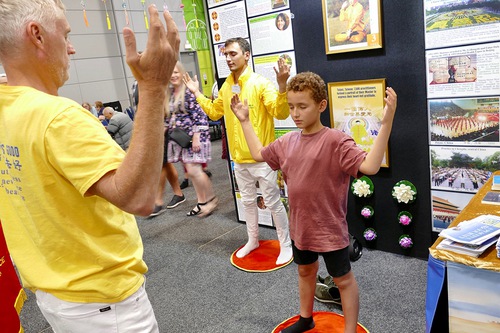 Thank You for Everything You Have Done
David attended the festival on the second day. He discovered the Falun Gong booth while wandering around. His wife is from China, and he had visited there on several occasions for holidays. He said, "I always wondered why the Chinese Communist Party (CCP) would suppress Falun Gong?"
Practitioners thus told him Falun Gong practitioners strive to follow the principles of Truthfulness, Compassion, and Forbearance in their daily lives and become healthy by doing the exercises.
At the same time, they explained to him why the CCP is persecuting practitioners in China, helping him understand the regime's totalitarian rule and its attempt to control people's thoughts. David said, "I understand perfectly now."
He took his two teenage daughters to the booth on the third day of the festival so they too could learn about Falun Gong.
Scott works in the Queensland government. Several years ago, he saw activities held by practitioners at St George's Square in Brisbane. He said, "Falun Gong has been holding activities to tell people about the persecution. Every time I pass by, I would wish them all the best and thank them for everything they have done, because they are appealing to people to help stop the persecution."
He knew about the persecution saying, "It is frightening, and the most evil thing I have ever come across. This is how the CCP treats its people, you are just a slave in China or even worse. They control too many things over there with the help of surveillance cameras. Life should not be like this."
Scott said, "Falun Gong practitioners have done well. This is a matter of great significance, I hope Falun Gong practitioners continue to work hard, and more people can pay attention to the CCP's persecution."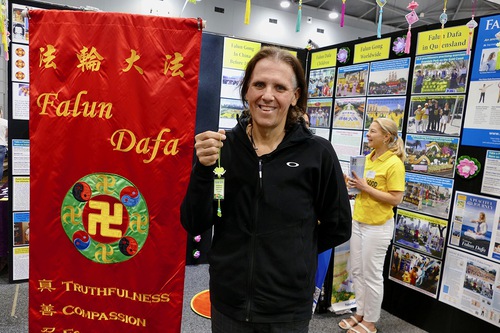 Brisbane: Practitioners Brings the Beauty of Falun Dafa to the Mind Body Spirit Festival
68 total views