For many years now, Falun Dafa practitioners have participated in the annual Mind Body Spirit Festival in Brisbane, Australia's largest health & well being event.
The festival was held this year from February 23 to 25, 2018 at the Brisbane Convention and Exhibition Centre in South Bank.
As in prior years, the Falun Dafa booth attracted many visitors in search of a healthy lifestyle. Some had never heard of the practice before and inquired about the effects and principles of the practice.
When practitioners introduced the health benefits of this traditional Chinese spiritual discipline, a number of visitors said that it was the practice they had been looking for.
Some bought a copy of the main teachings, Zhuan Falun, and many learned the exercises from the practitioners.
A young woman named Brianna from Kooralbyn learned the sitting meditation from a practitioner. She said that she felt great afterward and later brought her older sister to the Falun Dafa booth to learn it. Brianna was very excited and happy about learning the exercise.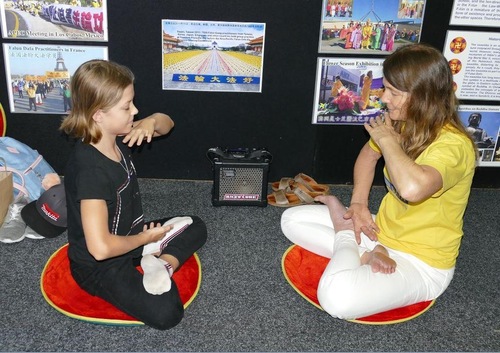 Three sisters were very interested in Falun Dafa, and for two days they came to the booth to read the posters and learn the exercises together.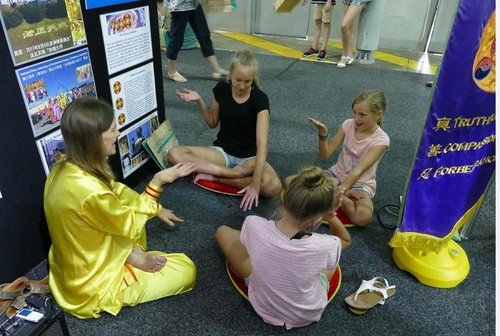 Many visitors told the practitioners that they could feel a positive energy at the Falun Dafa booth, and thanked the practitioners for sharing the practice.
One of the visitors left a message: "As I walked around the corner, I felt a stream of energy from the Falun Dafa booth and it passed through my body. Suddenly it felt like I left the busy and noisy exhibition hall and entered an ancient forest. I felt so peaceful, warm and safe … tears came to my eyes…"
A woman came over to talk to the practitioners and said that she's read the book Zhuan Falun before. She was glad to see Falun Dafa again at the festival.
Several visitors told the practitioners that they had heard about the brutal persecution of Falun Dafa in China and also knew about the communist regime's atrocities of forced live organ harvesting from persecuted practitioners. The visitors expressed support for Dafa practitioners' freedom of belief.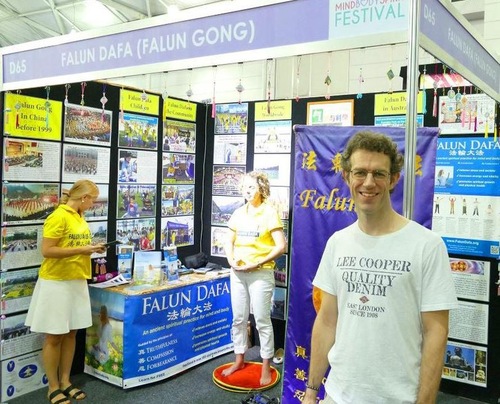 61 total views