(Minghui.org) The Art of Zhen Shan Ren International Exhibition was held in Toronto City Hall from July 18 to 23, 2022. The exhibition consists of works inspired by true events experienced by Falun Gong practitioners. Many visitors said they were touched by the practitioners' perseverance during the 23-year-long persecution in China.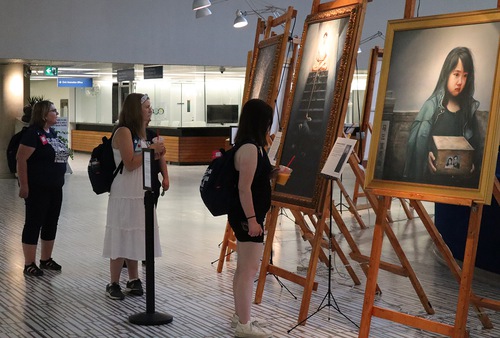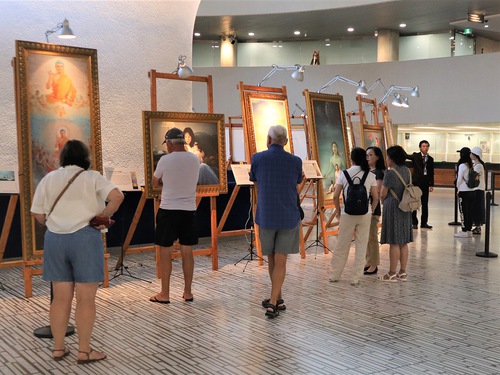 Human Rights Institute President: The Works Are Soul-Stirring
Majid Al-Shafi, president of One Free World International, an international human rights organisation, attended the opening ceremony and gave a speech on the afternoon of July 18.
He said two of the paintings particularly touched him. One was, "Illumination," which portrayed a woman studying the teachings of Falun Dafa. Her child, resting serenely on one arm, made him feel harmonious and peaceful.
Another painting, titled "An Orphan's Sorrow," showed a little girl holding the ashes of her parents, who were persecuted to death at the Masanjia Forced Labor Camp. Mr. Al-Shafi said, "You can see a deep pain that touches people's hearts in the little girl's face."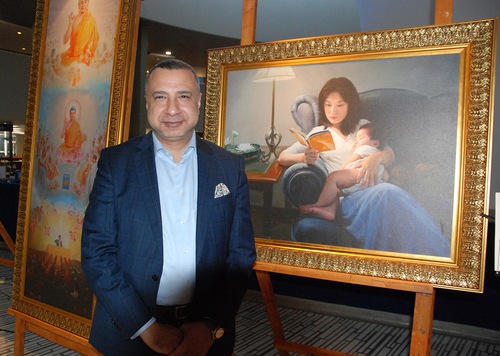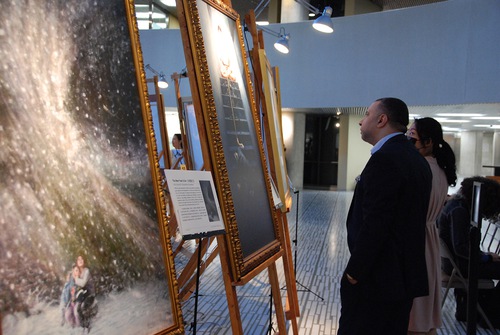 College student: "Truthfulness-Compassion-Forbearance is important for today's society"
Allia, a student from Vietnam whose friend is a Falun Dafa practitioner, said, "I know that practitioners follow the principles of Truthfulness-Compassion-Forbearance. I can tell the practice teaches people to be kind and good when I see these three words. I now have a deeper understanding of my friend through the exhibition.
"I agree with the theme of the exhibition. People have been isolating and becoming more indifferent to each other, especially after the global pandemic. Everyone is in a hurry and does not care about others, so I think these three words are important for today's society," Allia said.
She continued, "I heard about the persecution of Falun Dafa practitioners before. After visiting the exhibition, I learned that the persecution they have been experiencing is cruel and merciless."
She choked up and said she was most impressed by the painting "An Orphan's Sorrow," which touched her heart. In the painting, the jacket of the little girl's father, covers her small frame and is likely her only protection. "I could feel her deep sorrow and loneliness. Her parents can no longer accompany her. Only the jacket left by her father is protecting her and helping her to keep warm. This painting touches me very much."
Before she left, Allia said she would visit the Falun Dafa online teaching websites and expressed her gratitude to the exhibition organisers.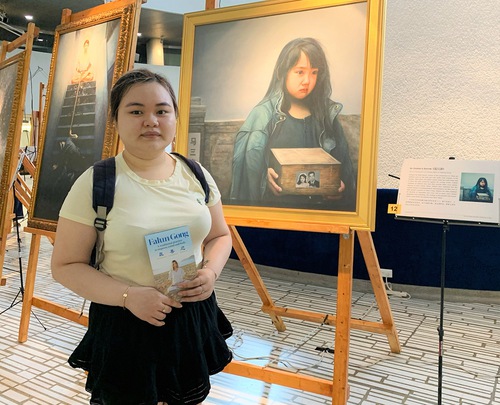 "Truthfulness-Compassion-Forbearance is what should be promoted"
Boggs said he received a flyer about the exhibition in early July. He was impressed by the leaflet and decided to bring his mother Linda Thorson with him to enjoy it.
He said, "When I came here today, I felt my heart warming. I could feel positive energy, hope, and wonderfulness these paintings convey to people."
He said he learned the truth about the brutal persecution of Falun Dafa practitioners by the Chinese Communist Party (CCP) before coming to the exhibition. He said, "I once saw a Falun Dafa parade and learned about the persecution. Then, I saw a display which recreated scenes of the persecution. These paintings are vivid, and everything is as real as if (we were looking at) the original scene."
Boggs, who minored in Chinese at the University of Toronto, taught his mother, Linda, to read the Chinese characters, "Truthfulness-Compassion-Forbearance."
His mother, Linda, also shared her feelings and said she was moved to tears. She said, "Every painting here is inspiring." She was impressed by the painting "Shock," which showed a girl who was imprisoned and tortured. "I could feel her determination in her heart despite the torture she was suffering. I think many places in today's society are filled with darkness and decay, and what Falun Dafa conveys is exactly what should be promoted."
Linda added, "I think the paintings here are really beautiful. Each painting seems to be a real story unfolding in front of me. Also, I think it's great that the exhibition is being held at the Toronto City Hall. The artworks look really beautiful and unparalleled in this spacious setting."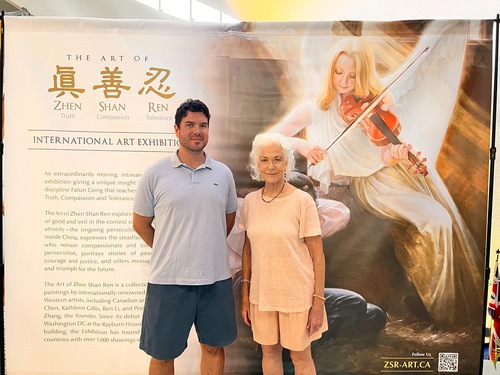 "More People are Being Persecuted by the CCP."
Ray said that his favorite was the first painting, "Coming of Falun Holy King," depicting the cosmos. "I could feel the holiness of the universe embodied in that painting." He said he was interested in art and, "Every painting here is fantastic."
Ray said he had done meditation before and had seen people doing the Falun Dafa exercises in the park. He said, "I've tried meditating before myself. The three words Truthfulness-Compassion-Forbearance on their banners touched me very much. One time I stopped and read all the information on the Falun Dafa display board from beginning to end. I knew that Falun Dafa was practiced in many countries worldwide, and I learned about the persecution, which was hard to imagine. I also know that they (Falun Dafa practitioners) often hold some very good parades. So, when I received the flyer, I came here."
He said that after coming to this beautiful exhibition, he had a better understanding of Falun Dafa and the persecution, "After I learned about the brutal persecution of Falun Dafa, I felt sad." Ray said, for example, the painting "Guard the Treasure" depicted a little boy's home which was ransacked by the police. This helped him understand what practitioner were experiencing during the persecution. He also learned that many tragic persecutions continue taking place, just like the painting "An Orphan's Sorrow" showed.
"I had some previous knowledge of centralized rule in mainland China. Today's art exhibition made me understand the Party's brutal persecution of Falun Dafa. It is hard for me to understand why the Party would go about persecuting people who want to be good. It is also hard to imagine how many people are still suffering from this persecution," he said.
Ray said, "I know that the paintings are real stories of what happened, and I will tell more people about these truths." Before he left, he took some Falun Dafa leaflets and said he would look into the online workshops.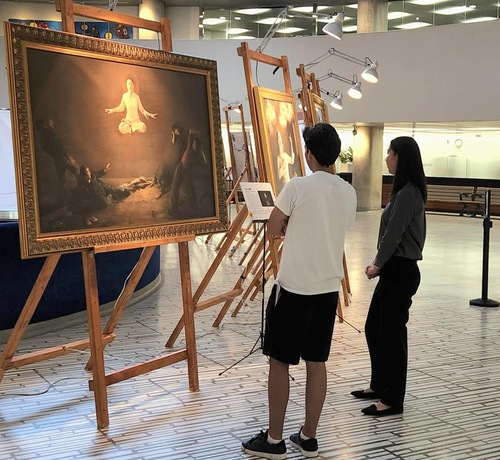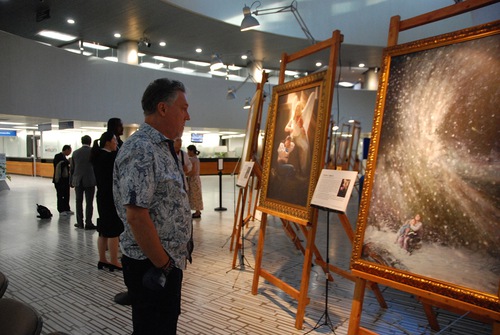 Chinese version available
(Clearwisdom)