(Minghui.org) Falun Dafa practitioners held a march and rally in Wellington's city centre on July 27 to expose the 23-year-long persecution in China. The march started from Cuba Street, passed through the business district, and arrived at the Parliament Building.
Known as one of the windiest cities in the world, Wellington's rainy season takes place in winter, which in the Southern Hemisphere is June and July. Despite the drizzle and wind, many passersby stopped to watch the event and some signed petitions calling for the persecution to end.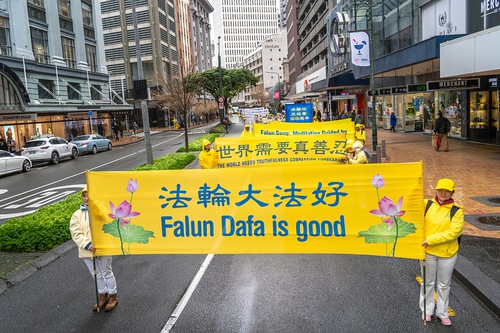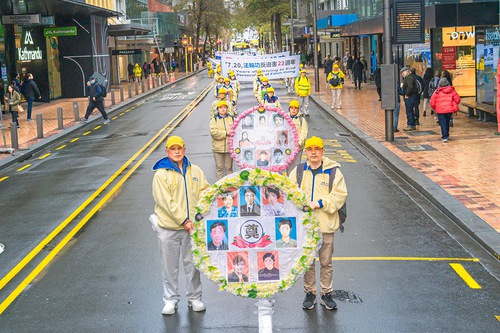 Legislation Against Organ Harvesting Must be Passed in New Zealand
Margo MacVicar, contact person of the International Coalition to End Transplant Abuse in China (ETAC) in New Zealand, said the international society has paid closer attention to the brutality of forced organ harvesting in China. Legislation has been passed in the United States, United Kingdom, Canada, Europe, Israel, Taiwan, and other areas to curb the atrocities.
Ms. MacVicar said she expects similar laws can be adopted in New Zealand. More specifically, legislation can be approved similar to those in Israel, Taiwan, and Spain to discourage citizens and residents in New Zealand from traveling to China for organ transplants. Secondly, personnel involved in organ harvesting should be barred from entering New Zealand. Third, data should be collected on New Zealand residents who go to China for organ transplants.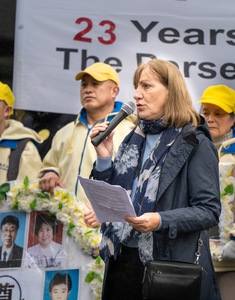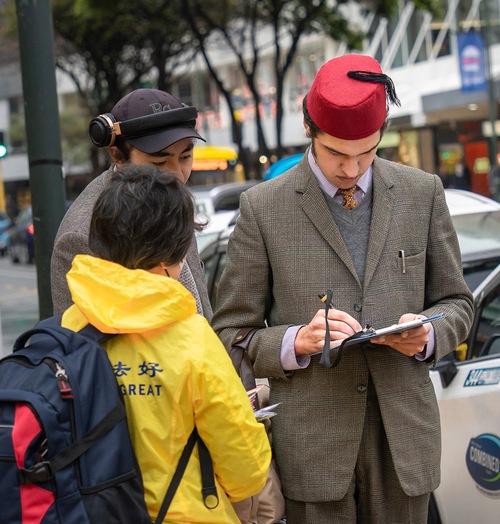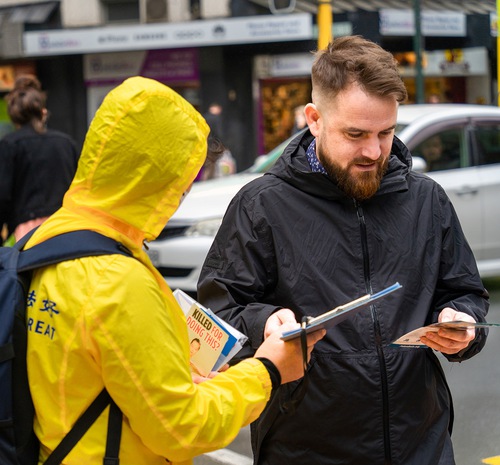 Importance of Perseverance
Brent Bythell said he had heard about Falun Dafa before. "The principles of Truthfulness-Compassion-Forbearance are fantastic," he explained. He believes many of mankind's good characteristics are related to these principles, such as forgiveness, loyalty, and endurance.
"The crimes of the Chinese Communist Party (CCP) regime are astonishing," he said. He said it's hard to believe it would suppress a peaceful group such as Falun Dafa. Mr. Bythell also praised practitioners for their efforts over the years to safeguard their faith.
He believes events are great for getting the message out to the public. "I also like the music from Tian Guo Marching Band. It is beautiful and powerful," he continued.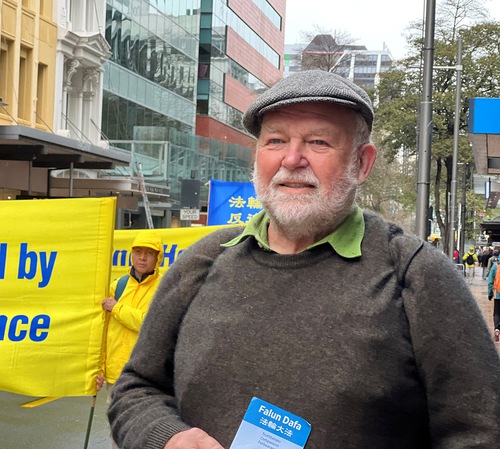 Universal Values
Te Okiwa Mcleam is a television reporter who worked with the New Zealand Foreign Minister in the past on issues related to Falun Dafa. He believes the principles of Truthfulness-Compassion-Forbearance are universal values, which are well accepted by people from different backgrounds. He thinks CCP persecution of Falun Dafa should be stopped immediately.
He encouraged practitioners to continue instead of giving up or yielding to the pressure. "This is because more people need to know this. Once they are aware of the harsh suppression in China, more people will join and make their voices heard to stop the atrocity."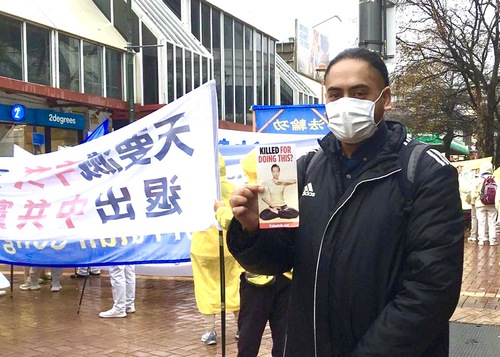 Zero Tolerance
Luke Pilkinton-Ching is a photographer and videographer at Otago University. Besides taking pictures and video of the event, he also thanked practitioners for helping New Zealand residents to learn what was going on. He said the principles of Truthfulness-Compassion-Forbearance are great. He said the photos and videos he took would be archived at the university as a record.
Mr. Pilkinton-Ching said he knew about the forced organ harvesting in China, and he and his coworkers had discussed it. Such a crime is horrifying and every one should say no to this. He said New Zealand should institute a zero-tolerance policy on such a hideous crime and ban New Zealand residents from getting harvested organs.
He hopes more people could be clear on nature of the CCP. "Making profit though forced organ harvesting shows the regime is indeed inhuman."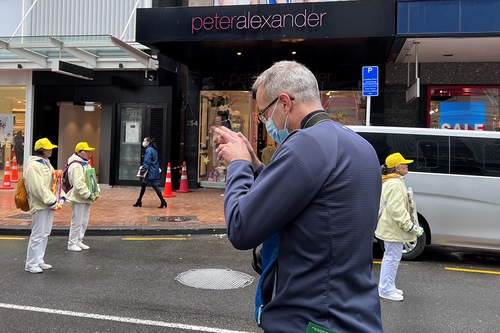 The Importance of Persistence
Melanie is a project manager for an international medical volunteer organisation. She was shocked to hear about the severe persecution of Falun Dafa in China, especially the forced organ harvesting. She said she felt heartbroken because the 23-year-long suppression must have been very difficult for practitioners. Nonetheless, she believes the divine is watching this and the righteous will prevail. Meanwhile she is worried about those perpetrators because they would face dire consequences.
"It is critical to remain persistent," Melanie told a practitioner. She could feel the positive energy emanating from practitioners who follow the principles of Truthfulness-Compassion-Forbearance. She told practitioners that she would pray for them.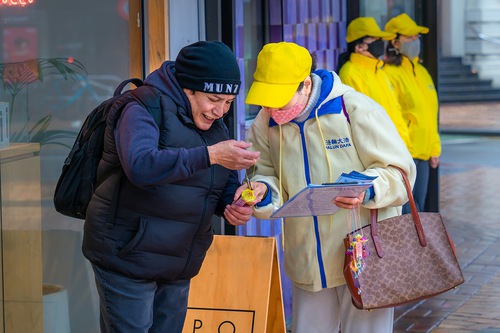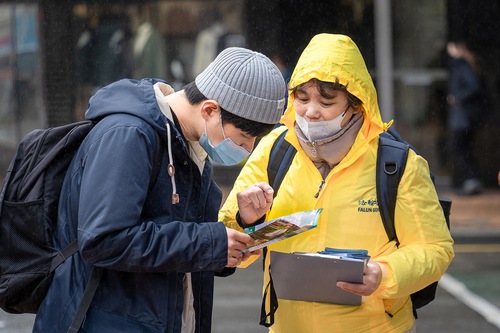 32 total views