(Minghui.org) Fifty-five cases of Falun Gong practitioners being sentenced for their faith were confirmed in July 2022, including one case that took place in 2020, nine cases in 2021, and 45 cases in 2022 (including three in March, three in April, two in May, eight in June, and 29 in July).
Falun Gong, also known as Falun Dafa, is a spiritual discipline that has been persecuted by the Chinese communist regime since 1999. Since then, countless practitioners have been arrested, detained, sentenced, and tortured for upholding their faith. But due to strict information censorship in China, the incidents can't always be reported in a timely manner, nor is all the information readily available.
Yunnan Province registered the most cases of nine, followed by eight in Sichuan, seven in Shandong, and six in Jilin. The remaining twelve regions had cases between one and four.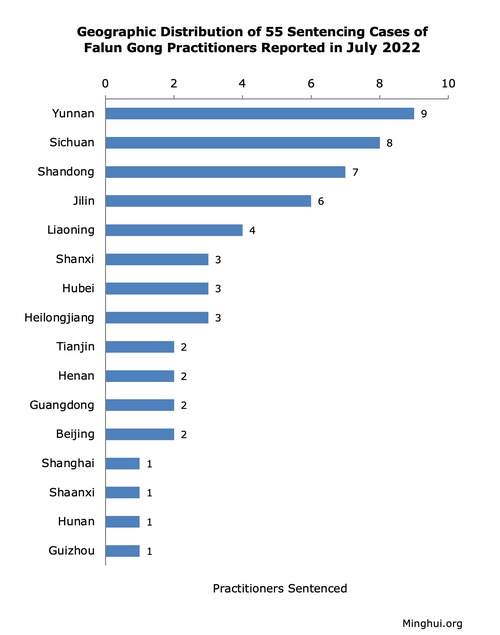 The sentenced practitioners were aged between 42 and 85. The four practitioners in their 80s, including three from Sichuan Province, were sentenced to terms ranging from one to six years.
The practitioners' prison terms ranged from eight months to eleven years. Five practitioners were given sentences of eight years or longer. In addition to the prison time, twenty-five practitioners were fined by the court for a total of 317,000 yuan, averaging 13,208 yuan per person.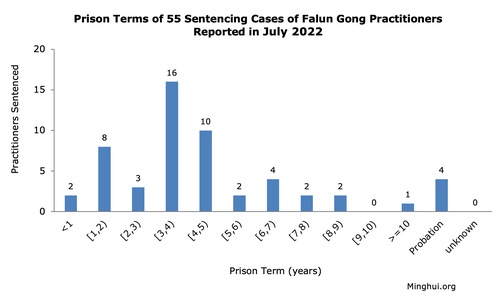 Mr. Wu Chengshou, of Shandong Province, was given the longest 11-year sentence and levied the highest fine of 100,000 yuan. Another two practitioners, with one from Shanghai and the other from Hubei, were sentenced to 9.5 and 9 years, respectively, by the same court in Henan for posting information about Falun Gong on social media.
One practitioner's term was arbitrarily extended for one year because she refused to renounce Falun Gong in the prison. An 83-year-old woman was deceived into going with several court clerks for "a physical examination," only to be brought to the local detention centre and handed down a two-year sentence.
A cost engineer's husband, who doesn't practice Falun Gong, was also convicted and threatened not to hire a lawyer to seek justice.
Below are snapshots of selected sentencing cases. The full list of sentenced practitioners can be downloaded here (PDF).
Heavy Terms
After a Decade of Displacement, Shandong Man Secretly Sentenced to 11 Years
Shortly after Mr. Wu Chengshou returned home from a decade of displacement to avoid being persecuted for practicing Falun Gong, the Weifang City, Shandong Province resident was arrested and secretly sentenced to eleven years.
Mr. Wu, 57, was arrested at work on April 20, 2021. His wife, Ms. Wang Xian, was handcuffed and held aside while the police ransacked their home. The couple's Falun Gong books, photo of Falun Gong's founder, 10,700 yuan in cash, a computer, a broken paper cutter and their son's old computer were all confiscated. Ms. Wang was interrogated in the basement of the local police station and forced to pay 11,000 yuan bail bond before she was released.
In order to gather information about the couple, the police forced their son, Mr. Wu Binjie, who doesn't practice Falun Gong and works in Inner Mongolia about 600 miles away, to come back to Weifang for interrogation. When the younger Mr. Wu reported to the police station on June 9, the police accused him of also being a suspect.
The elder Mr. Wu has been denied family visits since his arrest. His family later heard from an insider that he was experiencing some medical condition in custody. Worried about his health, his family hired a lawyer to visit him. The detention centre initially approved the lawyer's visit, but soon revoked it, with the excuse that his prosecution process has finished (since he was already sentenced to prison and his appeal was rejected).
Mr. Wu's family later confirmed from a person familiar with his case that he was sentenced to 11 years and fined 100,000 yuan.
After 8 Years in Prison, Shanghai Resident Sentenced to Another 9.5 Years by Out-of-Province Court
Having served eight years for practicing Falun Gong, a Shanghai resident was sentenced to 9.5 years with a 40,000-yuan fine by a court in Henan Province, about 600 miles from Shanghai, for spreading information on social media about the persecution of Falun Gong.
Ms. Dai Zhiying, 66, was arrested at home in Shanghai on April 12, 2021, by seven police officers from the local Ganquan Police Station. Her laptop and cellphone were confiscated without a search warrant. The Shanghai police handed her over to the police from Luoyang City, Henan Province, in the evening. She has been held in Luoyang since.
Ms. Dai's most recent sentencing dealt a heavy blow to her 88-year-old mother, who also practices Falun Gong. The elderly woman now struggles to live on her own and care for herself.
Shortly after Ms. Dai's sentencing, the same court in Luoyang handed down a 9-year sentence to Ms. Zhang Xia, of Wuhan City, Hubei Province, also for raising awareness about the persecution of Falun Gong online.
Ms. Zhang, 53, a former police officer herself, was arrested at home on February 28, 2021, by officers from Luoyang, about 350 miles from Wuhan. In order to frame Ms. Zhang, the Luoyang police returned to Wuhan and attempted to force her parents to record a video to persuade Ms. Zhang to plead guilty.
Ms. Zhang stood trial at the Jianxi District Court on June 21, 2022, and was sentenced to 9 years and fined 30,000 yuan on the charge of "promoting a cult with a communications network."
Since 2019, the police in Henan have gone across the country and arrested multiple practitioners for spreading information online about the persecution of Falun Gong.
In addition to Ms. Zhang and Ms. Dai, three more practitioners, Ms. Fu Nijuan of Zhijiang City, Hubei Province, Mr. Li Fuchun of Beijing, and Mr. Wu Jiajian of Laixi City, Shandong Province, have also been arrested by the Luoyang police between October and November 2020. They are now awaiting trial by the Jianxi District Court, after being indicted by prosecutor Wu Jiangyang of the Jianxi District Procuratorate on April 25, 2021.
Violation of Legal Procedure
Bus Driver's Prison Term Extended by One Year Because She Refused to Renounce Falun Gong
Just as Ms. Xu Li was about to finish serving four years for her faith in Falun Gong, the authorities arbitrarily added another year to her term.
Ms. Xu, a bus driver in Dalian City, Liaoning Province, was reported by a village secretary in October 2018 for removing a public banner smearing Falun Gong. The police found her car's license plate through surveillance cameras and located her address. She was seized at home on the evening of October 28 and taken to the Yaojia Detention Centre. The Gaoxinyuan District Court sentenced her to a four-year prison term in late June 2019.
Ms. Xu was taken to the Liaoning Province Women's Prison on October 22, 2019. Because she refused to renounce Falun Gong throughout her imprisonment, the Dalian Political and Legal Affairs Committee and the 610 Office, two agencies tasked with orchestrating the persecution, ordered the local court to add a one-year sentence to her term. She is now scheduled to be released on October 27, 2023.
Ms. Xu was previously arrested on July 22, 2013, after being reported for giving out DVDs with information about Falun Gong. She was sentenced to four years by the Ganjingzi District Court on December 28 that year. While being held in the Liaoning Women's Prison, she was tied up, shocked with electric batons, beaten, forced to stand for a long time, and deprived of sleep.
The guards stripped off her clothes one day in November 2014, tied her to a chair, and taped her mouth. While one officer shocked her with an electric baton on sensitive areas, another one slapped her about the face and a third wrote defaming words against Falun Gong on her face, body, socks, and shoes.
83-year-old Woman Taken Away for Physical Examination, Only to Be Secretly Sentenced to Two Years
Since June 2021, staff members from the Jiangyang District Court in Luzhou City, Sichuan Province repeatedly came to Ms. Zhao Zhaoquan's home and took her to do various physical examinations.
When they took the 83-year-old retired elementary school teacher for the final examination on the morning of November 10, they told her that if all results looked good, they wouldn't take her to do more physicals in the future. They also bought breakfast for Ms. Zhao as she hadn't had anything that morning.
After two hospitals both confirmed that Ms. Zhao was perfectly healthy, however, she was never allowed to return home, but taken to the local detention centre, where she was handed down a two-year prison sentence.
Ms. Zhao's family learned from an insider that she is experiencing some medical condition while in custody. But a person familiar with her case told the family that because she is a political prisoner for her faith in Falun Gong, there is no way for them to get her out. Another official directly told the family that they could just wait to pick up Ms. Zhao's ashes.
Professionals Targeted
Former Accountant Sentenced to Four Years
Having served one year of forced labor and three years in prison, a former accountant in Guangzhou City, Guangdong Province was sentenced again to four years and fined 10,000 yuan for her faith in Falun Gong.
Ms. Zhang Chunhe, 63, was taken to a brainwashing centre in October 2020 during the "Zero-out" campaign, which aimed to force every Falun Gong practitioner on the government's blacklist to renounce their faith. She wasn't released until over two months later.
As she remained firm in her faith, the police arrested her on April 10, 2021, after tricking her into opening the door by claiming to be there to do a coronavirus test. The police sealed her door before they left.
Using Falun Gong books and materials confiscated from Ms. Zhang as prosecution evidence against her, the police submitted her case to the Zengcheng District Procuratorate. Ms. Zhang stood trial in the Haizhu District Court on November 19, 2021. She argued that she didn't violate any law by practicing Falun Gong and that no evidence had shown how she had harmed anyone as alleged by the prosecutor.
On March 28, 2022, guards at the Zengcheng District Detention Centre attempted to videotape Ms. Zhang and collect her fingerprints. When she resisted, they pulled her off the chair, handcuffed her, and dragged her to the cell, injuring her arms. She started a hunger strike to protest the violence.
The judge announced through a virtual sentencing hearing on July 13, 2022, that she was sentenced to four years and fined 10,000 yuan.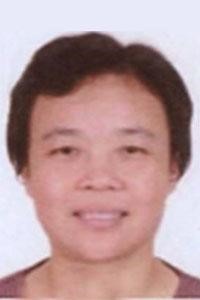 Cost Engineer and Her Husband Convicted for Her Faith in Falun Gong
A married couple in Luoyang City, Henan Province were both convicted for the wife's spiritual belief in Falun Gong. The higher court rejected their appeals and threatened to revoke the husband's probation if he hired a lawyer.
Ms. Wu Yongfeng, a 42-year-old cost engineer, and her husband, Mr. He Fei, were arrested at home at 6 a.m. on March 29, 2021. While Mr. He, who doesn't practice Falun Gong, was released on bail in the evening, Ms. Wu was taken to the Luoyang City Detention Centre. Their two daughters, ages 4 and 13, were left at home alone for a day.
It's reported that the police arrested Ms. Wu after a surveillance camera recorded her distributing Falun Gong materials in a residential area.
The Luolong District Court sentenced Ms. Wu to four years with a 5,000-yuan fine and Mr. He to two years with three years' probation and a 3,000-yuan fine in March 2022. They appealed with the Luoyang City Intermediate Court, which recently ruled to uphold their original verdicts.
When Mr. He picked up the verdicts at the intermediate court, a staff member threatened him, "You aren't allowed to hire any lawyers [to further appeal your case]. As long as you do so, we will revoke your probation and send you to prison."
Elderly Not Spared
82-year-old Woman and 60-year-old Woman Imprisoned
Ms. Gao Qiongxian, 82, and Ms. Wang Jin, 60, of Kunming City, Yunnan Province residents, were recently sentenced to six and three years respectively.
The two women were arrested around October 27, 2020. While Ms. Wang has been detained since, Ms. Gao was released on 1,000-yuan bail due to her poor health.
Ms. Wang's mother, Ms. Xie Jiayang, 89, was terrified by her arrest. She suffered a stroke and fell in the restroom one evening. Although she survived after resuscitation, she became incapacitated afterward. She passed away months later on April 5, 2021.
In the same month, Ms. Wang and Ms. Gao were indicted by the Xishan District Procuratorate. When they later appeared in Xishan District Court, both testified in their own defense. They maintained that they didn't do anything wrong or violate any law in practicing Falun Gong and living by its principles of Truthfulness, Compassion, and Forbearance.
Ms. Gao fell at home in August 2021 and broke her legs. The judge ruled to put Ms. Gao's case on hold on December 17. But prosecutor Zhang Li renewed the indictment on December 20, still trying to press charges against Ms. Gao. Meanwhile, the police and prosecutor have harassed her at home several times.
The Xishan District Court held two separate trials of Ms. Gao and Ms. Wang on April 19, 2022. The judge sentenced Ms. Gao to six years and fined her 13,000 yuan, and then gave Ms. Wang three years with a 5,000-yuan fine.
Couple in Their 80s Put on Probation for Practicing Falun Gong
Mr. Gong Xueliang, 85, and his wife, Ms. Wang Zhongqiong, 82, appeared in the Shifang City Court in Shifang City, Sichuan Province on July 8, 2022. The trial lasted two hours and their lawyers entered not guilty pleas for them. Judge Li Kaixian sentenced Ms. Wang to one and a half years of probation with an 8,000-yuan fine. The judge initially gave Mr. Gong a one-year probation with a 4,000-yuan fine, but later increased the fine to 5,000 yuan. Both husband and wife were allowed to go home after receiving the verdicts.
Mr. Gong, a retired employee of the Shifang City Environmental Protection Bureau, and Ms. Wang, a retired hospital employee, were arrested twice, in October and November 2021, respectively, and had their home ransacked.
The Shifang City Procuratorate indicted them in December 2021, with the charge of "undermining law enforcement with a cult organisation," the standard pretext used to criminalise Falun Gong practitioners. The prosecution evidence used against them was a Falun Gong amulet confiscated from their home.
In addition to the elderly couple's own ordeal, their daughter, Ms. Gong Xingcan, an economist, has been repeatedly arrested and detained, also for practicing Falun Gong. She was given two forced labor camp terms and held in a brainwashing centre three times. Her legs became disabled as a result of torture. It has been seven years since she was forced to live away from home to hide from the police, after escaping from custody following an arrest in June 2015.
Convicted for Speaking Out
A Letter to Seek Justice Leads to 3.5-Year Prison Sentence
A little over a year after a Tianjin resident was released from serving 2.5 years for hanging up a banner about Falun Gong, she was arrested again for writing a letter and has now been sentenced to 3.5 years.
Since the Chinese communist regime began to persecute Falun Gong, Ms. Zhao Shuxia, 58, has served two labor camp terms and a prison term for her faith.
Following an arrest in 2016 for hanging up a banner about Falun Gong, her elderly father's health deteriorated due to his constant worries about her. He suffered from severe diabetes and became blind. He passed away on September 10, 2016. A year later, Ms. Zhao was sentenced to 2.5 years.
After Ms. Zhao was released, she did odd jobs to support herself and her elderly mother. She later found a job as a house aide to an elderly woman, after getting to know her daughter in prison, a petitioner sentenced for protesting to the authorities for illegally seizing her property.
When the authorities harassed the petitioner after she was released, they found that Ms. Zhao was working at her home and ordered her to fire Ms. Zhao. Not wanting to put any pressure on the family, Ms. Zhao quit the job.
Not long after, Ms. Zhao heard that the petitioner appealed and was arrested again. She wrote a letter to the police, urging them to release the petitioner, only to be arrested herself on February 3, 2021. After appearing in the Nankai District Court twice, first in July and then in September 2021, she was sentenced to 3.5 years and taken to the Tianjin Women's Prison in mid-May 2022.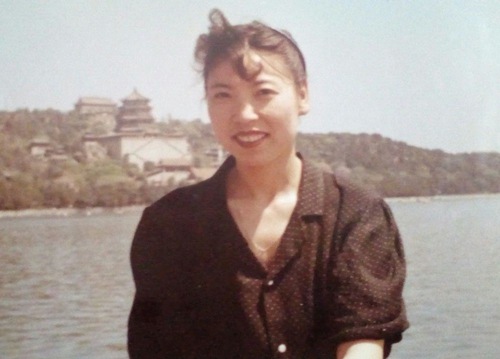 73-Year-Old Woman Sentenced to Three Years for Seeking Justice Over Wrongfully Suspended Pension
Ms. Hu Dongxia, a 73-year-old retired employee of the Manganese Ore Electromechanical Company in Xiangtan City, Hunan Province, was informed by the local social security bureau on August 11, 2020, that her pension was to be suspended to pay back the funds she received between 2007 and 2012 when she was serving time for practicing Falun Gong.
The social security bureau claimed that according to a new policy, no retirees are entitled to any benefits while serving time, although no Chinese labor law has such a stipulation.
Two months after Ms. Hu filed complaints against the social security bureau, the authorities arrested her on April 7, 2021, in retaliation. The Yuhu District Court sentenced her to three years in May 2022.
Retired Judge Sentenced to Six Years for Talking to People about Falun Gong in Her Neighborhood
Ms. Zhou Lin, 63, is a retired judge of the Weining County Court in Guizhou Province. She was arrested on July 30, 2020, after being reported by the property management security in her own neighborhood, for talking to the residents about Falun Gong.
The police barred her family from sending clothes or daily necessities to her. She was sentenced to six years by the Nanming District Court in late 2021. She appealed, but the Guiyang City Intermediate Court upheld her original verdict.
After 11.5 Years of Incarceration, Shaanxi Woman Sentenced to Another Five Years
Nearly four years after a Hanzhong City, Shaanxi Province resident was arrested and detained incommunicado for practicing Falun Gong, her family recently learned that she had been secretly sentenced to five years.
Ms. Xiao Yanping was arrested on August 22, 2018, for talking to people about Falun Gong. She was held at the Hantai Detention Centre before being secretly sentenced and transferred to the Shaanxi Province Women's Prison. The guards tortured her and forced her to do unpaid labor. With one year remaining on her term, her son is longing for her safe return.
Ms. Xiao used to work at an instrument factory. Before taking up Falun Gong in October 1996, she struggled with long-term insomnia, headache, and a serious heart condition. All of her conditions disappeared after she started learning the Falun Gong exercises.
Because she held firm to her faith in the face of the persecution, Ms. Xiao was arrested six times, resulting in two labor camp terms totaling 3.5 years and a prison term of 8 years.
Ailing Woman Given Three Year Prison Term for Talking to People about Falun Gong
A police officer visited Ms. Zhao Hongyan at home in early July 2022 and informed her that she had been sentenced to a three-year prison term for practicing Falun Gong.
The officer only allowed Ms. Zhao, a Jiaohe City, Jilin Province resident around 66 years old, to take a quick look at the verdict before taking it back. He said she had seven days to appeal the verdict. It's not clear whether a trial ever took place before Ms. Zhao was sentenced.
On July 6, the second day after Ms. Zhao mailed her appeal, the police showed up at her home with a formal arrest warrant and took her to a hospital for a checkup. As she was found to have severe heart failure and dangerously high blood pressure, the police's attempt to send her to jail failed. They had to keep her in the hospital to receive treatment.
Ms. Zhao's ordeal stemmed from her previous arrest on September 14, 2021, for talking to people about Falun Gong. She suffered a heart attack on November 20 and was taken to the hospital for resuscitation. The doctor said her heart was blocked and that she also had very high blood pressure. The detention center released her on the next day, fearing of bearing responsibility for her condition. The Shulan Court later sentenced her.
In addition to the persecution Ms. Zhao suffered herself, her daughter, Ms. Qiu Lin, was arrested on July 9, 2020, for talking to a retiree about Falun Gong. When Ms. Qin's lawyer was finally allowed to visit her at the Jilin City Detention Centre on January 9, 2021, he learned that she had already been secretly sentenced to three years with a 2,000-yuan fine. She appealed the verdict, but the higher court ruled to uphold the original sentence.
Related reports:
Chinese version available
(Clearwisdom)