(Minghui.org) "After we arrived at Tiananmen Square, four or five plainclothes police officers watched us. All of them carried the same communication device, as if they were ready to arrest us at any minute," recalled Melbourne resident Jarrod Hall. He and his then fiancee Emma had gone to Tiananmen Square to peacefully appeal for Falun Gong on March 10, 2002.
Both were 23-year-old college graduates. After flying into Beijing, they took a taxi to Tiananmen Square. They each carried a banner – Jarrod hid his in his scarf while Emma kept hers inside her coat. On the banners were the words, "Falun Dafa is good." Falun Dafa, also known as Falun Gong, is a meditation practice based on the principles of Truthfulness-Compassion-Forbearance.
Since they were already being watched by the police, they decided to waste no time and held up their banners. Within seconds both were arrested.
Three days earlier, on March 7, 2002, ten Australian citizens held a similar appeal at Tiananmen Square, calling out "Falun Dafa is good." They did so because three years prior, in July 1999, the Chinese Communist Party (CCP) launched a nationwide persecution of Falun Gong. The CCP's suppression of Falun Gong was brutal. Besides arresting, detaining, torturing and imprisoning practitioners, the CCP also fabricated lies to mislead Chinese citizens and the world's people.
All the Australians were soon released, but Chinese practitioners who held similar appeals met with severe retaliation. Five days before Jarrod and Emma protested in Beijing, several practitioners intercepted the local cable television signal in Changchun, Jilin Province, on March 5 to air factual information about Falun Gong.
The truth about the persecution of Falun Gong, along with a rebuttal of the CCP's hate propaganda such as the staged self-immolation at Tiananmen Square reached about one million people in 300,000 households through 50-minute videos transmitted over 8 channels. Afterwards, officials arrested about 5,000 practitioners. Many received sentences of up to 20 years and several practitioners died as a result of torture.
Twenty years have passed, and Jarrod and his wife now own a successful marketing company. Jarrod is an expert in the production of audiovisual products, while Emma has expertise in marketing and business planning. They live happily with their son and their parents, and credit Falun Gong for their physical and spiritual benefits. But since the persecution in China continues, the couple also find time to expose the CCP's crimes, hoping to end the atrocities still taking place in China.
Beginning the Practice
As they walked past a park in Melbourne's city centre, 19-year-old Emma and her mother noticed some Chinese people meditating. She recalled that she and her mother were drawn by the peaceful energy they felt and both became interested in learning this meditation practice. That was May 1998. Soon after she began doing the exercises, Emma said she was surprised that she felt more energetic. She made up her mind to continue practicing Falun Gong.
Emma told her boyfriend Jarrod about Falun Gong. Impressed by her calmness, perseverance, and positive outlook, Jarrod began to read Zhuan Falun, the book containing the main teachings of Falun Gong.
Zhuan Falun gave Jarrod deeper understandings about himself, society, and the universe. "Falun Gong helped me to be more confident and considerate of others," he said. Moreover, he was able to get rid of his fear of death, something that had bothered him since childhood. He was able to easily tell right from wrong and make major decisions with confidence.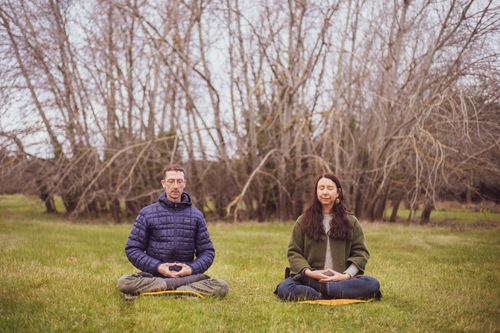 Speaking Up for Falun Gong
About one year after Emma and her mother began practicing Falun Gong, then CCP leader Jiang Zemin began to suppress the group in July 1999. The entire state apparatus and all media in China were mobilised to slander Falun Gong. Some of Emma's roommates were influenced and said negative things about Falun Gong.
"I was really surprised," Emma recalled. "So I explained what Falun Gong is and told them about my personal experiences." Jarrod said he had a similar experience. The couple began participating in events in Melbourne and nearby towns to tell people about Falun Gong and how it was being wrongly persecuted in China. By distributing information, demonstrating the exercises, and talking to people, they helped many local residents learn what Falun Gong really is.
But the tragedies in China continued. Knowing that the Chinese people were still misled by the government's hate propaganda, Emma decided to go to Tiananmen Square to peacefully protest. "Even the Australian media were repeating the CCP's lies. I felt that this trip would help them know the facts – that Falun Gong is good." Jarrod agreed with Emma's decision. Seeing it as an opportunity to support the righteous, he decided to accompany Emma.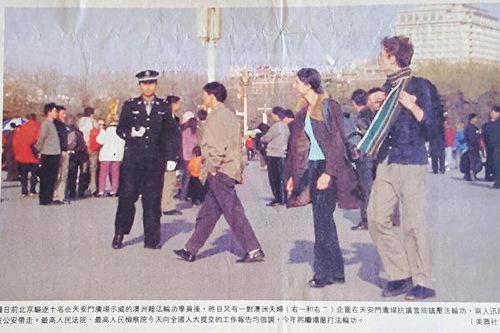 Recent college graduates, they paid for the trip with the money they'd saved for their wedding. After landing at the Beijing Airport they took a taxi to Tiananmen Square. Almost immediately, they found themselves being followed by the police. "There were so many police officers there that they almost outnumbered the tourists," Jarrod recalled.
Standing on Tiananmen Square, he had both fear and doubt in his mind. "I knew that fellow practitioners in China suffered so much, but the police would not do much to me – an Australian citizen," Jarrod said. "I had to find my courage; otherwise, I would never forgive myself."
He and Emma unfolded their banners. In front of hundreds of people, they called out in Chinese: "Falun dafa hao (Falun Dafa is good)!" The police officers nearby immediately arrested the couple and shoved them into a police van.
Detention and Interrogation
Emma and Jarrod were taken to an underground parking lot where over 20 police officers searched all their personal belongings.
"At that time, we stood up and sang the song, 'Falun Dafa is good' in Chinese," Emma recalled. "Those officers simply looked at us and some even tapped their feet in time to the music – it seemed to me they enjoyed the music."
Jarrod said he would call it kidnapping rather than arrest. "After all, we did not break any laws (to this day there are no laws in China that ban Falun Gong)," he said. "Still, they (the officials) held us at the police department near Tiananmen Square for one night. During that time they did not allow us to contact the Australian Embassy."
An officer punched Jarrod in the throat and shoved him against a wall. Other officers also pushed him down to the ground many times. "They also asked some ridiculous questions, such as who gave the order for us to come to Beijing," he said. "The money we carried – 350 RMB and 45 Australia dollars – was also confiscated."
Emma was also violently body searched. Then she was kept in a cold cell for one night. "The wall was covered in bloodstains. I also heard, 'Falun Dafa is good' being called out in the other cells. I knew that Chinese practitioners were also detained there," she said.
After over 10 hours of illegal detention and interrogation, Emma and Jarrod were placed on a flight back to Australia on the morning of March 12.
Spreading the Truth
After returning to Australia, Jarrod immediately held a press conference in front of the Chinese Consulate. Several media covered this event, including Australia's Channel 10, Channel 7, ABC, SBS TV, The Age, The Australian, and The Epoch Times.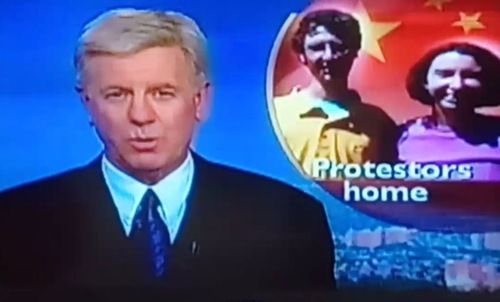 Emma said she was glad to see their trip and arrival in Melbourne broadly covered by newspapers and television. In these reports, she and Jarrod talked about their experience in China and how the CCP was carrying out a genocide against Falun Gong practitioners. "We want to let people know that, in China, the CCP deprives people of their freedom to have a belief," she explained.
Emma continued, "This suppression is a top-down policy from the top CCP leader, supervised by the extrajudicial agency known as the 610 Office. That was why so many practitioners have been detained, tortured, and killed in China. We later learned that practitioners were killed for their organs."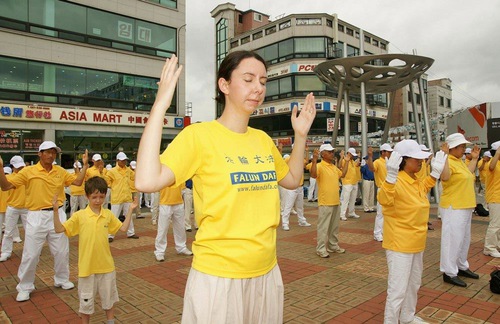 Look Forward to a Communism-Free China
During a recent rally in Melbourne on July 9, 2022, Emma suggested that local residents and tourists can do something to help end the atrocities in China. "You could contact the media or elected officials and tell them we cannot tolerate such severe human rights abuses – especially forced organ harvesting."
The couple thank Falun Gong for what they have. "The practice teaches me to be a responsible and loyal husband as well as a kind and supportive father," Jarrod said. He is grateful to Master Li (the founder of Falun Gong) for introducing the practice to the public.
Emma wants to visit China again. But she looks forward to going there in a communism-free era when Falun Gong practitioners can freely and openly practice their belief.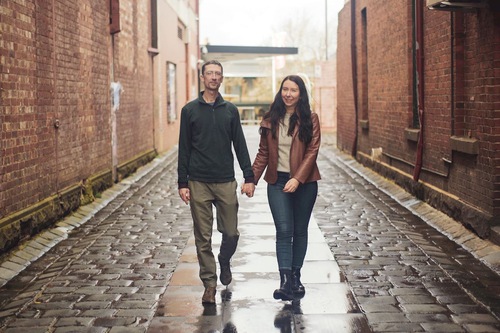 Chinese version available
(Clearwisdom)