(Minghui.org) Falun Dafa practitioners held a rally in front of the  Southern Australian Parliament building on July 12, 2022, to protest the CCP's (Chinese Communist Party) 23-year-long persecution, and called for it to end. Elected officials and community leaders supported the rally, and many people signed the petition.
Practitioners also held a candlelight vigil in front of the Chinese Consulate on the evening of July 20, 2022.
Member of Parliament Commends the Spirit of Truthfulness-Compassion-Forbearance
MP for South Australia, Tammy Franks, sent a letter of support on July 12 to express her gratitude and support for practitioners' persistent actions against the persecution.
She wrote, "Twenty-three years is a long time to face persecution, and we all know that there is no legal basis for the Chinese Communist Party's ongoing persecution of practitioners. I want to thank the members of the community who have fought against this persecution, and who have fought for freedom and democracy for so long.
"It takes great strength to stand strong and stand up for your beliefs and practices in the face of ongoing opposition and persecution. Thank you for your commitment to peacefully defending your right to practice your faith and principles, and please know that we stand with you."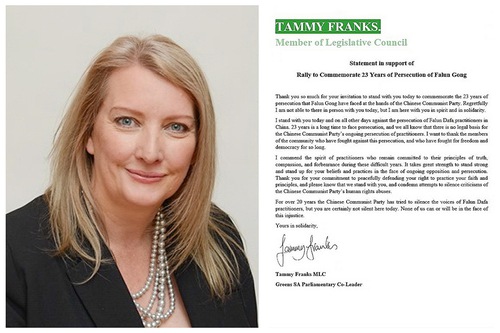 Call to See Through the CCP and End the Persecution
South Australia Falun Dafa Association spokesperson Brian spoke at the rally. He called on the international community and all sectors of Australia to see through the nature of the CCP and work together to end the persecution of Falun Gong. He stressed it is a matter of concern to everyone.
He said, "The CCP has infiltrated every corner of society in Australia, from using the Confucius Institute and the Confucius Classroom to poison our children with Communist ideology, to infiltrating and manipulating almost all Chinese-language media, newspapers, and magazines, etc."
He said, "Communist ideology has been eroding the traditional ideology of Australia. I would describe it as a persecution of the Australian people. What's worse, the CCP teaches humanity to turn against God, to turn their back on divinity, to corrupt morality, and ultimately leads mankind down the road of destruction."
Mr. Linh Dang Nguyen, president of the Vietnamese Community in South Australia, said, "Why does the CCP brutally persecute a spiritual group like Falun Gong? It is because Falun Gong believes in Truthfulness, Compassion and Forbearance, which CCP does not agree with."
He said, "The CCP is known to be the biggest liar. It does not talk about compassion. It has no tolerance for people who are not at its mercy or have their own ideas or beliefs. It, therefore, reverses right and wrong and brutally suppresses them."
Mr. Nguyen also said the CCP has spread its minions all over the world, including Australia. "We need to stand together and resist it, and one day, we will overcome the forces that are suppressing human rights and values in the world."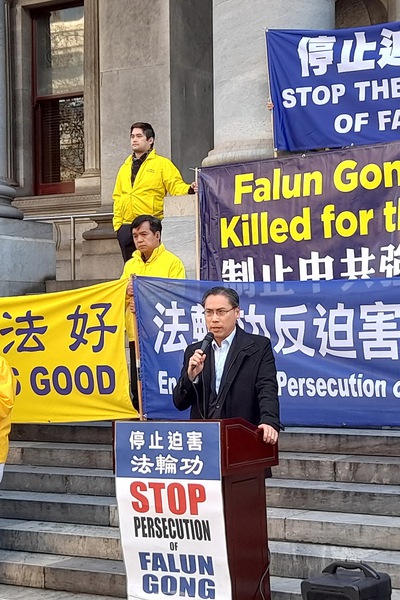 Practitioner Recounts Her Personal Experiences of Being Persecuted
Ms. Chen was persecuted by the CCP in China. Another practitioner read a statement on her behalf. She described being made to do forced labor for long hours while she was detained. Her health deteriorated rapidly and her hair turned white due to the physical and mental torture. Her teeth fell out one after another after she was released. And all of this happened when she was a college graduate in her early twenties.
She wrote, "I was kept in a cell with murderers, drug dealers, and other criminals in the detention centre. I was forced to perform heavy labor and produce plastic flowers and toy jewelry for export, day and night.
"The living conditions were inhumane, the labor hours were long, and there was little time for meal or bathroom breaks. When a big order arrived, we could only sleep a few hours each day. The world was unknowingly worsening our misery."
After finding a Falun Gong book on her, police officers ordered the inmates to beat her violently. During her detention, she also heard and witnessed many instances of practitioners being tortured, driven insane, poisoned, and tortured to death. She calls on the international community to help end this 23-year-long persecution.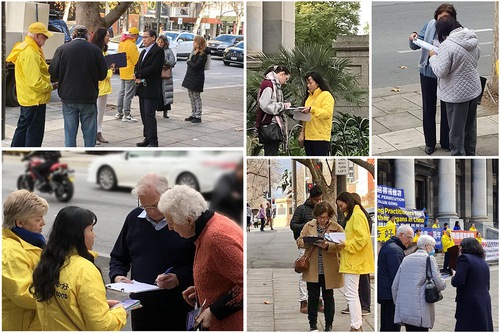 Public Admires Falun Dafa and Supports Their Efforts
Many people stopped to watch the rally and signed the petition to end the persecution. David Peterson said he has a good understanding of the CCP's human rights abuses. He said the CCP's behavior in the international arena has revealed that it is willing to endanger the world for its own benefit.
Daniel, a pro-democracy activist, said, "Falun Gong has been doing the most thorough job in resisting persecution and exposing the CCP. I admire practitioners."
Daniel said that as he learns more about the true situation regarding the persecution, he sees through the CCP more and more clearly. He believes what Falun Gong practitioners have been saying over the years is true. "Especially about live organ harvesting. More evidence has surfaced. Many high-ranking CCP officials have received organ transplants."
He believes people should do more to spread the truth.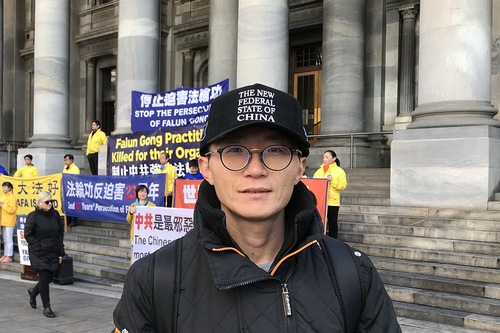 Mr. Lin is a young man from China. He said he heard about the persecution before, but was shocked to learn the extent of it. He said under the CCP's long-term deceptive control and brainwashing, many Chinese people are afraid to listen and even reject the truth about Falun Gong. They have become selfish and indifferent and only care about money, which he found disturbing and distressing.
He asked practitioners to help him quit the CCP and its affiliated organisations. He said he will go online to learn more and read more about Falun Gong.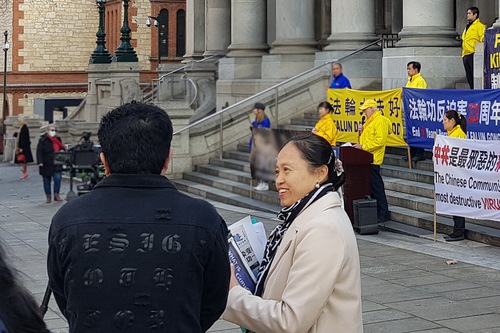 Candlelight Vigil in Front of the Chinese Consulate
Practitioners held a candlelight vigil in front of the Chinese Consulate in Adelaide on the evening of July 20, calling for an end to the persecution. Holding photos of practitioners who were tortured to death in China, they silently mourned them.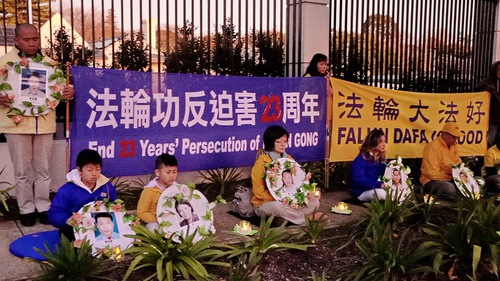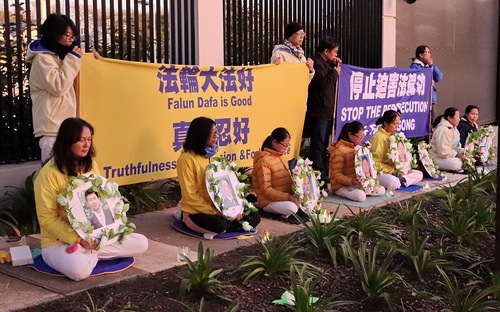 Event organiser Sveta said the CCP began its brutal persecution of Falun Dafa practitioners on July 20, 1999, 23 years ago, and many practitioners were tortured to death. "We are here today to mourn those practitioners who lost their lives to the persecution and to demand the CCP end the persecution and release all detained practitioners."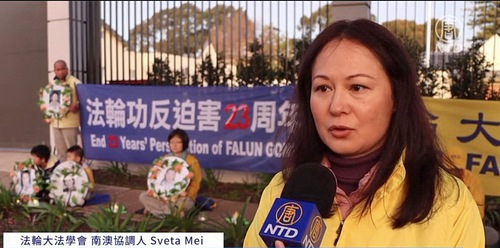 Background: What Is Falun Dafa and Why Is the CCP Persecuting It?
Falun Dafa (also known as Falun Gong) was first introduced to the public by Mr. Li Hongzhi in Changchun, China, in 1992. The spiritual discipline is now practiced in over 100 countries and regions worldwide.
Millions of people who have embraced the teachings, which are based on the principles of Truthfulness, Compassion, and Forbearance, and have learned the five exercises, have experienced improved health and well-being.
Jiang Zemin, former head of the Chinese Communist Party (CCP), perceived the spiritual discipline's growing popularity as a threat to the CCP's atheistic ideology and on July 20, 1999, he issued an order to eradicate the practice.
Under Jiang's personal direction, the CCP established the 610 Office, an extralegal security organisation with the power to override the police and judicial systems and whose sole function is to carry out the persecution of Falun Dafa.
Minghui.org has confirmed the deaths of thousands of practitioners as a result of the persecution over the past 23 years. The actual number is believed to be much higher. Countless practitioners have been imprisoned and tortured for their faith.
There is concrete evidence that the CCP sanctions the harvesting of organs from detained practitioners, who are murdered to supply China's organ transplant industry.