(Minghui.org) May is Asian Heritage Month in Canada, and celebrations were held in Gatineau, Quebec, just across the river from Ottawa, the capital of Canada. Falun Dafa practitioners were invited to demonstrate the exercises, which was warmly welcomed. In an interview with the media, Councilor Mike Duggan of the 12th district of Pointe-Gatineau expressed his support for Falun Dafa.
"The Asian Heritage Month celebration is an important event. We're here to talk about traditions, human traditions, from all over the world," said City Councilor Duggan.
Gatineau is located at the confluence of the Ottawa and Gatineau rivers. It is across the Ottawa River from Ottawa itself and is part of the Greater Capital Region (NCR).
According to Mr. Louis Patrick Comeau, one of the event organisers, 25 Asian groups representing China, India, Thailand, Sri Lanka, Indonesia, Malaysia, and Cambodia participated in the celebration that day. Each ethnic group displayed their culture through song and dance, food, and handicrafts.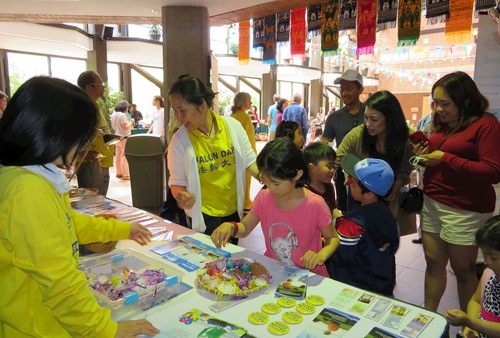 City Councilor: I Admire Practitioners' Courage
Falun Dafa practitioners were invited to participate in the celebrations to demonstrate the exercises. Several audience members learned the exercises at the event.
City Councilor Duggan said he supported freedom of speech and freedom of religion, which are important human rights.
As a devout Catholic, he said that the governments of different countries should realise that ultimate power does not come from humans, such as those who control our lives, but from God, the Creator, or Mother Nature, at the spiritual level. Providing space for people of faith is important for human beings, because they want to express their opinions.
He said he admired the practitioners' courage. "Unfortunately, they are persecuted by the Chinese Communist Party (CCP). The CCP even conducts organ harvesting from living practitioners." He visited Taiwan three years ago. He said that the CCP attempts to destroy traditional Chinese culture. For the past seven decades, the CCP has been destroying a culture that was vibrant for thousands of years. Taiwan has retained the traditional culture.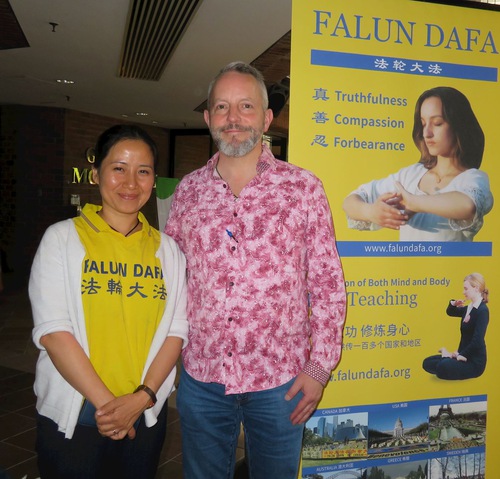 Falun Dafa Welcomed at the Event
Ms. Jae-Jin Ryu, a senior government official, and her daughter learned the exercises at the event. When she did them for the first time, she said that she felt relaxed and comfortable.
Ms. Aini Yusoff from Malaysia said, "The Falun Dafa exercises make you feel peaceful and calm. Although it is a whole-body exercise, it is not intense. I can feel this kind of peaceful energy. It was a very positive experience."
She added, "The Falun Dafa exercises are beneficial to the body and mind. Pausing one's busy life to spend ten minutes to practice the exercises will definitely help your health."
Many people went to the Falun Dafa booth to learn more about the practice.
Bala Brahmandam Madaparthi, an Indian-Canadian, said, "Falun Dafa believes in Truthfulness-Compassion-Forbearance and is from the Buddhist school, which is in line with our beliefs. Practicing Falun Dafa is good for physical and mental health."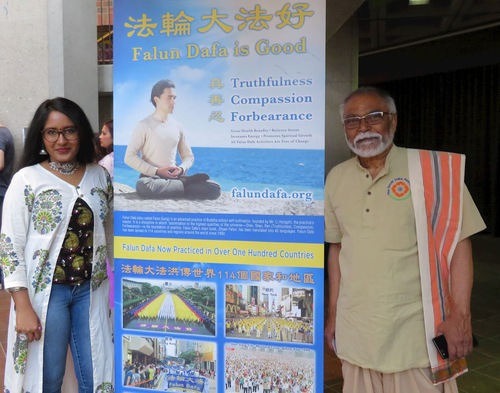 Jean Roberth Souza is from Brazil. He said in an interview that the world needs Truthfulness-Compassion-Forbearance and the lifestyle of meditation and practice. "These are important because we live in a stressful world. For example, I work in front of computer for long hours and need to rest. I need to stop and recharge myself. Doing the exercises is a great way to recharge."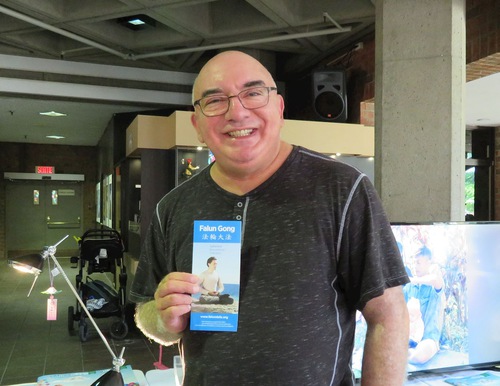 All content published on this article are copyrighted by Minghui.org. Minghui will produce compilations of its online content regularly and on special occasions.