(Minghui.org) The World Village Cultural Festival was held at Kauppatori Market Square in Helsinki, the capital of Finland, on May 29, 2022, after being postponed for two years due to the pandemic. Falun Gong practitioners took part in the festivities, and set up an information booth at the event. Many people were attracted to the booth where they signed a petition calling for an end to the ongoing persecution in China.
It was a clear, sunny day. Many restrictions were removed as COVID case numbers had lowered, and people were glad to get out of the house. The peaceful Falun Gong exercise movements demonstrated by the practitioners made many people notice, and stop in their tracks.
Some observed from afar quietly, while others approached practitioners, asked questions, and waited in line to sign the petition calling on the Chinese Communist Party (CCP) to stop the persecution. Many people showed their support.
People Have Heard About Organ Harvesting
Maiju, a student told practitioners, "I kept sharing information about Falun Gong with others, such as on various social media platforms. I know what is happening in China, I know the CCP is removing organs from living practitioners and selling them for huge profits. I know the Chinese people are being controlled. Four years ago I decided to stop buying clothes made in China, I don't want to support the CCP."
However this does not stop her from liking China. "In fact, I want to travel around in China. I love Chinese people, the Chinese language, and Chinese culture, but I am very disappointed in the CCP. I don't want to go there anymore. Look at the situation in Hong Kong and what the island has become."
Addressing the crime of organ harvesting, the student said, "We must stop this because the organs are not donated voluntarily. It is a major issue, and is especially hurting women as well as young children.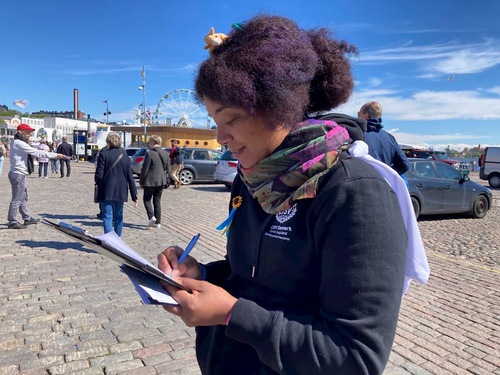 Abmed, a doctor, had also heard about organ harvesting, as he had seen similar activities held by practitioners in London. He said to the practitioners, "We should let people learn the truth. Your activities are an excellent way to let others know what is happening."
Claudia, a teacher, approached practitioners as soon as she noticed the Falun Gong information booth. It turned out she saw Ms. Jin Zhaohuan, a practitioner, doing the exercises. She said, "I know the story of her and her mother who were persecuted in China."
Based on reports published on the Minghui website, Jin Zhaohuan's mother was sentenced to eight years in prison for refusing to give up her belief. Jin herself was expelled from school at a young age and had no choice but to leave the country. To rescue her mother, the practitioner collected petition signatures on many occasions. Local media also covered her story.
All content published on this article are copyrighted by Minghui.org. Minghui will produce compilations of its online content regularly and on special occasions.