_____________________________________
(Minghui.org) Marie-Charlotte Nouhaud, Mayor of the city of Avon in the greater Paris region, recently wrote to the French Falun Dafa Association. She said that the brutal persecution of Falun Gong practitioners in China, which has gone on for more than 20 years, has caught her attention. Mayor Nouhaud expressed her support for practitioners' efforts to end the persecution and thanked local practitioners for their contribution to the community.
Mayor Marie-Charlotte Nouhaud referenced a letter that she received from a Falun Gong practitioner in 2021, which caught her attention.
The mayor wrote, "Ms. Nguyen, who lives in our province Avon told me that she and some other Falun Dafa (also known as Falun Gong) practitioners have been practicing in a park in my city for more than 20 years. Over the years, this kind of group practice and meditation has continuously attracted passers-by to join in, and in this way, they have contributed to the local peace and harmony."
Mayor Nouhaud said, "After reading Ms. Nguyen's letter I wish to support you. I support your compatriots in China who have been subjected to the most severe abuses and atrocities unbearable by human beings for twenty-two years.
"For more than two decades, Falun Gong was unjustly accused by the ruling government at the time. The practice was designated a public enemy, and then at the cost of bullying, ill-treatment and torture on a daily basis, the false reasons for eradicating the movement were made real every day. Each time is more abhorrent than the last.
"That is why I have pledged to join you in signing one or more petitions for your association related to defending human rights."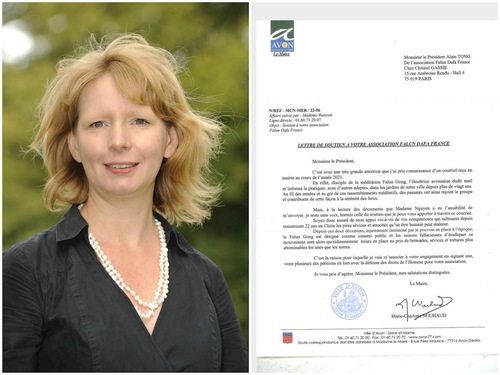 Background
Ms. Nguyen, a Vietnamese Falun Gong practitioner who lives in Avon, Paris, France, sent a letter to the mayor of her city last year. She mentioned that after practicing Falun Gong, she gained better health and became a moral and compassionate person.
She also mentioned in the letter that since the Chinese Communist Party (CCP) began to persecute Falun Gong in July 1999, according to verifiable data, 4,650 practitioners were persecuted to death, but the actual number of deaths may be much higher. Millions of people are held in forced labor and re-education camps.
These atrocities have been well documented by human rights organisations, government agencies, and the United Nations. The 2007 U.S. State Department Human Rights Report pointed out that Manfred Nowak, the United Nations Special Rapporteur on Torture, "reported that Falun Gong practitioners accounted for 66 percent of victims of alleged torture while in government custody."
Amnesty International's 2017/18 annual report stated, "Falun Gong practitioners continued to be subjected to persecution, arbitrary detention, unfair trials and torture and other ill-treatment." In China, the persecution of Falun Gong has always been one of the most brutal persecutions against a religious group in modern times.
What Is Falun Dafa and Why Is the CCP Persecuting It?
Falun Dafa (also known as Falun Gong) was first introduced to the public by Mr. Li Hongzhi in Changchun, China, in 1992. The spiritual discipline is now practiced in over 100 countries and regions worldwide.
Millions of people who have embraced the teachings, which are based on the principles of Truthfulness, Compassion, and Forbearance, and learned the five exercises have experienced improved health and well-being.
Jiang Zemin, former head of the Chinese Communist Party (CCP), perceived the spiritual discipline's growing popularity as a threat to the CCP's atheistic ideology and on July 20, 1999, issued an order to ban the practice.
Under Jiang's personal direction, the CCP established the 610 Office, an extralegal security organisation with the power to override the police and judicial systems and whose sole function is to carry out the persecution of Falun Dafa.
Minghui.org has confirmed the deaths of thousands of practitioners as a result of the persecution over the past 22 years, though due to the difficulty in getting information out of China, the actual number is believed to be much higher. Many more have been imprisoned and tortured for their faith.
There is concrete evidence that the CCP sanctions the harvesting of organs from detained practitioners, who are murdered to supply the organ transplant industry.
Views expressed in this article represent the author's own opinions or understandings. All content published on this website are copyrighted by Minghui.org. Minghui will produce compilations of its online content regularly and on special occasions.