It has been 21 years since the Chinese Communist Party began to suppress Falun Gong on July 20, 1999. Thirty-four members of the U.S. Congress recently sent letters condemning the CCP for its brutality against Falun Gong practitioners and calling for an end to the persecution.
"Today marks 21 years since the Chinese government launched a brutal campaign to eliminate Falun Gong, a traditional Chinese religion based on a philosophy of truthfulness, compassion, and tolerance," wrote Patrick Leahy, senator from Vermont. Currently serving his eighth six-year term in office, he is often considered the most senior member of the Senate.
"Falun Gong practitioners have been interred at reeducation camps, beaten, electrocuted, force-fed, sexually assaulted, starved, and tortured in countless other horrific ways in an effort by the Chinese government to force them to renounce their beliefs and denounce their communities," he wrote in the letter. "The Chinese government should immediately cease its arbitrary detention and brutalisation of Falun Gong practitioners and other religious and ethnic minorities… The plight of Falun Gong in China demands our attention and condemnation."
Ron Johnson, a senior senator from Wisconsin, agrees. "For 21 years, the Chinese Communist Party has been waging an intensive, comprehensive, and unforgiving campaign against those who practice Falun Gong," he wrote in a letter.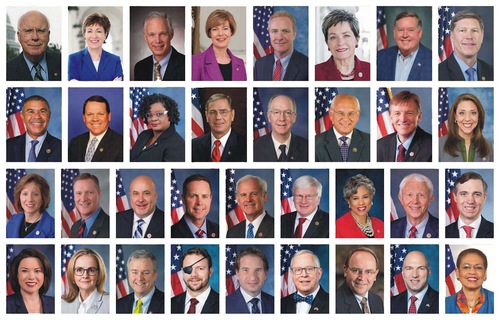 Tammy Baldwin, also from Wisconsin, hopes the suppression will end soon. "I hope that one day soon Falun Gong practitioners in China and all over the world may exercise their principles free of oppression," she wrote.
Representative Ken Calvert from California said Falun Gong practitioners had been subjected to abuse, torture, illegal imprisonment, and forced organ harvesting. "This brutal persecution is intolerable and must stop," he said.
Rep. Anthony Gonzalez from Ohio wrote, "I am a proud member of the China Task Force in the U.S. House of Representatives and remain focused on holding the CCP accountable for their gross violations and human rights and brutalist practices against their own citizens. I support the Falun Gong's resilience and tenacity in their freedom of information efforts against the CCP."
"I am proud to represent so many Falun Dafa practitioners in the Sixth Congressional district of Texas and am hopeful that their brethren will be able to practice freely and without fear in China sometime soon," wrote Rep. Ron Wright from Texas. "I look forward to continuing my work to end the CCP's persecution of your people in the months and years to come."