July 20, 2020, marked 21 years since the Chinese Communist Party (CCP) launched its nationwide persecution of Falun Gong in China. Practitioners in Hong Kong have continued their truth-clarification activities to raise awareness of the persecution, despite the increased risk to their safety.
Several District Councilors expressed their appreciation for practitioners' perseverance.
Adhering to the restriction order limiting gatherings, four Falun Gong representative practitioners marched from the back door of the Chinese Liaison Office to the main entrance in the afternoon. They displayed banners bearing the words, "Stop the Persecution of Falun Gong", "Falun Dafa is Good" and "Disintegrate the CCP". They quietly left after reading out their statement.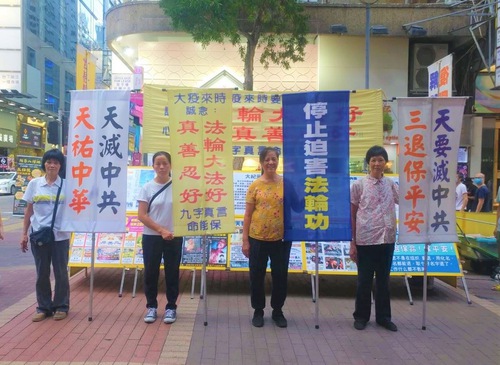 Displaying the Message "Disintegrate the CCP"
Falun Gong practitioner Emily Liu read a statement stating that the CCP's 21-year long persecution of Falun Gong is regarded by many as the most severe terror in the 21st century.
In the face of this unprecedented persecution, Falun Gong practitioners have persevered and continued to peacefully expose it. They have continued to clarify the truth. They have also continued to call for the disintegration of the CCP, as well as an end to the persecution.
Emily said Falun Gong practitioners face increased risks after the CCP implemented the new security law in Hong Kong. She said that police officers ordered practitioners to remove the banner with the words, "Disintegrate the CCP, End the Persecution." Emily said the Falun Gong practitioners' appeal has never changed. They emphasised that the CCP is not China, so the banner is not against the security law.
Emily said that as international communities continue to recognise the true nature of the CCP, the U.S. government intends to ban CCP members and their families from entering the country.
In response, an increased number of people are quitting the CCP and its affiliated organisations. Falun Gong practitioners in Hong Kong will soon open hot-lines to help people quit.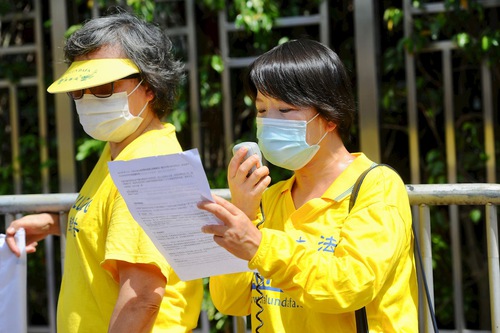 Mr. Wu Chi-wai: Thanking Falun Gong for 21 Years' Perseverance
Many councillors and scholars have expressed their appreciation for the practitioners' 21-year-long steadfast perseverance.
Councillor Mr. Wu Chi-wai said many people in Hong Kong had doubts about the persecution of Falun Gong practitioners because they were misled by the Party's lies.
With the CCP's continued and steady encroachment of Hong Kong's cherished freedoms, residents began protesting the extradition bill last year. They've now begun to awaken and realise that Hong Kong is immersed in the CCP's propaganda and brainwashing campaign. Many people now understand that the Party's persecution of Truthfulness-Compassion-Forbearance exposes its real, evil nature.
Mr. Wu said practitioners' 21 years of peaceful perseverance has provided Hong Kong people with a lot of encouragement and inspiration. For example, how to behave well while facing the persecution, how to persist in your faith and how to distinguish the CCP's brainwashing tactics and expose its evil deeds.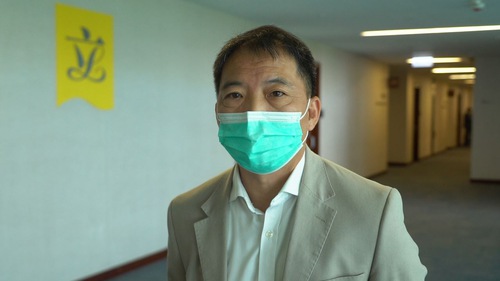 Mr. Alvin Yeung: Respect the Falun Gong Practitioners' Courage
Mr. Alvin Yeung is a lawyer. He said Falun Gong practitioners were previously protected by the law in Hong Kong. However, after the CCP's National Security Law for Hong Kong was implemented on June 30, 2020, nobody can predict what the regime will do to protesters.
Some local democratic organisations have chosen to disband to avoid persecution. However, Falun Gong practitioners have continued their truth-clarification activities despite the increased pressure. He feels they are worthy of everyone's respect.
Four practitioners were arrested on July 1, 2020 for distributing flyers, magazines, and newspapers. Several sites where practitioners hold truth-clarification activities in downtown Hong Kong have been interfered with by pro-CCP groups. Some thugs tore down practitioners' banners at several locations.
Mr. Yeung said he did not understand why the CCP did this. He cannot understand why Falun Gong practitioners are arrested simply because they distribute flyers.
Mr. Yeung also said that in the past year, the practitioners' behavior has been magnificent. Many Hong Kong people are observing the situation. He believes that there should be no grievances between democratic groups because everyone has the same goal of striving for democracy.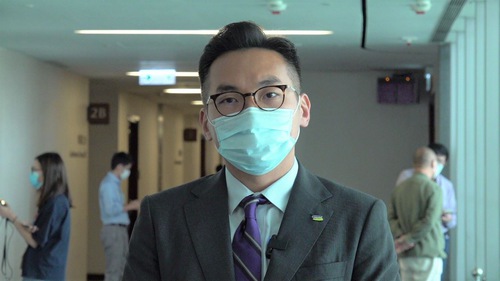 Mr. Chu Hoi-dick: I Admire Falun Gong's Perseverance and Compassio

n

Member of the Land Justice League Mr. Chu Hoi-dick said that practitioners have peacefully persevered for 21 years. Many Hong Kong people did not know the lengths the CCP would go to before the extradition bill protests. Hong Kong citizens have now witnessed and experienced the CCP's terror methods firsthand, so they now understand what practitioners have suffered.

Mr. Chu said that he admired the Falun Gong practitioners' self-discipline and feels it comes from their compassion. He said that practitioners' perseverance during these past 21 years is worthy of everyone's respect.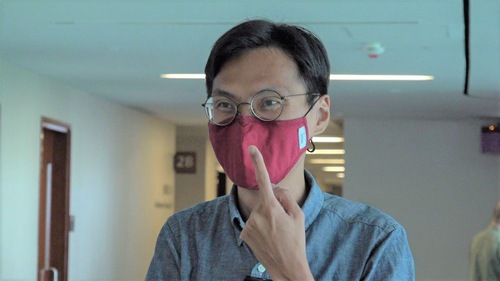 Mr. Chung Kim-wah: Many Practitioners Are Society's Pillars
Dr. Chung Kim-wah, the deputy chief executive of the Hong Kong Research Institute of Public Opinion, said that he did not know anything about Falun Gong before, and he did not understand why the CCP persecuted practitioners.
At the Taipei 101 building entrance, he witnessed how the CCP affiliated Youth Care Association harassed and even beat practitioners in front of the police. Practitioners always responded peacefully. He pointed out that many practitioners are actually society's pillars.
Dr. Chung said that practitioners have not done anything illegal. On the contrary, their demonstrations are more peaceful than other groups'. He asks everyone to pay attention to the CCP's persecution of Falun Gong. He said people should defend their basic right to belief. He said the CCP regime should not persecute people at will.
He believes that throughout these past two decades in Hong Kong, Falun Gong has become an indicator of whether Hong Kong really has any freedom under the CCP's control. He said that after 21 years' perseverance, more and more Hong Kong people have come to know the facts of Falun Gong and the true, dark nature of what's happening in mainland China.