Falun Gong practitioners held activities at Cavill Mall, a popular shopping area in Surfers Paradise, Gold Coast, Queensland on the evening of November 8, 2019.
They introduced Falun Gong and told people about the Chinese Communist Party's (CCP) persecution and organ harvesting from living practitioners.
Many people stopped to learn about the ancient spiritual practice and the persecution in China.
"We support you! The persecution must stop," said people who stopped to learn more. Many also signed a petition calling for an end to the persecution.
Diana Hallas said she was saddened by the brutal persecution. She said she follows the news about the human rights situation in China.
Local residents Leslie and Paul Harley had heard about the persecution a few years ago. They thought practitioners' peaceful efforts to stop the persecution was great.
They said that the Australian government should deny entry of any CCP officials involved in the persecution and make the right choice between human rights and economic interests.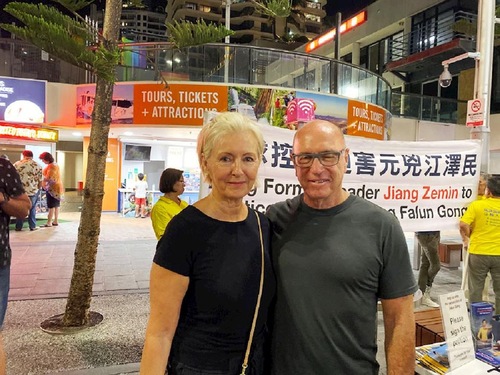 A couple of Chinese people stopped to talk with practitioners. One said, "I had heard about the organ harvesting from living Falun Gong practitioners when I was in China. The number of organ transplant surgeries in China started exploding several years ago. Most of the organs were from the Falun Gong practitioners. Our professor told us. He was very angry about these crimes."
John Davis, a local resident, signed the petition and condemned the CCP's atrocities. He was interested in learning the exercises and was happy to hear that they were taught for free at the local group exercise site. He said, "I'll definitely go tomorrow."
---