Falun Gong practitioners in Poland held two events in Kraków on November 9 and 10, 2019, at Main Market Square and Wawel Castle, where they demonstrated the Falun Gong exercises and spoke with people about the Chinese Communist Party's (CCP) brutal persecution of the spiritual discipline.
Many tourists signed a petition that called for an end to the persecution in China and appealed to the Polish Prime Minister, Sejm members, and senators to take action to help end the persecution.
A local man stayed at the practitioners' event for more than five hours after reading about Falun Gong. He learned the exercises and encouraged other people to sign the petition.
Tourists from other parts of Poland, the United Kingdom, the United States, Austria, Turkey, Syria, Kazakhstan, Serbia, New Zealand, and South Korea signed the petition denouncing the persecution.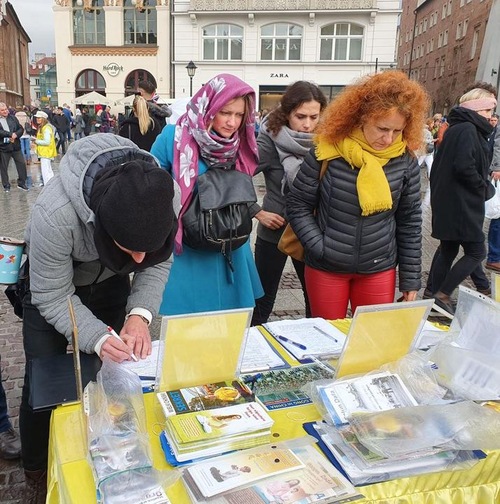 Wademar from Kraków read the practitioners' display boards and then signed the petition of his own accord. "I learned Chinese martial arts in the 1980s," he told practitioners. "I was very impressed by traditional Chinese culture."
"I saw you practicing Falun Gong today. I felt very cordial and closed my eyes. The bustling crowds on the square disappeared in my mind, and my heart was filled with Falun Gong music. I felt warm and peaceful. How could such a good practice be so severely persecuted? I support you and oppose the CCP's persecution," he said.
He stood near the practitioners' table and greeted tourists who were passing by and asked them to sign the petition. He learned the Falun Gong exercises from practitioners and stayed for more than five hours, until the end of the event.
He then helped practitioners with their information boards. While bidding everyone farewell, he left them his phone number and said he wanted to learn Falun Gong.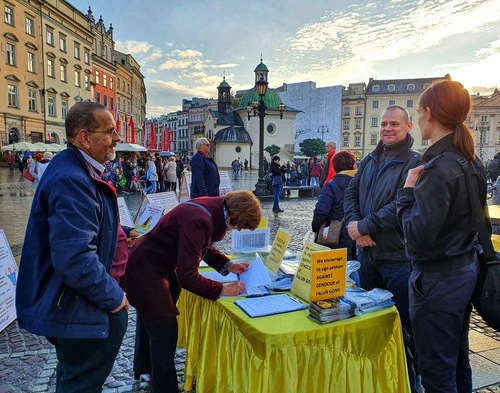 Ms. Anna Kamykowska also lives in Kraków. "I learned about Falun Gong on this square a few years ago. I signed the petition against the CCP's forced live organ harvesting," she said. "This is very important. If you see it, you can't turn a blind eye. I support your protesting the persecution. I will sign the petition whenever I see you. I wish you all the best!"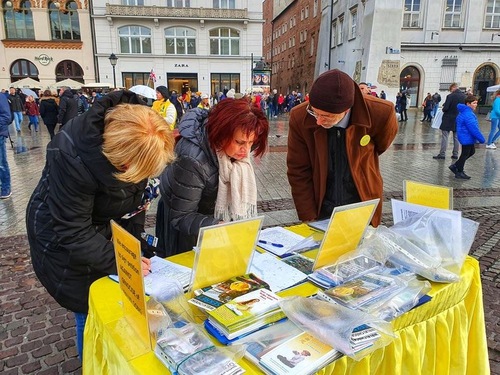 A tour group from the United Kingdom saw the exercise demonstration in the rain outside Wawel Castle and came over to talk to practitioners. They learned about Falun Gong's principles of Truthfulness-Compassion-Forbearance and how the CCP persecutes practitioners in China and even murders them for their organs.
The tourists were both shocked and indignant. One of them said, "People who follow such noble principles suffer such terrible persecution in China. This should not happen. I hope that the persecution will end soon. You practice here in this bad weather and tell us the facts. Thank you."
(Clearwisdom)
---
33 total views