Falun Gong practitioners from Sydney participated in the annual parade in conjunction with the Festival of Fisher's Ghost in Campbelltown on November 2, 2019.
The Tian Guo Marching Band was awarded the Best Themed Band in the parade.
The theme of this year's parade was "We Could Be Heroes." Nearly 60 groups from various associations and ethnic groups participated in the hour-long parade, which set off from Broughton Street and proceeded down Queen Street to Koshiyaga Park.
The Falun Gong entry was warmly welcomed by spectators and consisted of the Tian Guo Marching Band, a beautifully decorated float, and a team of practitioners dressed in traditional Chinese costumes holding banners. The practitioners on the float demonstrated the Falun Gong meditation exercise.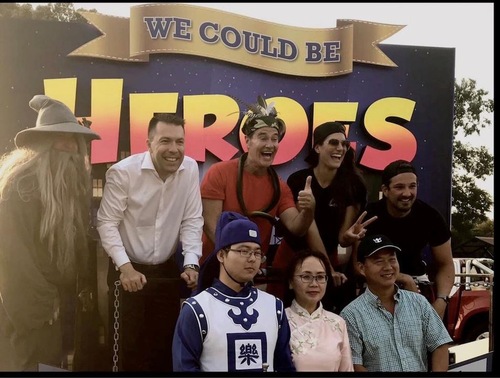 The practitioners have won various awards in the popular parade since 2000.
Members of the provincial parliament, mayors, and city councilors sat on the observation stage to watch the parade.
When the Falun Gong team passed by the stage, the host introduced Falun Gong and how it is practiced in more than 100 countries worldwide.
Practitioners also set up a booth on Campbelltown's main street on November 9.
They demonstrated the exercises and handed out information about the ancient spiritual practice. Many people were drawn to the peaceful music and came to learn about Falun Gong.