In honor of International Human Rights Day on December 10, Falun Dafa practitioners in Bulgaria hosted a variety of public events in Sofia, Plovdiv, Pazardzhik and Peshtera to raise awareness of the ongoing human rights abuses in China.
Their efforts gained public support for Falun Dafa practitioners in China, who have been persecuted by the Chinese Communist Party (CCP) for their faith for almost 19 years.
On December 8, 2018, practitioners from all over the country gathered in the city of Pazardzhik for a regular national Falun Dafa meeting. They held a signature drive in the cities of Pazardzhik and Peshtera, calling for the prosecution of former Chinese Communist Party leader Jiang Zemin for initiating the persecution of Falun Dafa that led to the imprisonment, torture, and killing of practitioners all over China.
Residents of the two cities, most of whom already knew of Falun Dafa, enthusiastically supported the practitioners and condemned the brutalities committed by the Chinese regime. A total of 161 people signed the petition, including kids, parents and grandparents.
On December 10, practitioners conducted a peaceful protest in front of the Chinese Embassy in Sofia. For an hour before noon, they displayed banners condemning the persecution and told the public about Falun Dafa and its core principles of Truthfulness-Compassion-Forbearance.
The banners' bright colors stood out in the gloomy, rainy day and attracted the attention of passersby. Some had heard about Falun Dafa in the past but stopped to learn more. Some vehicles slowed down to read the messages. Security officers at the event also gave their support for the practitioners' cause.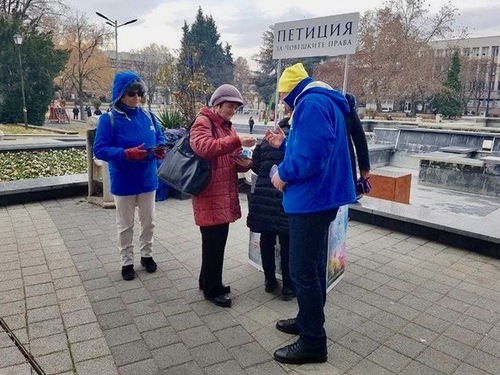 Documentary Screening
The documentary film Hard to Believe was screened on the same day at the School of Medicine in the city of Plovdiv. The student association co-organised the event, which was attended by 30 students, professors, and medical doctors.
The audience was shocked to learn of the state-sanctioned killing of Falun Dafa practitioners for their organs in China. The film sparked a dynamic discussion about professional ethics, morality, and how to help stop the atrocity.
Practitioners informed the audience about the actions taken by people and organisations around the world to help stop the persecution and organ harvesting crimes.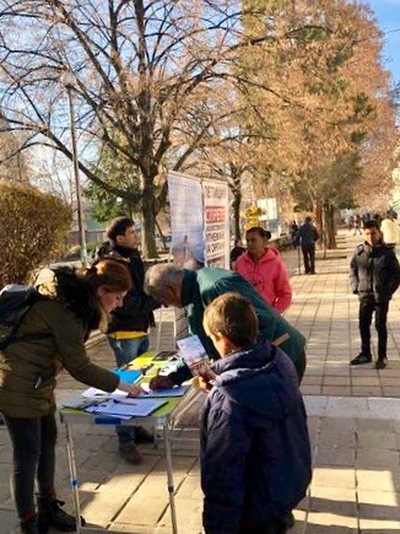 (Clearwisdom)
Bulgaria: Falun Dafa in "Zrdravei Zdrave" Health Fest in Stara Zagora
22 total views