Falun Dafa practitioners took part in the Third Mersin Book Fair on the southern coast of Turkey between November 25 and December 3, 2017, to introduce Falun Dafa and to raise awareness about the persecution of the practice in China.
Over 350 vendors participated in the event at the CNR Yenişehir Exhibition Centre, with an estimated 130,000 visitors stopping in over the course of the fair. Many local officials, including the mayor, came out to support the event.
Mrs. Türkan, who works in space technology, said she had heard about Falun Dafa before and had even read Zhuan Falun. Excited to meet practitioners again at the book fair, she said she planned to resume practicing Falun Dafa.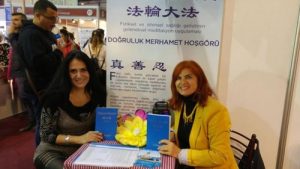 Mrs. Muserref said that she had thought about doing meditation before and commented, "I find the principles of Truthfulness, Compassion, Forbearance to be very important. I will try this practice."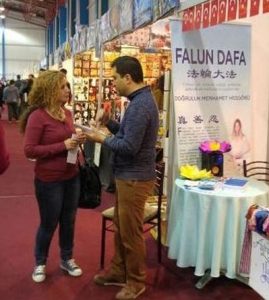 Mehmet Ufuk Batur, a student, talked with a practitioner to learn more about Falun Dafa. After watching the exercise demonstration and hearing about the principles of the practice, he became very happy. "I have been searching for something like this for a long time," he said. He wrote down the local contact information so that he could start learning the Falun Dafa exercises at the group practice site.
Mehmet was disturbed to hear about the mistreatment of practitioners in China for their belief, and signed a petition to call for an end to the brutalities taking place there.
Many government officials accepted Falun Dafa materials from practitioners, including Hamit Tuna, the Mayor of Mersin. After talking with a practitioner, a television producer purchased a copy of Zhuan Falun and signed a petition in support of Dafa. He took down a practitioner's contact information, as he would like to produce a video about the persecution.
Educator: "Surrounded by Peace and Serenity"
A practitioner who lives in Istanbul introduced the practice to her students at a preschool centre on December 4. More than 20 children and their teachers tried the first, second and fifth sets of exercises.
A practitioner also explained what Falun Dafa is and talked to the children about the principles of Truthfulness-Compassion-Forbearance and how practitioners apply these principles in their daily lives.
The children enjoyed the exercise music and readily took to the meditation. Reyhan Uluocak, director of the education centre, said although it took some effort to do the meditation, the effect was great. "Once I closed my eyes and listened to the music, I felt surrounded by peace and serenity," she remarked.
Later in the day, a piano teacher said that she noticed that the students had become more open-minded and focused during class after learning the exercises. She and several other teachers thanked the practitioners and said they hoped that they could come back again.