Recently, Falun Dafa practitioners in Brazil held the Art of Truth, Compassion, Forbearance Exhibition in the halls of the subway stations. A large number of passersby viewed the artwork and took informational materials every day during the three-month tour.
High School Students Admire Dafa Practitioners' Courage
Many high school students marveled at the paintings. Some of them got many more students to come. Some chose Falun Dafa and the Chinese Communist Party's (CCP) persecution as their writing subjects for their social studies assignments.
After viewing the exhibition, Renato, a high school student, said: "I felt powerful energy going deep into my heart." He was grateful to have come across the exhibit and said he plans to learn Falun Dafa.
A high school student named Daniel stopped to view the paintings while on his way home after school with a group of friends. They had been laughing and joking, but soon became very quiet.
Daniel wiped away tears as he stood before the painting "Medical Parole." He said to a practitioner, "The CCP's inhuman persecution of such righteous believers must be condemned. I admire the courage of Falun Dafa practitioners!"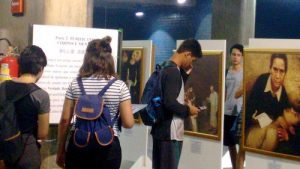 Precious Gifts for Children
As October 12 is Children's Day in Brazil, many parents took their children out to celebrate. Many parents and children took the subway and came across the art exhibition.
A mother and her son Sthetelhono were mesmerized by the artwork. The mother took information about learning the practice and Stelhono said, "Truthfulness-Compassion-Forbearance–I will remember. Thank you!"
Art Exhibition Forms Karmic Ties with Visitors
Roblim, a horticulturist, said: "I come here once a week and I'm so lucky to see such amazing paintings today. I want to know more about this practice of cultivating mind and body."
He later said, "Today I've been greatly touched after viewing the artwork and the conversation with you." The practitioner said, "This practice method of Falun Dafa can gradually open up the memory of practitioners and enrich their wisdom. The founder of the practice tells us that this is called returning to one's original, true self." Roblim was pleased and said that he would get on Internet to read Zhuan Falun.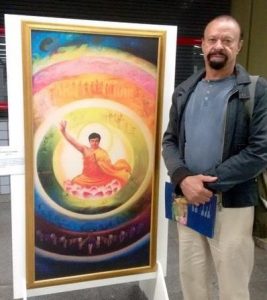 Carmen Luiza, an instructor of child psychology, came to visit her daughter in the city from south Brazil. After she finished viewing the paintings, she said: "Everyone in this world needs Truthfulness-Compassion-Forbearance. I will definitely get online to read the book and learn the exercises once I return home."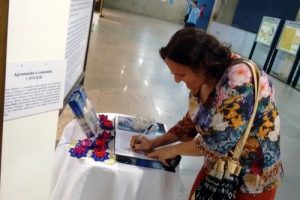 Glaucia was supposed to meet with her teacher at the subway station. However, she viewed the paintings while waiting for about two hours.
She was amazed to find that there is such a cultivation method that can restore health, as well as open up one's wisdom. She said, "Today is really amazing. Maybe it is not a coincidence that my teacher never showed up." After she finished viewing all the paintings, she made an appointment with a practitioner to meet at the park to learn the Falun Dafa exercises.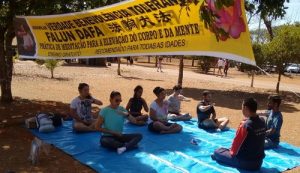 Ms. Shirlei came to the hall from the platform and began her journey of quietly learning about Falun Dafa. She said, "I now understand the root cause of so many degenerated phenomena in this world. It is because people's hearts lack truthfulness, compassion, and forbearance." She also said, "The power of pure faith is tremendous and strong, unshaken by any evil."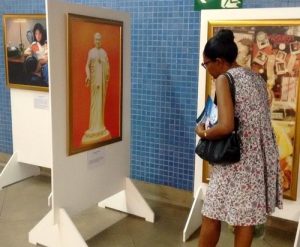 Vera is a physiotherapist whose favorite painting of the exhibit was "Entering the Divine Realm with Purity." She said, "This painting touches the deepest part of my heart. The energy is so large, it took my breath away. The artist was not in the worldly realm; she must have been in another realm when she created this painting. It is wonderful!"
She said she would go online to read Zhuan Falun and go to the park to learn the exercises on weekends.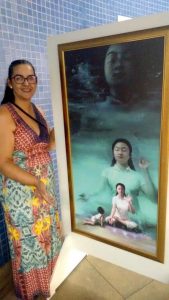 Stephanie was alarmed to learn about the brutality of the persecution, especially the forced organ harvesting of imprisoned practitioners. She said, "I just can't believe it! It's unheard of!" She was struck by the sharp contrast with the beauty and peacefulness of Falun Dafa
Her favorite painting was "Who am I?" She explained, "I like this painting the most, with so much beauty and profound inner meaning. I want to enter the world of Falun Dafa and know what the root cause of life is and how to achieve the true meaning of life!"