According to data compiled by the Minghui website, 146 Falun Gong practitioners in Suining, Sichuan Province were arrested between January 2011 and August 2016. Among them, 7 have died, 21 were sentenced to prison, and one has been formally arrested and is facing trial.
Another 22 practitioners died during the same time period as a result of abuses they had suffered previously in state custody. It is estimated that the practitioners paid 199,100 yuan in fines and lost 730,000 yuan in wages in total.
7 Practitioners Die After Arrest
The seven deceased practitioners are:
Ms. Zheng Fangxiu
Ms. Li Lin
Ms. Yang Zefang
Ms. Yao Guoxiu
Ms. Yuan Suying
Ms. Li Tingfang
Mr. Ding Wenbin.
Ms. Zheng Fangxiu and Ms. Yao Guoxiu were illegally sentenced to prison, and Mr. Ding Wenbing was given one year in a forced labor camp.
Ms. Zheng Fangxiu was taken by police on June 8, 2014 and later sentenced to two years in prison. During her term at Suining Detention Center, she was subjected to forced labor and sexually harassed by other inmates. Upon returning home, officers from her neighborhood community committee and police station continued to harass her. She passed away in August 2015 under extreme duress.
Ms. Li Tingfang was taken to a brainwashing center in July 2010. Her family noticed that she had dementia when she returned home three months later. Her condition continued to deteriorate, and she died a month later. The family suspects that she had been poisoned at the brainwashing center.
Mr. Ding Wenbin was arrested in December 2011 for giving out materials about the persecution of Falun Gong. He was given one year of forced labor. During his incarceration, police tortured him in various ways in their attempts to force him to renounce Falun Gong. He was allowed only three hours of sleep every night, and officers forced him to wear a heavy winter jacket in the middle of summer. He passed away soon after he was released.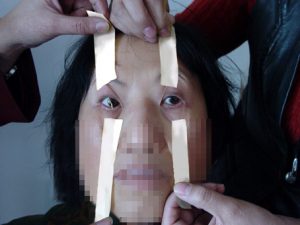 In addition to the 7 deaths, 22 other practitioners died during the same period.
The 29 practitioners were:
Luoqing You, Luo Xingquan, Xiao Huayun, Zheng Fangxiu, Li lin, Yi Yuanfu, Chen Chuibi, Yang Zefang, Liao Xinmin, Ceng Chuixian, Tang Duogui, Liu Mingfang, He Qingxiu, Tang Zhenxiu, Li Xinlian, Yao Guoxiu, Xia Qiong, Wang Xueqin, Yuan Suying, Duan Suitao, Lin Xianqun, Quan Sujuan, Duan Weiqiong, Huang Yixiu, Li Xiuhua, Li Tingfang, Wang Yonghe, Tang Lixiu, and Ding Wenbin.
It has also been confirmed that 20 practitioners died as a result of persecution prior to 2011.
They are:
He Chengqun, Wang Xiuqiong, Tian Yunmin, Yan Xuebi, Lin Shiying, He Mingxiu, Lu Dezhen, Xu Ning, Yu Shengzhen, Liu Zubi, Wang Suhua, Liu Yuzhen, Chen Suqing, Xie Wengyou, Deng Caiqing, Ceng Xiurong, Xia Guang, Xia Qianfang, Zhang Daobi, and Zhang Xianhui.
21 Practitioners Sentenced to Prison
Twenty-one Falun Gong practitioners were sentenced to prison terms ranging from one to seven years. Among them, two have passed away; 7 served their sentences and were released, and 12 remain in prison.
Mr. Liao Banggui, 68, was arrested in April 2011 for telling people about Falun Gong. He was sentenced to three years in prison, where he was repeatedly shocked with electric batons, viciously beaten, sprayed with tear gas, and otherwise tortured. After he was released, police continued to harass him and detained him twice.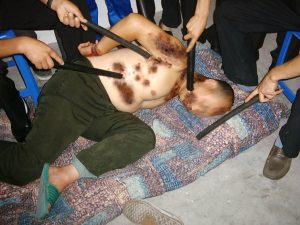 Ms. Chen Fengjun was arrested in May 2015. After her lawyer presented the defense argument in the first hearing, the court held a second hearing without notifying the lawyer. Ms. Chen was sentenced to three years in prison, and her family restaurant was shut down.
Mr. Fang Zhengrong was arrested in December 2015 and is currently awaiting trial.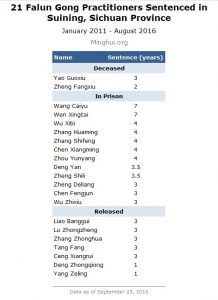 Practitioners who were arrested and released after various lengths of detention are:
Chuanshan District (70 people):
Zhang Chenzhen, Fu Xiuhua, Zhou Yunyan, Huang Lihua, Zhang Zhengbi, Chen Rong, Chen Yuanhe, Yang Sufang, Duan Shoumu, Guo Xiuying, Zhang Xiurong, Lu Yanfei, Yan Xiaodong, Xu Qingmei, Wang Suqing, Tan Yulan, Bu Chunhua, Zhang Qilin, Su Derong, He Zeming, Li Shiyi, Xi Daoxun, Tang Yuanping, Chen Guanglan, Chen Cuihua, Chen Zhangping, Jiang Xiuyun, Yang Zelin, Li Qunying, He Xuemei, Li Shixian, Chen Xiaofang, Wei Xiaojun, Zhong Xiaofang, Wu Shizhen, Wei Yongxiu, Ju Shijin, Wang Sufang, Wang Qunying, Xie Mingzhen, Zhang Muqing, Zhang Xingmei, Yang Wengui, Shi Yiyan, Liao Xiaolan, Liu Daxiu, Shi Sulian, Zhang Bihua, Li Tingfang, Liang Guilan, Pu Zexiu, Gao Yan, Zhang Suzhen, Long Qingzhen, Wei Changxiu, Guo Xiuqiong, Huang Yichao, Xie Dashun, Liu Jinrong, Yang Yanqun, Zhao Yan, Xiao Zujun, Wang Fengqi, Mi Guangping, Yu Yongqing, Chen Shihe, Xie Bigui, Yao Zize, Yang Chuanxiu, and Fu Shangqing
Anju District (19):
Li Zhiping, Leng Xiuuing, Lu Hongyou, Wu Suying, Tan Jianlan, He Deyin, Wu Mingshu, Tian Biying, Zhang Fengying, Wu Renke, Yang Qiongfang, Feng Ping, Zhang Ning, Zhang Ping'an, Tian Yulan, Yin Sujun, Peng Xianglian, Lu Xiuqing, and Zhang Lanfang
Pengxi District (14):
Liu Xianbi, Wang Qiong, unknown, Liu Hongjun, He Xianyu, Wang Zhengfan, Zhu Quanying, Guo Yuejun, Lin Suzhen, Chen Xiufang, Li Jiyou, Huang Xiuzhen, Zhang Wuchen, and Chen Li
Shehong District (9):
Xiao Kunquan, He Jichun, Zhang Yuxiu, Wang Changming, Hu Jinrong, Zhang Qiongzhen, Zhao Yulan, Wang Dewen, and Pu Yuanzhen
Dayin District (3):
Shi Chunxue, Pu Xiaofang, and Chen Ying
District(s) unknown (7):
Wang Qun, Luo Youfu, Xiao Sufang, Chen Yilan, Chen Wenchun, Chai Yurong, and Wen Xianrong