Nearly 1,000 practitioners attended the 2016 Australia Falun Dafa Experience Sharing Conference at Melbourne Town Hall on September 4. Twenty-three practitioners, both Chinese and Western, spoke onstage about how they have benefited from Falun Dafa, looked within to improve, and worked to fulfill their historic vows.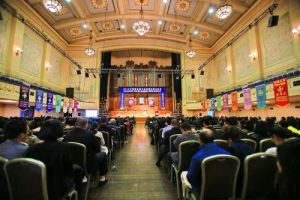 Cultivating Ourselves
Ms. Zhao, a coordinator of the Falun Dafa Association, shared how she had improved her xinxing. She explained how she often worried that practitioners had not walked their paths well, but one day realised that being overly worried about this actually indicated she lacked faith in Master and the Fa.
"Coordinators may not be the ones who cultivate the best or the smartest, so when practitioners have different opinions, it is important to accommodate them and encourage them, instead of simply saying no and insisting on my own ideas." A coordinator needs to be responsible for the entire group, and at the same time engage more practitioners, she explained.
Ms. Mei, a regional coordinator, also spoke. She related how she was able to improve the quality of her Fa study. This allowed her to promote Shen Yun with a more pure heart, and led her to get better at looking within and thinking about things based on the Fa when experiencing conflicts. In addition, she began trying to understand each practitioner better so that their unique skills and wisdom could be more fully realized.
Ms. Li works in several Dafa projects. As a result, she has learned more about how to let go of human notions and selfishness. In the past, she limited herself to her own thoughts and attachments. Now she is more broad-minded and realizes that we should consider things from the perspective of assisting Master with Fa-rectification. This, she remarked, is the only path to the new cosmos.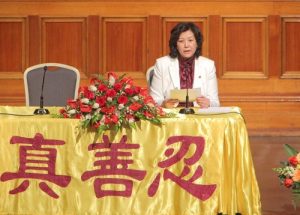 Saving People
Ms. Tao has practiced Falun Dafa for 23 years. In recent years, she has been explaining the facts of Falun Dafa to Chinese people visiting local tourist sites and making phone calls to China, telling them why separating themselves from the Chinese Communist Party (CCP) is critical for their future. "I explain that since the Party has committed so many bad deeds harming innocent people, anyone affiliated with it will face serious consequences," she said.
As a well-known instructor in China, Ms. Zhao said she was able to let go of her attachment to fame and material interest after practicing Falun Dafa.
Talking to Chinese people at tourist sites and on the internet, she used to be disturbed because of the influence of Party culture she observed in the people she spoke to.
She realized that she should let go of this, and began acting in better accordance with the principles of Truthfulness-Compassion-Tolerance, looking inward rather than outward. As a result, she was able to communicate with people more effectively, making it much easier for her to save them.
Ms. Shi from Sydney gave examples of maintaining righteous thoughts and righteous actions while promoting Shen Yun. "We need to be clear on what we do. When issues come up, the opportunity is presented to tell people the facts and save them." She said it is important to pay attention to the different mindsets that different people have and to take them into account when communicating with them.
Doing Well in Various Projects
Ms. Rui said she joined the Epoch Times in 2002 and devoted herself to it ever since. Through the process, she slacked off in genuine cultivation, wrongly considering work on projects as cultivation. After realizing her mistake, she made corrections, let go of various notions, and was able to work better as a team member.
Ms. Zhang works for Sound of Hope. She said that for a period of time she lacked motivation. After realizing the sacredness of cultivation, she improved in studying the Fa and doing the exercises and was able to do much better in compiling news from China for the radio station.
Ms. Li also works at the Epoch Times. She shared how she left a job at the University of Melbourne to work full-time at the newspaper. "This is a good opportunity, and my heart is purer now," she added.
Western practitioner John has been interacting with government agencies and various organizations for a long time. After realizing that he was not being as considerate of others as he felt he should be, he began to participate in more activities with various human rights organizations.
"I was hesitant to do so in the past because it is time-consuming and not directly related to the persecution of Falun Gong. Now I have changed and often join such events." He found that he was always very welcome and that this afforded him many new opportunities to talk to people about the suppression of Falun Dafa in China.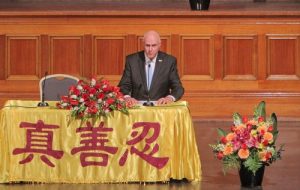 New Practitioners
Mr. Ren, a new practitioner in his 70s, began to practice Falun Dafa after being diagnosed with colon cancer. Soon after, his health took a turn for the better and he is very grateful. He does his best to follow the Falun Dafa principles, study the Fa and do the exercises every day, and he also goes to tourist sites to talk to people about the persecution in China.
Young practitioner Ming Zhen is from a family of practitioners. He made phone calls to China and joined various other Dafa activities. However, he did not do well in cultivation and gradually became addicted to video games. After realizing this problem, he begged Master for help and things have improved significantly. "I have now truly witnessed that Falun Dafa is sacred and powerful," he said.