Falun Dafa practitioners across Australia held a series of activities in Melbourne prior to their annual cultivation experience sharing conference. A grand march through downtown Melbourne brought color, music and increased awareness of the persecution to many on September 2.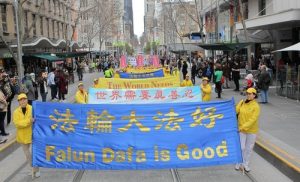 Locals and tourists alike signed a petition calling for an end to state-sanctioned organ harvesting atrocities that have killed thousands of China's prisoners of conscience, most of whom practice Falun Dafa (also known as Falun Gong).
The kilometer-long procession was led by the Tian Guo Marching Band. Three themes were expressed in the groups that followed: "Falun Dafa Is Good," "Stop Persecuting Falun Gong," and "Lawsuits Against Chief Perpetrator of the Persecution Jiang Zemin."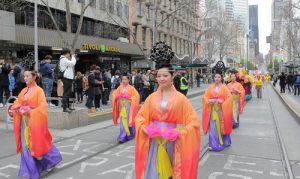 "Forced Organ Harvesting, All the Australians Oppose It"
Brad Morrison wrote on a postcard to be mailed to Australian Prime Minister: "Stop this crime, the world needs compassion." After that, he said to a practitioner that he had learned about the forced organ harvesting through his friend's Facebook.
"These things are too horrible and barbaric," said Morrison. He said that the investigation should be conducted because so many people have lost their lives after having their organs harvested.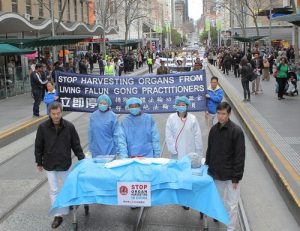 General Manager of a Trading Company: Falun Gong Issue Must be Raised
Mr. Schmidt manages a trading company in Melbourne. He has close business dealings with China. He said he had visited China at least 40 times and has many Chinese friends. He believes that it is important to educate Chinese people about human rights, although it is difficult to talk about such issues in China due to its one-party system.
Mr. Schmidt said that the Prime Minister should raise the Falun Gong human rights issue with the Chinese regime even though it may influence trade because Australia must uphold human rights and moral principles.
A college student named Joe said the march gave him positive energy. He felt that Falun Gong is wonderful and wanted to learn the practice. He said that it's disgusting that people are persecuted for their beliefs. He wanted to tell Prime Minister Malcolm Turnbull that forced organ harvesting is a crucial issue that he must not remain silent about.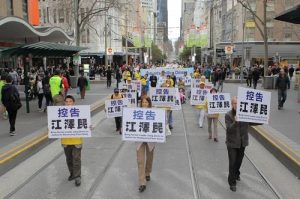 Teacher: I Hope That Chinese People Know That Falun Gong Is Welcomed in Australia
Keith, an English teacher said that he was pleased to see Falun Gong hold multi-cultural activities in the communities in Melbourne. "They are beautiful," said he. He saw some Chinese people videotaping the Falun Gong activities and said he hoped that they will take the videos back to China so that the people there can see that Falun Gong is welcomed in Australia.
He said he would discuss the persecution of Falun Gong in China with his students, and he hopes that more people will learn about the facts of Falun Gong and the persecution.
(Clearwisdom)
10 total views