Falun Gong practitioners held a Mid-Autumn Festival celebration at Sara Delano Roosevelt Park, on Manhattan's Lower East Side, New York on September 3, 2016. Due to the long Labor Day weekend, there were more visitors in the park than usual on this sunny and mild day.
The Mid-Autumn Festival (also known as the Moon Festival) is an important Chinese traditional holiday that is celebrated on the 15th of August of the lunar calendar (this year it will be September 15, 2016). Celebrations based on rich cultural customs are generally held in China and surrounding regions.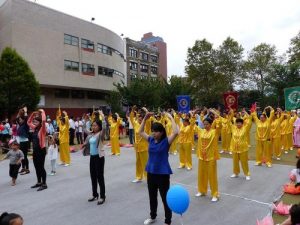 A recording of the Shen Yun Symphony Orchestra was played before the event and people gathered at the festival venue after hearing the music. The celebration started with a traditional lion dance, followed by performances on ancient Chinese instruments and Western instruments. There were solo and choral performances, as well as a display of traditional dress, ancient banners and waist drum performers. The performances were well received by an appreciative audience.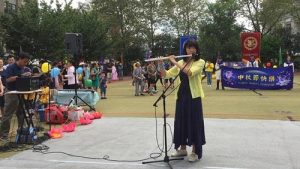 The audience responded enthusiastically to the waist drummers and banner team's performances. The lively and synchronized waist drummers performed to the music "Falun Dafa Is Good." The banner team members, dressed in ancient army costumes, held military banners and performed a traditional martial-inspired routine. A young practitioner dressed as an ancient military general performed an intricate routine of tumbling and spins, to enthusiastic applause from the audience.
Several young practitioners dressed in traditional costumes with long flowing sleeves distributed beautiful small folded paper lotus flowers as gifts to the spectators.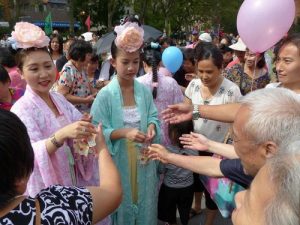 Audience Members Learn the Falun Gong Exercises
As part of the celebration, dozens of practitioners demonstrated the Falun Gong exercises to the exercise music. A practitioner explained the principles of the five sets of exercises and announced that there would be a free nine-day teaching session in Flushing, New York at the beginning of October. Several hundred audience members watched the exercise demonstration.
Ms. Lin from Fuzhou learned the exercises during the event. She said, "I like Truthfulness-Compassion-Forbearance. Today's event has shown us Chinese culture and brings positive energy to the community." When a practitioner told her that there was a practice site at the intersection of Hester and Essex streets in Chinatown, she said that she would go and learn more about it.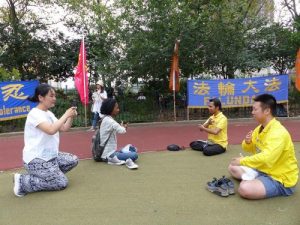 The Mid-Autumn Festival is an occasion for family gatherings. Five Taiwanese youths initiated a poignant signature drive calling on the Chinese Communist regime to allow practitioner Wang Zhiwen, a well-known former coordinator for the Falun Dafa Association in Beijing, to travel to America to reunite with his daughter Danielle Wang. They have been separated for 18 years because of the persecution of Falun Gong in China. Mr. Wang was imprisoned for 14 years, and is still under tight surveillance by the Chinese authorities.
The Chinese regime recently denied Mr. Wang's attempt to travel overseas by canceling his passport – even though he had his visa to travel abroad. Many people signed the petition in support of Mr. Wang being allowed to be with his daughter and her husband.
Audience Support
When the dragon dance team of ten practitioners performed, they brought the jubilant atmosphere to a peak. The golden dragon danced and pranced and amused the audience. Delighted children tried to touch the dragon's head for good luck. A parent of Chinese descent, Wendy said, "This event is very good to help our children growing up here to know Chinese culture."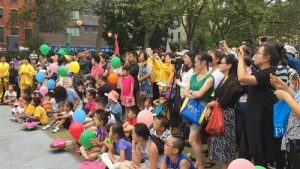 Many applauded and took photos and stayed at the event from beginning to end. One audience member said she wished the performance could be held more often.